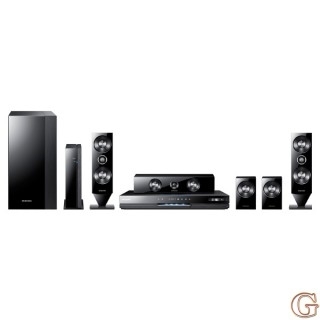 Once the basics for a home theater are in place - the flat screen TV, surround sound speakers and related home entertainment equipment - there are other design factors that can influence the quality of the theater experience.
Who Uses the theater?
Some home theaters are designed on a grand scale, while others are a multi-purpose space shared  for home screenings and a gaming area for children. Decorating the room will be determined by the needs of those who use it. If a room is a home office by day and a viewing area for entertainment at night, both functions need to be considered in the design.
For instance, a variety of lighting sources will be needed to meet all the activities that take place there. Task lighting for a desk and computer area may be appropriate to a home office, but sconces, floor lamps and recessed lighting are better choices for home theaters. They help to create the right ambience without casting a glare on the home screen, according to DIY Home Theater Design.
Window treatments that block light are another factor in outfitting a home theater so that natural light doesn't interfere with viewing. Many styles of window shades, including pleated or roman shades, are available with blackout fabrics. Custom drapery also provides a wide choice of fabrics that can eliminate light from entering a home theater, and be drawn back to allow natural light in when the room is being used for other purposes.
Sound Decisions
The furnishings also affect acoustics, a major consideration for a home theater. The shape of the room influences how well the sound travels no matter how expensive the audio gear may be. Steps should also be taken to minimize sound reflection off the walls and floor, which can be covered with an area rug in the theater area but may be left as an unadorned hardwood floor elsewhere in the room.
To make sure viewers don't become chilly during lengthy periods while seated, radiant floor heating is a great addition, particularly if a new floor is being installed. Area rugs, rather than carpeting over the base floor, leave enough of the surface uncovered so that the infloor heating system can do its job.
Insulated, fabric-covered acoustic wall treatments in the home theater will fix acoustic problems when they are situated in places where sound is most likely to reflect from the speakers onto walls.
Like this post? Subscribe for regular updates
Make sure you don't miss out on the latest news in radiant heating by subscribing to our blog. We'll send you an email with links to the newest posts from WarmlyYours.
We won't share your information and you can unsubscribe at any time with a single click.
---
Did you find this post helpful?
Let us know by giving it some applause.
---
---