Your thermostat has seen better days. Its once bright-white casing is now a dingy cream color from sitting in the sun. And its bulky, boxy shape easily gives its age away. Nevertheless, it's still in good working condition.
Here are three ways to transform your aging thermostat from an unsightly gadget to a decorative part of the home.
Disguise It
The first option is letting it "hide in plain sight." There are a few creative ways to do this.

By putting a decorative frame around the thermostat, you can blend it into a picture wall. Even if you leave the thermostat as is, making it part of a picture wall will take the focus off the control. 
You can install shelves where the thermostat is located, so it looks like it's resting on one of them. Add a few decorative items and the thermostat will blend right in.  
Similar to adding shelving, you can place an open-shelf bookcase in front of the thermostat. Use it to showcase candles, flowers, pictures and other décor, and you won't even notice the thermostat sitting there.   
Hide It
If you want to avoid seeing the thermostat altogether, you should consider hiding it with a picture. Create a small ledge about the width and depth of the thermostat and mount it directly above the thermostat. Then, hang a picture on the ledge that can be easily removed when you need to access the control. This will turn an eyesore into a piece of art! Just make sure that air can still get to the thermostat to keep it working correctly.



Replace It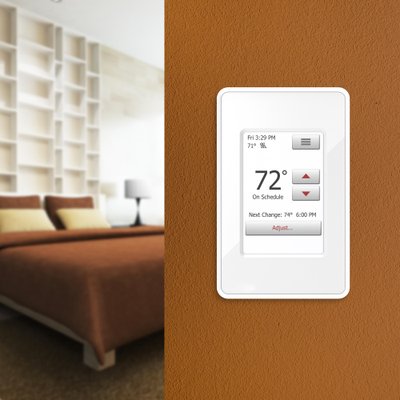 A sure-fire way to beautify your thermostat is to replace it with a new one. WarmlyYours Radiant Heating offers the nSpire Touch and nSpire Touch WiFi floor-heating thermostats, which convey a modern, clean, beautiful appearance. The controls feature a 3.5-inch color touchscreen with a bright-white casing that boasts its young age. For more information about the thermostats or to buy one online, click here.
How to Dispose of an Old Thermostat
If you've decided to replace your old thermostat with a new one, you might be wondering how to dispose of the old one. If you have a programmable thermostat that's in good working order, you can see if any of your friends or family can use it. If not, you can recycle it just as you would other electronics. You can contact your local household hazardous waste (HHW) facility or drop it off at a retailer that recycles electronics.
If you have a mercury-containing thermostat, you need to be very careful about how you dispose of it because mercury is a potent neurotoxin that can cause great environmental harm if released. To recycle it, you should drop it off at one of the Thermostat Recycling Corporation's 3,400 locations. To find the closest collection center to you, click here and enter your zip code.
Have you recently disguised or hidden your old thermostat? If so, let us know by sharing a photo with us on Twitter, Facebook or Instagram. 
---
Tell us About your Project
Our team of Radiant Experts is ready to help! Just tell us a little about yourself and your project to get started.
---
Did you find this post helpful?
Let us know by giving it some applause.
---
---