If your basement has a low ceiling and an awkward layout, you might think finishing the space isn't worth the time or money. After all, by the time you've finished installing the drywall, you'll have lost much of your headroom and square footage due to these issues. However, thanks to the growing popularity of industrial styling, you can use these pitfalls to your advantage.
The Ceiling
The first issue to address: the ceiling. A basement with a low ceiling oftentimes relegates it to be used strictly for storage. Even if it's finished, there will be no entertaining done here because it simply feels too claustrophobic. But if you didn't have to install drywall or ceiling tiles, the ceiling could retain its original height. You can't get the ceiling to go any higher, but you can keep it from getting any lower. And with some paint, you can even create the illusion of height.
By painting the ceiling black — that includes the ductwork, rafters and beams — you can give your basement an industrial look while maximizing your headroom.
The Layout
The next common issue homeowners face when finishing their basement is an abundance of structural poles. If you're working with a good architect, they may be able to move some of the poles to alleviate your layout. Regardless, painting the poles the same color as the walls will help them blend into the space and be less obvious.
The Walls
To really bring the industrial style home, you'll need to work in some metal and wood. In a Houzz article, an architect describes how he used a corrugated, galvanized metal wall to separate the living space from the dining space. The metal functions just as drywall would but with major industrial appeal.
To incorporate wood into the schema, you can create an accent wall behind your TV that showcases the beauty of distressed wood. For example, check out the Denver basement above. An industrial-style wood coffee table tops off the look.

You can also integrate wood into your design by using sliding barn doors instead of traditional ones for storage spaces or even to separate rooms, as shown below. Or, you can create a focal point with a wooden bar. A farmhouse-type bar is sure to draw attention and complete your industrial design.
A couple of metal or wood accent walls should be enough to carry the industrial tone throughout the space. The rest of the basement walls can either consist of drywall or painted cement, for the simplest, most industrial approach.
The Floor
Finally, the floor is the last piece of the puzzle. Although you want your space to look industrial, you also don't want it to be uninviting. With black ceilings and metal and concrete walls, it's easy to end up with a cold basement — in the way that it looks and literally feels. To warm it up, install soft carpeting with radiant heat underneath. This way, you'll get the soft look that you need with an extra boost of warmth that your basement will need.
If you want to take your industrial look to the next level, you can select hardwood or tile floors. These materials will match the style of your basement, but they're also compatible with radiant heat. By gluing a thin synthetic cork underlayment to your concrete floor and installing radiant heat on top, you can ensure that the basement stays warm but retains its "cool" appearance. After all, what's a stylish basement if it's too cold to spend more than 30 minutes in?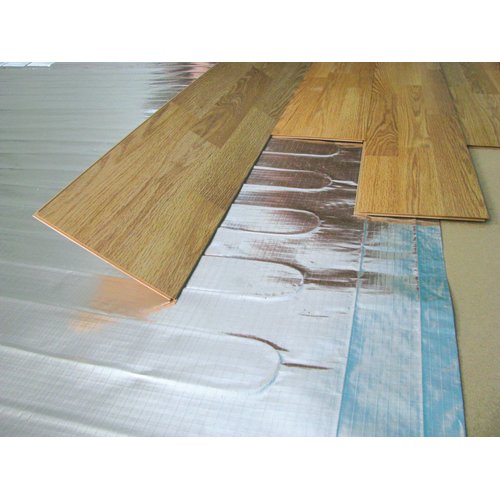 When it comes to a tricky basement with space limitations, industrial design may be the solution you need. If you used industrial design to overcome your basement challenges, we'd love to see your finished product! Share a photo with us on Instagram, Twitter or Facebook. 
---
Tell us About your Project
Our team of Radiant Experts is ready to help! Just tell us a little about yourself and your project to get started.
---
Did you find this post helpful?
Let us know by giving it some applause.
---
---