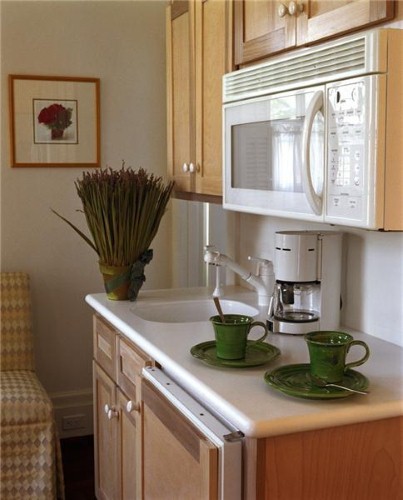 As an interior designer, you may eventually come across clients who simply don't know what to do with their kitchen due to a lack of space. While a limited amount of square footage can hinder design possibilities, one thing is for sure - it can reduce how functional a room is to any homeowner.
There are a couple of ways that you can make a small kitchen feel more welcoming by making a few changes to the layout and decor. First, think about bringing in items that can potentially improve the practicality of the space. For example, you might want to install radiant floor heating to make it more comfortable under foot for homeowners who like to spend an ample amount of time in the kitchen. Radiant heating is simple to install and it is a cost-effective way to heat the space, especially during the winter months.
Rachael Ray Magazine reports that it's also a good idea to put down cushioned mats in areas where homeowners will be standing and cooking for extended periods of time - such as near the sink or stove. Doing so can reduce stress on the joints while preparing food in the kitchen.
Once you have the comfort factor out of the way, you can begin to address how to make the kitchen feel larger than it really is. Homedit.com reports that one option is to revamp the entire decor of the room and work around the perimeter of the space. This means installing cabinets and countertops along the walls to save valuable room.
Bringing in new lighting fixtures can also make a kitchen feel larger than it really is. Wall sconces or overhead lighting can provide the space with more illumination. But if the kitchen has several windows use sheer window treatments rather than opting for more lighting fixtures.
Finally, make sure that your clients understand the value of organization and storage. By keeping things off of the countertops and placing them in cabinets, they can make their kitchen feel larger and more inviting. You might also want to install hooks on the walls that can be used to hold everything from aprons to pot holders. These tips can help you instantly transform a cramped room into a more desirable space.
Like this post? Subscribe for regular updates
Make sure you don't miss out on the latest news in radiant heating by subscribing to our blog. We'll send you an email with links to the newest posts from WarmlyYours.
We won't share your information and you can unsubscribe at any time with a single click.
---
Did you find this post helpful?
Let us know by giving it some applause.
---
---