Calgary is positioned at the confluence of the Bow and Elbow Rivers in the southern part of Alberta province, nestled in an area of foothills and prairie, about 80 kilometers (50 miles) east of the front ranges of the Canadian Rockies. Calgary's chilliest winter nights have lows in the minus-thirty Celsius (below -22 degrees Fahrenheit) range. The city averages three or four nights a year where it gets that cold, mostly in January and December. 
From October to May, Calgary can remain below freezing all day long. It usually has 59 days a year when the thermometer never rises above 0 degrees Celsius (32 degrees Fahrenheit). With wintry temperatures like those, radiant floor heating becomes a necessity to warm up cold tile, stone, or even wood flooring in your home. 
Form Follows Function with Cost-Effective In-Floor Heating
Including underfloor heating in a small home office was both an easy and affordable way for these Calgary homeowners to warm up the cold large format tile in their new office. The space had been converted from an extra bedroom and they wanted to ensure that it would be warm during their work-at-home hours increasing the functionality. To heat the room, these homeowners decided to install a 1.5- by 27-foot TempZone™ Flex Roll in their 70-square-foot office for $583.00 at a cost of $14.40 per square foot (see floor plan).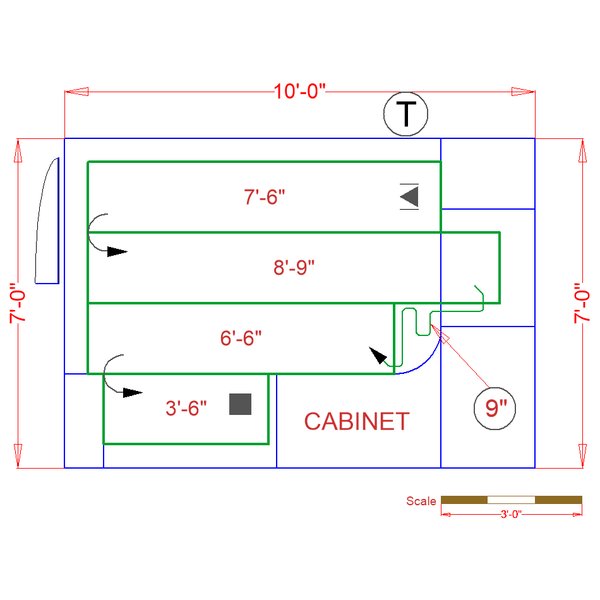 Along with the material cost, it's also advisable to determine the operating cost when preparing the budget for your project. WarmlyYours' Energy Use Calculator factors in the average kWh cost in Calgary of approximately 12 cents resulting in a daily cost of 26 cents to heat this office for eight hours a day, a very reasonable price to pay for the comfort of a cozy office environment. An added benefit is that it only costs $18.19 to heat the office during the coldest month of the year, based on WarmlyYours's heat loss calculations. 
Let's See If Radiant Heat Can be your Primary Heat Source
It's easy to find out. First WarmlyYours's Heat Loss Calculator will need the answers to a few questions about how well your room is sealed, your desired room temperature, and other specifics to determine how much heat is being lost. Then it will calculate the room's heat loss to see if radiant floor heat can be your primary heat source.

In this instance, the office has 9' high ceilings and is situated above a heated space. Based on WarmlyYours's Heat Loss Calculations, a floor-heating system can be the primary heat source for this room so no additional heating will be necessary which is a sizable energy and utility cost savings. If the room had poor sealing issues, radiant floor heat would have been recommended as a supplementary heat source instead. Curious about whether radiant heat can be your room's primary heat source? Feel free to explore WarmlyYours's Heat Loss Calculator firsthand! 
It's Fast and Easy to Get Costs with Our Free Instant Quote Tool
 Check out WarmlyYours' Instant Quote Tool online to find out the cost of supplying in-floor heating to your office — or any other room in your home. This tool will show you the exact products you need along with each cost. Additionally, you have the option to upload a drawing or image of your room's floor plan so that our sales team can provide you with a free customized installation plan. This detailed plan shows you exactly how the electric floor-heating system will be laid out for optimal functionality.

Questions? There are a few easy ways for you to reach us. 1) Simply call us at 800-875-5285, 2) live chat us at www.warmlyyours.com, or 3) email us sales@warmlyyours.com.
Last but most importantly, when you are ready to install your product, our 24/7 technical support experts will be available to guide you every step of the way, whenever you need assistance.
For more information, visit us at www.warmlyyours.com.
---
Tell us About your Project
Our team of Radiant Experts is ready to help! Just tell us a little about yourself and your project to get started.
---
Did you find this post helpful?
Let us know by giving it some applause.
---
---