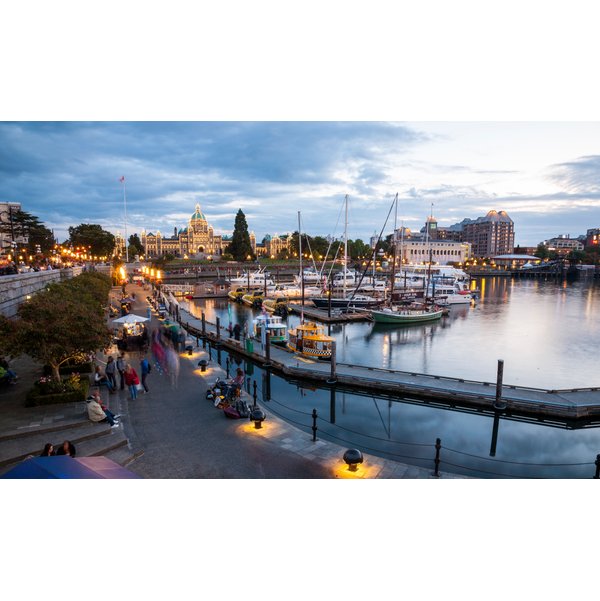 The capital of British Columbia, Victoria, is situated on the southern end of Vancouver Island off Canada's Pacific coast. Its Inner Harbor is considered one of the most beautiful harbors in the world attracting many locals and visitors to the festivals, shows and music events hosted there during the summer season. 
Victoria's climate is classified as Mediterranean with cool, dry summers and mild, rainy winters. From December through February the evening temperatures can dip down to 3 or 4 degrees Celsius (38 or 39 degrees Fahrenheit). That specific combination of dampness and cold overnight can make the temperature feel colder compounding the chill of tile and stone floors throughout the home. Radiant floor heating is an ideal solution to warm up those cold surfaces making your home a comfortable and cozy retreat regardless of the weather.
Radiant Heat Transforms a Victoria Bathroom
Adding underfloor heating to a large Victoria master bathroom was an affordable way for these owners to warm up the elegant but cold tile in their newly remodeled bathroom, bringing additional warmth and comfort to their morning routine. These Victoria homeowners chose to install a 1.5- by 66-foot TempZone™ Flex Roll in their 99-square-foot bathroom for $1128.00 at a cost of $11.39 per square foot (see floor plan).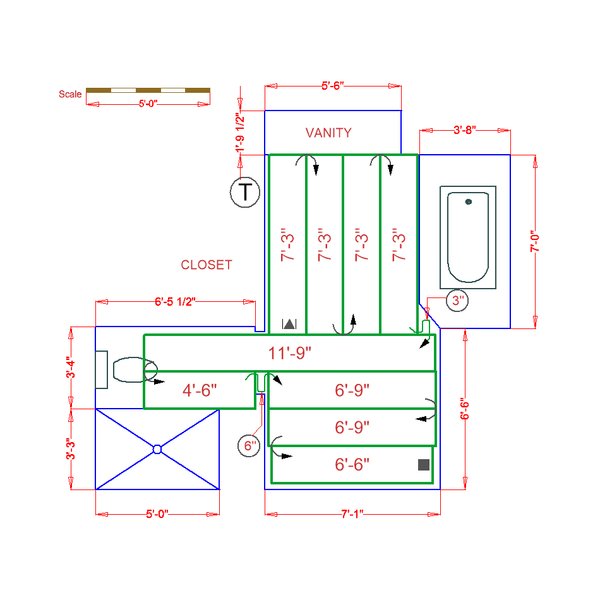 In addition to the material cost, the operating cost should also be considered when planning the budget. WarmlyYours' Energy Use Calculator factors in the average kWh cost in Victoria of approximately 10 cents resulting in a daily cost of 26 cents to heat this bathroom for four hours a day, a small price to pay for the comfort and luxury of a radiantly warm bathroom. And beyond that, it only costs $47.04 to heat the bathroom during the coldest month of the year, based on WarmlyYours's heat loss calculations. 
See If Radiant Heat Can Be Your Primary Heat Source
First, WarmlyYours's Heat Loss Calculator will ask about your desired room temperature, how well your room is sealed, and other parameters to determine how much heat is being lost. As a result, you'll find out if radiant floor heat can be your primary heat source.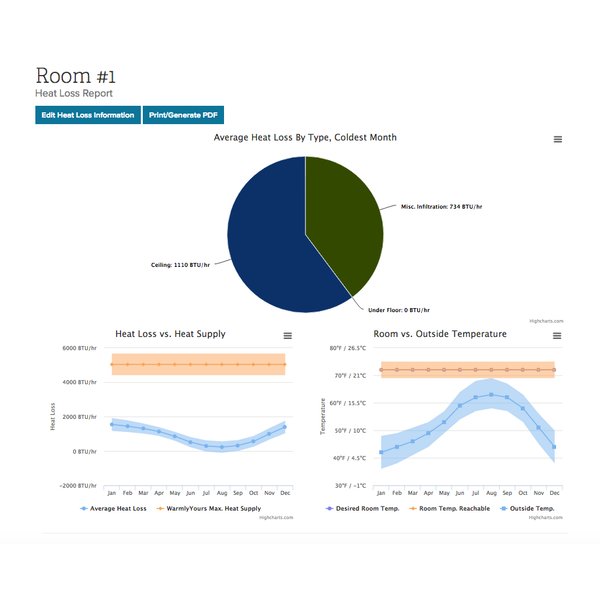 In this example, the room is located above a heated room and the ceilings in the room are 9 feet. According to WarmlyYours's Heat Loss Calculator, a floor-heating system can be the primary heat source for this room so no additional heating will be necessary which is a considerable cost and energy savings. If the room had a fireplace or other poor sealing factors, radiant floor heat as a supplementary heat source might be recommended.
To see if radiant heat can be your room's primary heat source, explore WarmlyYours's Heat Loss Calculator for yourself! 
Our Instant Quote Tool Makes It Fast and Easy to Get Costs
To find out the cost of supplying in-floor heating to your bathroom — or any other room in your home — check out WarmlyYours' Instant Quote Tool online. This tool will show you the exact product(s) you need along with the cost. Also, it gives you the option to upload a drawing or image of your room's floor plan so that our sales team can provide you with a free customized installation plan. This detailed plan shows you exactly where the electric floor-heating system will be located including how it will be laid out for optimal functionality.

Questions? We've made it easy for you to reach us. 1) Simply call us at 800-875-5285, 2) live chat us at www.warmlyyours.com, or 3) email us sales@warmlyyours.com.

Last but not least, when you are ready to install the product, our 24/7 technical support experts are available to guide you every step of the way, night or day whenever you need assistance.
For more information, visit www.warmlyyours.com.
Related articles:
Phoenix Rising - Radiant Living with Cost Effective Floor Heating
An Inviting Seattle Basement Bedroom with Low Cost Radiant Heat
Heating up a Halifax Master Bathroom: Costs + Benefits
---
Tell us About your Project
Our team of Radiant Experts is ready to help! Just tell us a little about yourself and your project to get started.
---
Did you find this post helpful?
Let us know by giving it some applause.
---
---