In addition to being the capital and largest city in Arizona, Phoenix also has the distinction of being the most populous state capital in the U.S. and the sixth most populous city nationwide. Phoenix is the anchor of the metropolitan area known as the Valley of the Sun and part of the Salt River Valley.
During the winter months in Phoenix, from December through January, the temperatures can drop into the 40 degree Fahrenheit range overnight. But there's a way to beat that desert chill with radiant underfloor heating.
Side-by-side Radiant Heating Options with Instant Quote Tool 
To see how much it would cost to heat any room in your home you can check out WarmlyYours' free Instant Quote Tool online. By inputting some basic information such as square footage of the room and flooring type, you'll see a side-by-side comparison of all the radiant heating options for your room, including how much each one costs. 
Although this Phoenix homeowner chose the TempZone™ flex roll option, the comparison shows his chosen option along with two alternatives utilizing TempZone™ cable as noted below. 
Option 1: TempZone™ Flex Roll - $1161.00 
Provides Cut-and-Turn Format for Easy Installation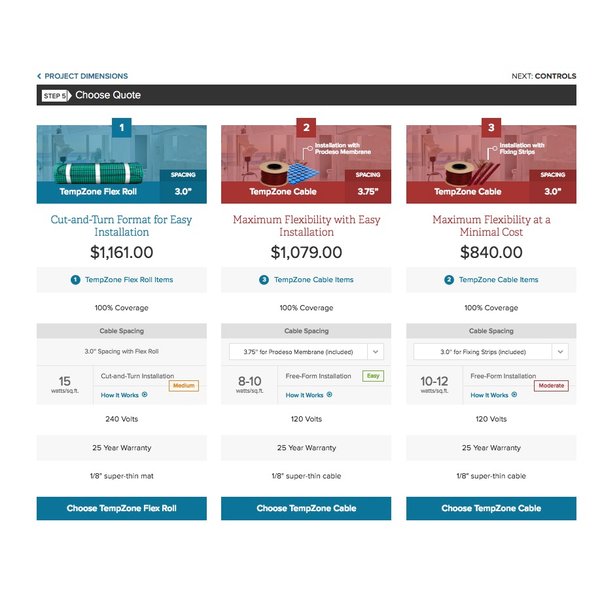 100% Coverage
3.0" cable spacing
15 watts/sq ft²

Option 2: TempZone™ Cable - $1079.00
Provides Maximum Flexibility with Easy Installation
100% Coverage
3.75" spacing for Prodeso Membrane (included)
8 - 10 watts/sq ft²
Option 3: TempZone™ Cable - $840.00
Provides Maximum Flexibility at a Minimal Cost
100% Coverage
3.0" spacing with fixing strips 
10 – 12 watts/sq ft²
Both of the cable systems with Prodeso membrane or fixing strips have further spacing options that can reduce the price, but will affect the total watts/sq ft² of radiant heat. For more information explore the Instant Quote Tool. 
In addition to the Instant Quote tool, you can also upload your floor plan online to get a more detailed installation plan, which shows exactly how the floor-heating system should be laid out. This plan makes installation easier for you or your installer and also gives our technical team more information to help you during your installation if you should have any questions.
A Radiant Phoenix Living Room with Economical Floor Heating
You may be familiar with the term "phoenix rising," but in this case it's not the mythological bird. It's a Phoenix living room with rising (radiating) heat. This Phoenix homeowner chose to add radiant floor heating to his living room remodel since it was both a family gathering place and where they frequently entertained guests. He purchased a WarmlyYours TempZone™ flex roll floor heating system to keep the space comfortably cozy during the evening when temperatures in the desert cool down. The 3-ft x 43-ft TempZone™ Flex Roll fills 129 square feet of floor space and costs $1161.00, which equates to just $9.00 per square foot. The Flex Roll is easy to cut and turn to effectively fill the floor space with 15 watts per square foot of soothing radiant heat. (see floor plan)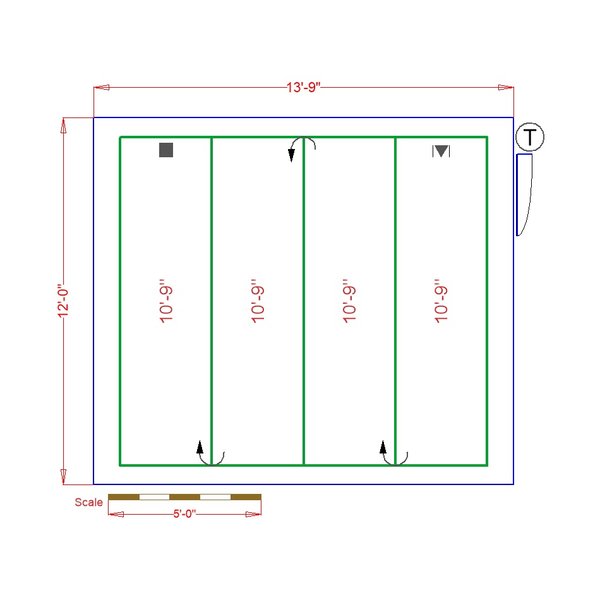 Operating the in-floor heating is also very economical. According to WarmlyYours' Energy Use Calculator, it only costs 81 cents a day to heat this living room for eight hours. Annually, that comes out to just $8.99, based on WarmlyYours' Heat Loss Calculator. Another bonus is that the floor heating system can be the primary heat source for this room, so there won't be any additional heating bills.
Have a question? There are several ways you can reach us. 1) Simply call us at 800-875-5285, 2) live chat us at www.warmlyyours.com, or 3) email us sales@warmlyyours.com. Our technical support experts are available 24/7 at 800-875-5285. For more information on all our radiant heating products, visit our website at www.warmlyyours.com. We have the solution for all your radiant heating needs.
Related articles:
Heating Up These Houston Kitchen Floors with Low Cost Radiant Heat
An Inviting Seattle Basement Bedroom with Low Cost Radiant Heat
Radiant Heating Costs for a Milwaukee Bathroom
---
Tell us About your Project
Our team of Radiant Experts is ready to help! Just tell us a little about yourself and your project to get started.
---
Did you find this post helpful?
Let us know by giving it some applause.
---
---