Although driveway heating isn't typically top of mind during the hot summer months, did you know that this is actually the best time to install a snow-melting system? That's because the warm weather offers the best environment for concrete or asphalt to be poured and properly cured. In turn, a snow-melting system can be embedded in these materials, as well as in mortar under pavers.
Before we get started, there are some variable factors that will of course play a role in how much installing a heated driveway will cost. These variables are: labor costs (if hiring professionals), material costs for the driveway itself (such as cement or asphalt or pavers), and heating system costs. And furthermore, all of these costs will be impacted by the size of your project. Labor and material costs may vary significantly in your area, however, according to Home Advisor the average cost for installing a new driveway (just labor and materials) will be between $2,514 and $7,007. In this post, we'll take a close look at the heating system costs as well as providing some examples.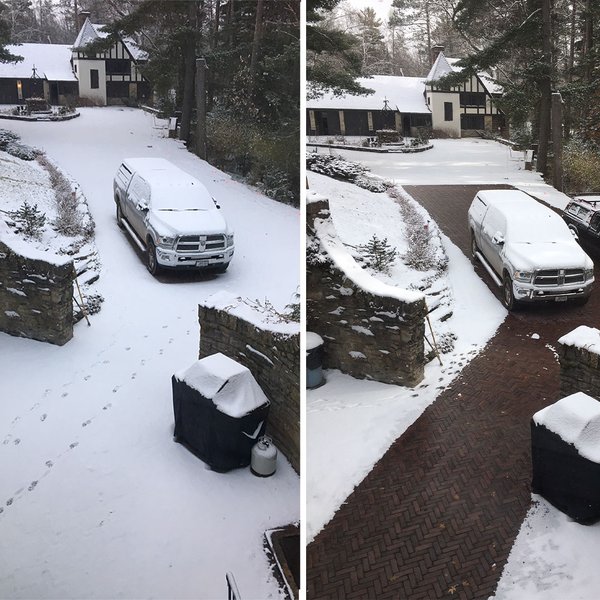 How Much Does a Heated Driveway Cost?
An electric snow melting system for a heated driveway costs between $10 and $25 per square foot. For a typical driveway, this would cost around $3,502 for full coverage. But you should also account for about $600 - $3,800 for the controls to operate the system.
For a typical heated driveway (10ʹ x 20ʹ), this could cost as little as $3,502 for full coverage (using snow melting cables at 3" spacing and a Value control with a large relay panel) or as little as $2,393 for heated tire tracks (using snow melting mats and a Value control with a large relay panel).
For a double-car driveway that is 20 feet wide by 20 feet long, WarmlyYours' snow melting system could cost as little as $5,957 (using snow melting cables at 3" spacing and a Value control with a large relay panel).
Although that might seem like a lot of money, you also have to consider the value of your time and comfort. Not to mention, most higher end snow blowers on the market (all of which require regular maintenance and fuel) can still cost over a thousand dollars. Additionally, the WarmlyYours heating element comes with a 10-year warranty.
But perhaps most importantly, you have to consider the potential costs of incurring a personal injury while dealing with snow removal yourself. Getting injured might not just cost you financially but also in relation to your quality of life. A heated driveway takes away all of that risk and worry and replaces it with snow free (and safe) surfaces.
If you equate the cost of paying a snow-removal company $50 each time it snows to plow your driveway, you would spend an average of $1,000 a year if it snowed 20 days, which is the average in Illinois, according to currentresults.com. That comes out to $10,000 in 10 years, which is significantly higher than the typical WarmlyYours heated driveway cost.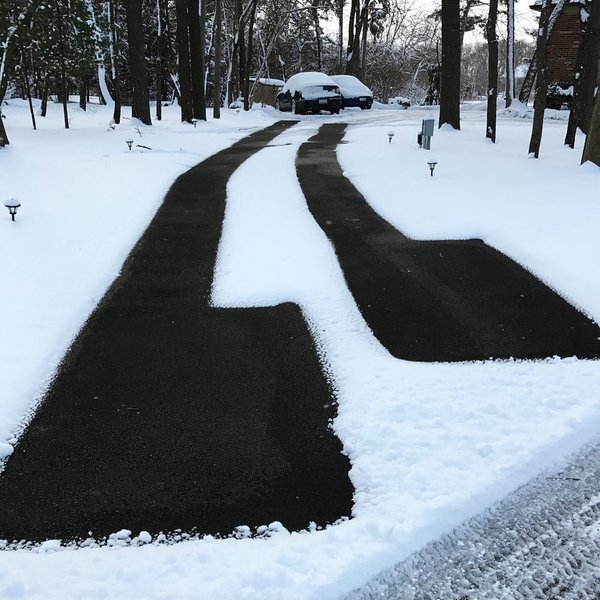 How to Get a Quote
To determine how much it would cost to heat your particular driveway, check out our Snow Melting Quote Builder.
Step 1: General Project Information 
The first step is provide us with some information about your project. This will help the tool identify the best items to suggest for your project. You'll be asked to provide the following: Application Type (like "Driveway" or "Walkway"), Coverage Type (either "Full" or "Tire Tracks"--which is only really relevant to driveways), Surface Type ("Asphalt", "Concrete" or "Paver"), and the Heated Area of your project (which can be provided in either square feet or in length x width dimensions). 

Note: At this stage, you can also hit "Advanced Options" if you want to make changes to the input voltage of the system of the spacing of the heating cables. 
Step 2: "Get Quotes"
The next step is pretty easy, but also pretty fun. Just hit the "Get Quotes" button. 
Step 3: Choose Your System
Next you'll be presented with the heating elements, controls, and accessories that are best suited for your project. Depending on the information you've already provided, you may be only presented with either snow melting cables or snow melting mats. For example, we typically only suggest snow melting mats for asphalt projects. 
Step 4: Add to Cart! 
Finally, you're ready to make your purchase!
Of course, if you have any questions along the way, the WarmlyYours team is there to help. Just give one of our experienced customer service representatives a call at 800-875-5285.
Our technical support team is also available 24/7 to answer any questions that arise during installation.
When you're out bearing the heat this summer, be sure to think ahead to the winter, when this same kind of heat can free you from having to go out in the cold to shovel your driveway — or pay someone else to do it. By installing a snow-melting system in a new driveway now, you can save money and reduce the chance of injury to yourself (from shoveling) and your guests (from slipping on ice or snow). That's priceless!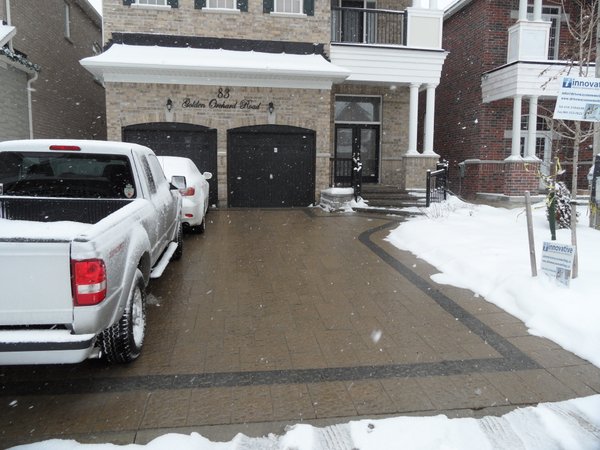 How Much Does Snow Melting Cost to Run? 
The answer to this question depends on a lot of variables like local energy costs, snowfall, and the size of the project. The impact of these variables on operating cost are explained in greater detail in this post about how much energy a heated driveway uses. However, to get a rough idea of how much a snow melting system for a heated driveway would cost to operate in your area, you can use our Electric Snow Melting Operating Cost Calculator.  
Please note that all prices provided are in USD.
---
Tell us About your Project
Our team of Radiant Experts is ready to help! Just tell us a little about yourself and your project to get started.
---
Did you find this post helpful?
Let us know by giving it some applause.
---
---