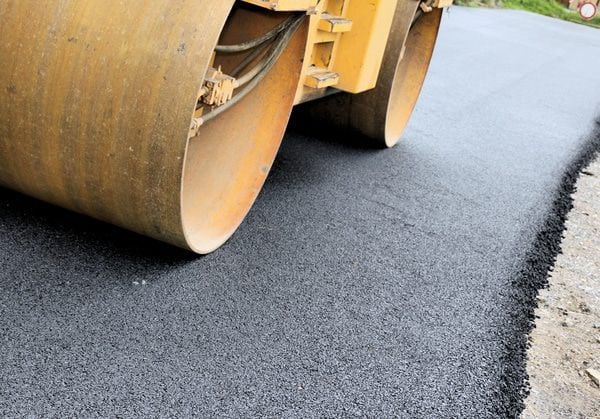 Although driveway heating isn't typically top of mind during the hot summer months, did you know that this is actually the best time to install a snow-melting system? That's because the warm weather offers the best environment for concrete or asphalt to be poured and properly cured. In turn, a snow-melting system can be embedded in these materials, as well as in mortar under pavers.
What's the Cost?
The cost of installing a heated driveway also might not be common knowledge. To determine the cost of a snow-melting system, let's take a look at typical driveway sizes. According to experts, the width of a driveway should be at least 10 feet. Ask.com states that the standard length for a single- or double-car driveway is 18 to 20 feet long.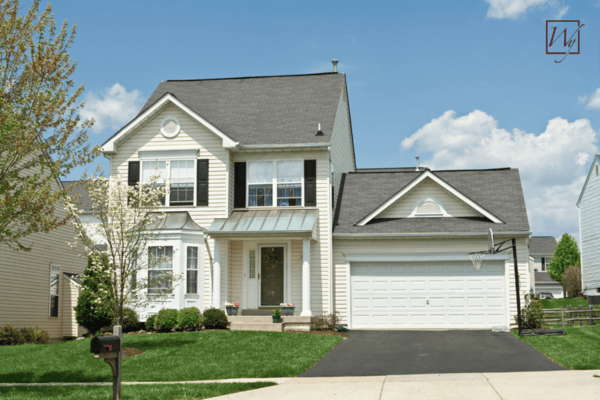 For a single-car driveway that is 10 feet wide by 20 feet long, WarmlyYours' snow-melt cable costs $1,430. For a double-car driveway that is 20 feet wide by 20 feet long, WarmlyYours' snow-melt cable costs $2,935. Although that might seem like a lot of money, it's actually similar in price to many snow blowers on the market.
Plus, the heating element comes with a 10-year warranty. If you equate the cost of paying a snow-removal company $25 each time it snows to plow your driveway, you would spend an average of $500 a year if it snowed 20 days, which is the average in Illinois, according to currentresults.com. That comes out to $5,000 in 10 years, which is significantly higher than the cost of a WarmlyYours snow-melting system.
For an even more economical option, WarmlyYours also offers 2-foot-wide tire track coverage. For a 10- by 20-foot driveway, a snow-melt cable for tire track coverage costs only $650. The return on investment for this installation would be less than two years, based on the specifications mentioned above!
How to Get a Quote
To determine how much it would cost to heat your particular driveway, check out our Instant Quote tool.
Step 1: Select Snow Melting and name your project.

Step 2: Select the project location (Driveway, in this case).
Step 3: Enter your project details, including your role, where the project will be located, the surface type, and coverage. Under coverage, this is where you can determine if you would like full coverage or tire tracks only.
Step 4: Enter the square footage or width and length of the driveway. Or, for a detailed custom installation plan, draw the layout or upload a floor plan.
Step 5: Choose your product! The Instant Quote tool will show you a snow-melt mat, snow-melt cable or both, depending on your project. Both products offer 50 watts per square foot (with the cable spaced at 3 inches); however, the main difference between the two is that the cable is less expensive but a bit more labor-intensive to install.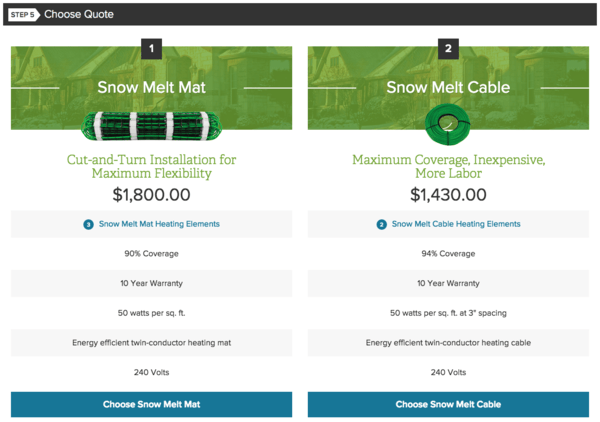 Step 6: The last step is to choose your control and accessories. Then you're ready to make your purchase!
Of course, if you have any questions along the way, the WarmlyYours team is there to help. Just give one of our experienced customer service representatives a call at 800-875-5285.
Our technical support team is also available 24/7 to answer any questions that arise during installation.
When you're out bearing the heat this summer, be sure to think ahead to the winter, when this same kind of heat can free you from having to go out in the cold to shovel your driveway — or pay someone else to do it. By installing a snow-melting system in a new driveway now, you can save money and reduce the chance of injury to yourself (from shoveling) and your guests (from slipping on ice or snow). That's priceless!
Sources:
www.ask.com/home-garden/standard-driveway-lengths-widths
www.currentresults.com/Weather/US/average-snowfall-by-state.php
---
Did you find this post helpful?
Let us know by giving it some applause.
---
---