It's official. You've decided that last winter was the last time you'd ever have to deal with snow and ice on your driveway, walkway and/or patio. The snow shoveling, snow removal, and salting have finally come to an end because you've decided on installing a heated driveway. No more back-breaking labor; no more liability. Next winter, you'll be warm and cozy inside while you let your brand-new snow-melting system take care of all the work.
A Quick Overview: Snow Melting Mats vs. Cable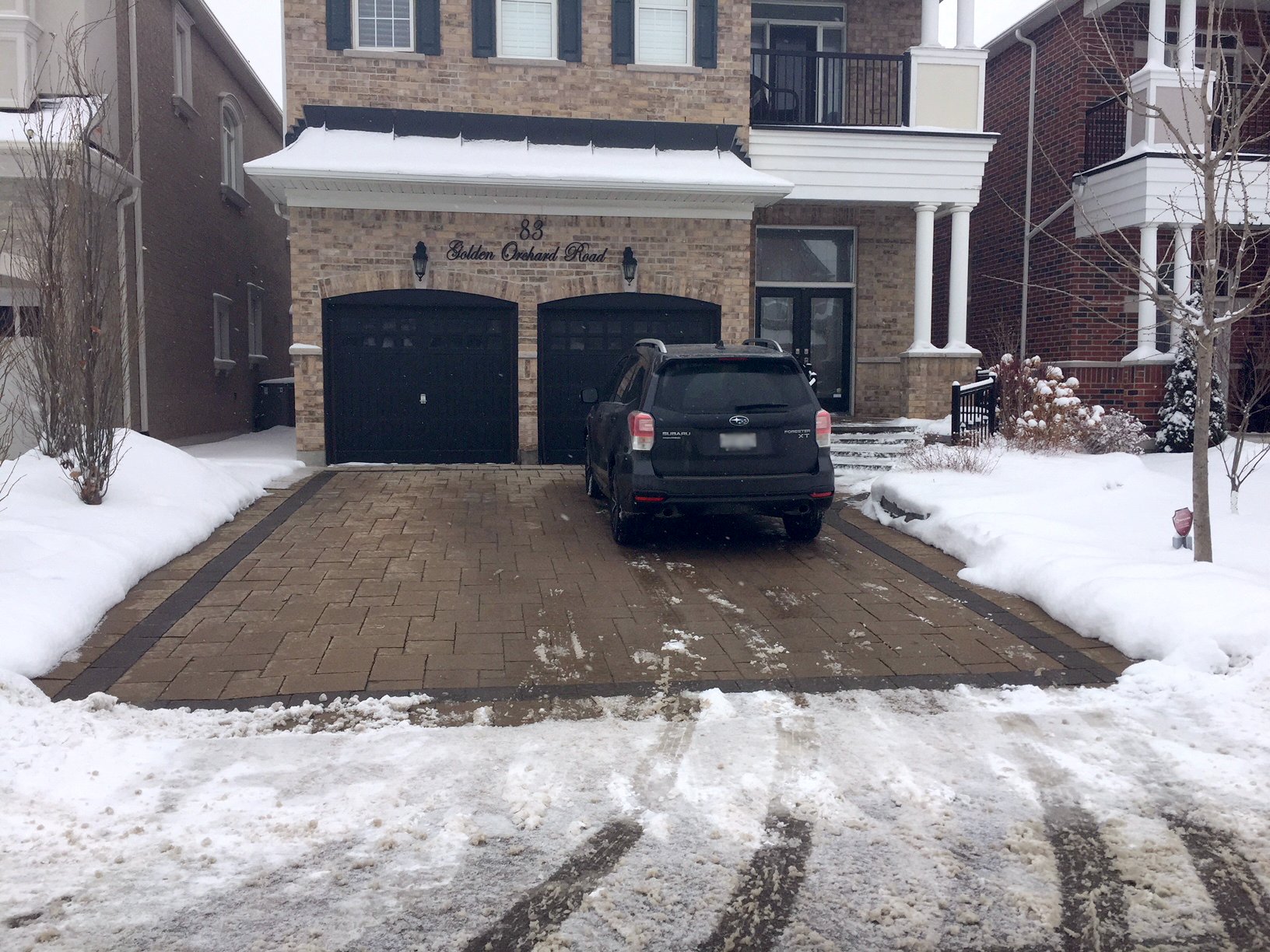 Here are some of the benefits of each of the primary heating elements used in a heated driveway system and how they differ from one another.
Snow Melting Mats
Easier/faster to install than cable, but slightly higher in cost
Great for square or rectangular projects like a driveway or walkway
Designed to maintain optimal spacing for even heating
Snow Melting Cables
Lower cost but requires more installation time than heating mats
Design flexibility makes them great for projects like circular driveways or outdoor stairs
Can be designed with different spacing to increase/decrease watts per square foot
More voltages available (120, 240, 208, 277 VAC)
Now that your mind's made up, how do you begin the process of installing a radiant heating system? How do you make a heated driveway? And when?
As long as the ground isn't frozen, you can have a snow-melting system installed on your property. That means generally you can have the work done in the spring, summer or fall months. To find a contractor for the job, check out WarmlyYours Radiant Heating's Dealer/Installer Database. Just plug in your zip code to search for local contractors in your area. Filter the results by "Supports Snow Melting" and you'll be provided with all the information you need.
Once you've hired a contractor, they're going to want to know what kind of electric heating system you'd like installed. That's when you'll need to know whether you'd like to use snow-melting mats or cables.
Should you choose electric embedded mats or cables for your project?
There are a few major differences between snow-melting mats and cables, which should make your decision relatively easy to make. The differences come in the areas of labor, price and flexibility, so your budget and driveway layout may end up making the decision for you.
Snow Melting Mats: Cut-and-Turn Format for Easy Installation
Snow-melting mats consist of cable embedded in mesh rolls, which makes it particularly fast and easy to install. The mats are simply rolled out and the mesh is cut and turned as needed to fill the desired heating area. This option also ensures proper spacing of the cable for even heating since the cable has already been set in an evenly spaced serpentine pattern according to the manufacturer's specifications. This ease of installation, however, generally comes with a slightly higher price tag.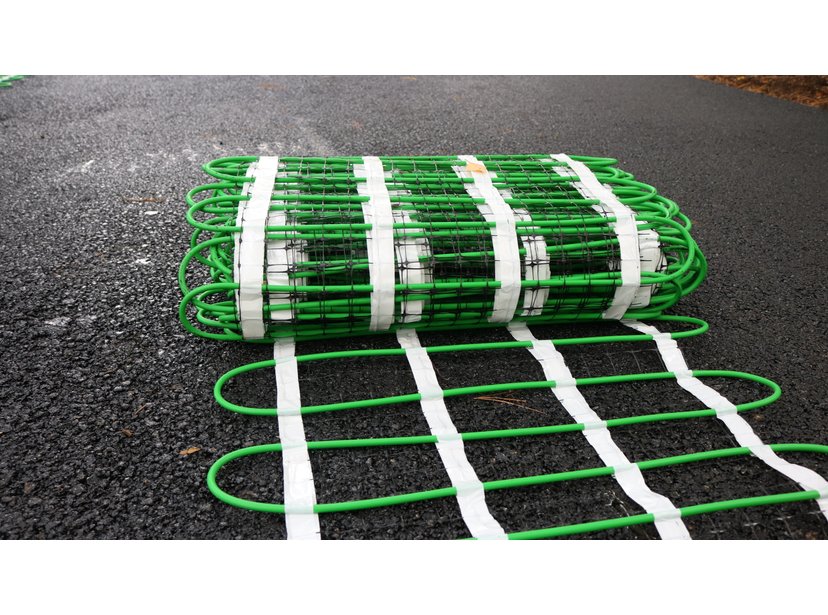 The rectangular shape of these heated snow melting mats also makes them a great option for square or rectangular projects, such as a simple driveway or walkway. However, their format proves to be a little more difficult to work with when the area is curved. 
Snow Melting Cables: Maximum Flexibility at a Minimal Cost
Snow-melting cable is known for its flexibility. Whether you have a circular driveway or a long, winding walkway, cable can handle the job. It's also the most affordable snow-melting option. The downside is that installation takes longer and is more labor intensive.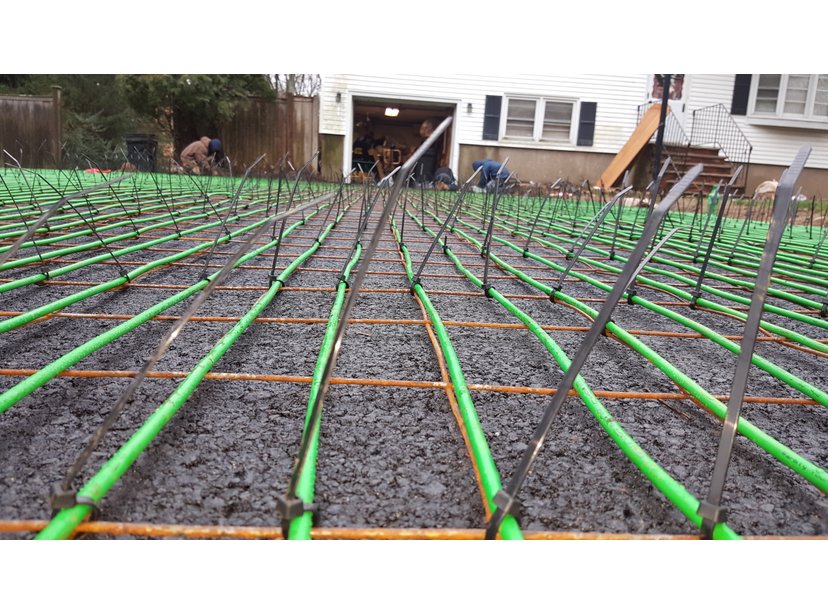 The flexibility of the cable also applies to its level of heat. The spacing is not set, therefore installers have the ability to vary the spacing of the cable to increase or decrease the wattage per square foot. 
Snow-melting cable is available in 120 and 240 voltages, as are the mats, but the cable is also available in 208 and 277 voltages for commercial applications.
Now that you know the differences between snow-melting mats and cables, you might be wondering how much they cost. WarmlyYours offers a free, instant quote tool to help you calculate the cost of your own system. Or you can use this calculatorto get an idea of the operating costs. Simply follow the prompts and you'll be provided with the price for both a snow-melting mat and cable with details about each system. You'll also be able to learn about the controls that are available and see the cost for each option.
Get started with your own snow melting quote today!
---
Tell us About your Project
Our team of Radiant Experts is ready to help! Just tell us a little about yourself and your project to get started.
---
Did you find this post helpful?
Let us know by giving it some applause.
---
---