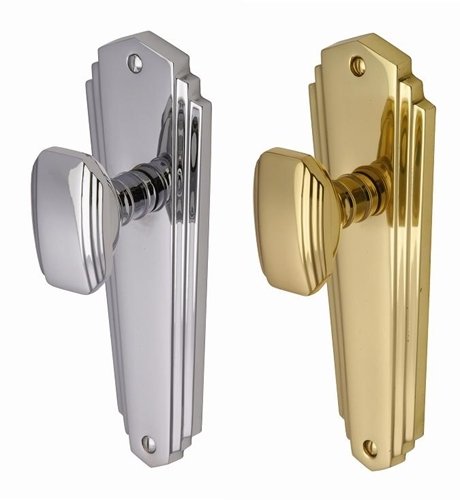 Fringes and feathers became popular on flapper dresses in the 1920s, chic fabrics were used for the first time in menswear and decorative styles in home design emerged to reflect the creative energy of the era.
In the Roaring Twenties, decorative styles bridged the gap between Victorian furnishings and the sleek symmetry of Art Deco designs that became popular at the time. The spirit of that decade continues today in Art Deco styles that seem as contemporary as any modern furniture and have definitive features such as tasseled curtains, glittering crystal fixtures and beveled mirrors used as room accessories.
But even when homeowners decorate their dwellings in a period style, they don't have to give up the modern features that make their homes comfortable, energy efficient and in step with the 21st century. Radiant floor heating, for instance, can be installed just as easily below black and white checkerboard flooring - a big favorite in Art Deco - as beneath any flooring material used in current day homes.
Curves and Metallics
According to Houzz.com, many of the styles that became popular in the 1920s still inspire designers. Black and white color schemes accented with metallics and deep hues like burgundy and pinstripe patterns are among them. Homeowners who like a streamlined, geometric look in their furnishings will consider this style a good choice for their decor.
The major design elements include zigzag and step patterns, sweeping curves and sunburst shapes. Inlaid wood, aluminum, lacquer and stainless steel are some of the materials that can be integrated into modern room design. The ultimate tie-in to a contemporary home would be a series of framed black-and-white photos framed displayed as a wall gallery.
Modern Use of Art Deco Style
What saves these hard-edged design lines from seeming too austere are coffee tables in oval shapes and comfortable upholstered seating with curved arms and backs.
One of the mainstays of modern furnishings, the club chair, got its start in the Art Deco era and remains one of the most versatile chair styles for home decor. Cabinets, often in beautiful wood tones, also became popular then and certainly fit the current need for attractive storage furniture.
In bathrooms, fixtures in brushed nickel or chrome can be easily incorporated into an Art Deco design scheme. From faucets to heated towel racks, the metallics that were popular nearly 100 years ago meld beautifully with conveniences that modern families enjoy.
---
Tell us About your Project
Our team of Radiant Experts is ready to help! Just tell us a little about yourself and your project to get started.
---
Did you find this post helpful?
Let us know by giving it some applause.
---
---