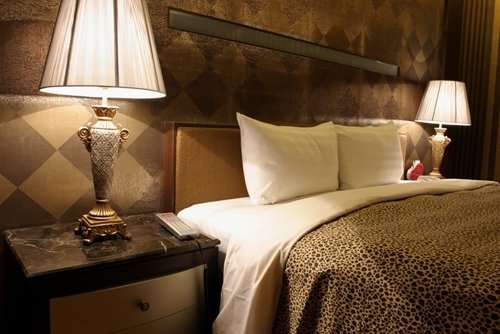 Not every home has a guest room, but the people who live in houses without them may still have overnight visitors now and then. Trying to find a space where guests doesn't feel like they're intruding on the normal household routine is a dilemma. Rising to the challenge, and going beyond, is the mark of great hosts.
Comfortable furnishings in a toasty room where visitors won't have to wander through the dark looking for an extra blanket and a handful of amenities will make them feel at home. Put them in a room with radiant floor heating and that will guarantee their comfort through the night and in the morning when their feet touch down on a warm floor. 
Even if there's no separate room for visitors, making a section of a room reserved for guests as welcoming as possible takes planning for other features as well.
A place like home
Set up a space where visitors can store their belongings such as a small table to use as a nightstand. Supplying guests with a garment rack, suitcase stand or some space in one of the home's closets also helps them keep their clothing in order during the visit.
Easy-to-store feather beds come in full-size, but can be folded up when not in use during the visit, according to RealSimple.com. Another alternative is an air mattress, which can be inflated and deflated quickly, then folded up and put out of sight.
Providing the family's best linens will make even the most makeshift sleeping arrangements seem like a special place to stretch out at bedtime.
Laying out extras
To make visitors feel welcome as soon as they arrive - especially after they've come from a long distance - set out a small snack on their nightstand, such as a bottle of water with some fruit, a granola bar or packaged nuts.
Other welcoming moves that hosts can make include supplying their guests with travel-size toiletries, including shampoo, toothpaste, a small bar of soap and lotion, according to SimpleMom.net.
Providing towel sets in a different color for each visitor and leaving them on the guest bed or nightstand will eliminate any confusion about what towels they should use. If there's a heated towel rack to warm up linens, the guests will be really impressed. 
For early risers, leave out dishes, silverware and a note that they can help themselves to breakfast foods. Give some directions on where they can find the utensils, coffee maker and fixings in your kitchen.
---
Tell us About your Project
Our team of Radiant Experts is ready to help! Just tell us a little about yourself and your project to get started.
---
Did you find this post helpful?
Let us know by giving it some applause.
---
---