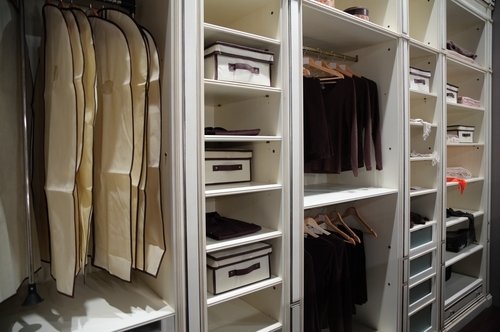 There is no such thing as too much storage space. Regardless of the size of your family, adding extra storage to the home in the form of a mudroom can help you stay organized and keep your house cleaner.
Let's start with the basics. What is a mudroom? While the definition will vary depending on your needs, a good general description is a space that is designated to keep all of your out-the-door essentials such as coats, shoes, umbrellas, backpacks and accessories. While some homes have mudrooms that are separated by a door from the interior of the rest of the house, others simply have a space used for storing necessities and preparing to come inside or go out.
According to Lowe's there are several benefits of having a mudroom. They include additional storage and helping to keep the rest of the house clean by providing a spot for clutter and dirty items, such as shoes and wet clothing. 
Location
The location of a mudroom will depend on the layout of your home. Think about where your family enters and exits from and determine if there's a spot that can be used. You don't need a closed-off, separate area. Your mudroom can simply be a corner or wall that can help keep everyone more organized. Design experts often suggest a spot near the kitchen, garage or laundry room as ideal.
Just think - questions like, "have you seen my boots?" will soon be a thing of the past!
Essentials
The perfect mudroom has a mixture of both open and closed storage spaces. Install hooks for the coats and jackets family members use most often, cubbies for shoes and baskets, bins, shelves and cabinets for storage. 
Hooks for car keys, a hanger for the dog's leash and a spot for charging cell phones and other electronics may also be a good idea. Many people choose to incorporate some sort of bench or seating area as well for putting on shoes.
Materials
Because the mudroom is meant to help keep the dirt out of the rest of the home, the flooring is important. Tile, stone, concrete or vinyl floors are all easy to clean and durable. 
Installing radiant heat in this area can be especially helpful for keeping family members comfortable and helping wet shoes, coats and snow gear dry quickly. Lowe's also suggests an exhaust fan that is vented outdoors to keep the area fresh.
Check out home improvement websites and magazines for design ideas. And, remember, your ideal mudroom will likely be slightly different than any you see.
---
Tell us About your Project
Our team of Radiant Experts is ready to help! Just tell us a little about yourself and your project to get started.
---
Did you find this post helpful?
Let us know by giving it some applause.
---
---