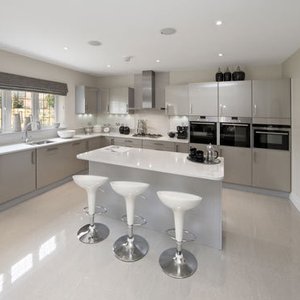 It is still early in the New Year and that means there are many announcements and releases of new technology, updates, and new top trends. The National Kitchen and Bath Association (NKBA) have recently released their annual report of the Top trends for your home. So now it's out with the old and in with the new.
Or maybe not…
Many trends are the same. Like last year's report, glass backsplashes and LED lighting remain popular. Another home trend that isn't going anywhere soon is the color white. With white as the top color option for kitchens and baths, it's no surprise that white-painted cabinets have stayed on top of the chart since last year. Interest in the category has grown significantly, climbing from 47% in 2011 to 59% in 2012, and further increasing to 67% this year. Branching off onto a similar category and climbing to the top are neutral color schemes. Gray color schemes in both kitchens and bathrooms have dramatically escalated since 2010, especially over this past year. Almost half of kitchens and bathrooms use shades of gray, coming up just short of white and off-white that still remain the top color options.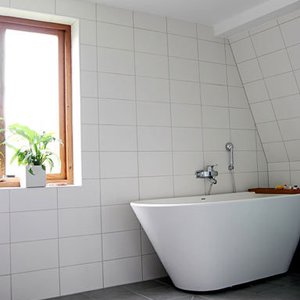 Now when it comes to the style of kitchens and baths, traditional designs continue to give way to transitional styling, which is defined by the NKBA as a seamless blend of traditional and contemporary. Taking the lead from 2012, transitional design is used by 69% of kitchen designers and 61% of bathroom designers. Traditional styles hold steady in second place at 60% and 58% in kitchens and bathrooms respectively, with contemporary design a close third. Getting down to the smaller details in kitchens and bathrooms, the report reveals that granite remains the surfacing material of choice, used by 87% of kitchen designers and 71% of bathroom designers. Yet, quartz is close behind. Use of quartz in kitchens has jumped from 69% in 2012 to 80% this year, and from 53% to 65% in bathrooms.
With touch-activated faucets gaining popularity over the past couple years, another trend that has continued to grow impressively are glass back splashes. From 42% in 2010 to 64% this year, glass backsplashes follow ceramic and porcelain tiles as one of the top choices for kitchens and bathrooms. Let's not forget about lighting. LED Lighting is being specified by a large percentage of designers, increasing from 70% to 77% over the past year. The substantial increase from 50% in 2010 indicates that this is another trend that's here to stay.
Last, but not least, are the flooring trends that have shown a decline over the past two years. Both ceramic and porcelain tile flooring in bathrooms have been down. Although there has been a decrease, they are still the most popular choice, specified by 83% of survey participants, down from 93% in 2011. Natural stone tile is the second most popular flooring type, but has also dropped from 77% use in 2011 to 57% this year. Depending on your flooring preference, any of these flooring surfaces are a perfect fit for WarmlyYours TempZone™ floor heating systems. Floor heating will not only increase the value of your home but create a more luxurious kitchen or bathroom for you and your family to enjoy for years to come.
---
Tell us About your Project
Our team of Radiant Experts is ready to help! Just tell us a little about yourself and your project to get started.
---
Did you find this post helpful?
Let us know by giving it some applause.
---
---