"Twenty-eight percent of homeowners plan to purchase flooring in the next 6 months."
— Houzz & Home Survey, 2014
"The average spent for a flooring/paneling/ceiling addition or replacement is $5,684."
— Houzz & Home Survey, 2014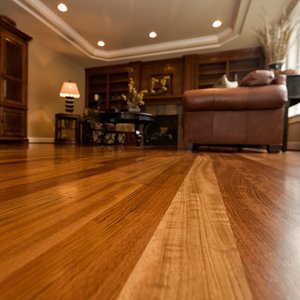 Flooring, according to the third annual Houzz & Home survey, is a popular — and worthwhile — home improvement decision. In the category of replacement projects, flooring/paneling/ceiling are most popular with 27% of respondents saying they completed a project over the past five years. More specifically, 34% of homeowners planning a project in the next two years plan to hire a flooring professional.
WarmlyYours Radiant Heating provides radiant floor heating for almost any floor type, including wood flooring. Wood flooring has a wow factor that is hard to deny. You could even call it home improvement "bling," as Janice Caputo, a Pittsburgh, Pa.-based Realtor® with Coldwell Banker Real Estate Services describes it.
"Hardwood flooring is definitely a bling feature, especially in the living rooms and dining rooms," she shares.
Wood flooring immediately enhances the look of a room. "Even if you don't like its coldness and hardness —both of which can be mitigated, by the way [by radiant heating perhaps!] —the stuff looks super," says Lee Wallender. Most experts agree that in addition to looking great wood flooring also has a strong return on investment and improves the resale value of a home. In a nationwide survey commissioned by the National Wood Flooring Association (NWFA), residential real estate agents reported homes with wood floors sell faster and fetch higher prices. By a four-to-one margin, real estate agents said that a house with wood floors would sell faster than a house without wood floors. Also, some 90 percent said a house with wood floors would bring a higher price.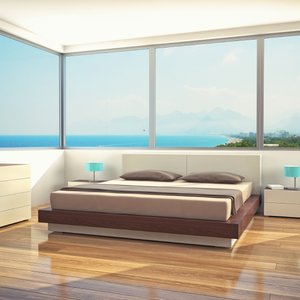 While homeowners may not get all of their money back, having wood flooring will generally increase the chances of selling the property, confirms Chicago-based Matt Laricy, a Realtor® with Americorp Real Estate.
"Most buyers nowadays are expecting hardwood. They want things move in ready, and don't want to do any work. Seeing carpet could make them pass," he says.
WarmlyYours Radiant Heating provides radiant floor heating for virtually any floor type, including hard wood flooring. Some home owners may not be aware that it is possible to install in-floor heating under hardwood, but it is. WarmlyYours floor heating systems, Environ (for floating and engineered wood floors) and TempZone™ (for nailed hardwood installations) eliminate harmful temperature fluctuations and remove the common complaint of cold wood floors, allowing homeowners to more fully enjoy the strength and luxury of wood flooring.
Home Buyers Will Pay More for Wood Floors
Wood flooring is a feature future home buyers are willing to pay more for according to data from the National Association of Realtors, which 24/7 Wall St. reviewed to find the features that most homeowners were willing to pay more for. They found that 54% of home buyers were willing to pay more to have hardwood floors.
24/7 Wall St. also broke down the interest level of various age groups. While 25% of buyers under the age of 35 and 28% of those between 35 and 54 considered hardwood floors 'very important' when looking for a home, only 17% of people ages 55 and up felt the same way.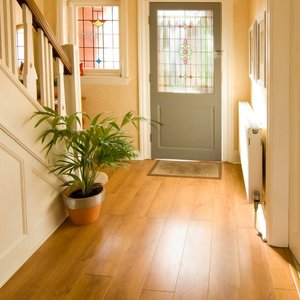 "In previous generations, homes with carpets were considered better in order to conserve energy," says Brendon DeSimone, a Realtor® and real estate expert with Zillow. "Even today, older people are more likely to feel more comfortable with carpeting because the insulation makes the home a little bit warmer. But for younger people looking to have many guests at the house and for people with children, hardwood floors are desirable because they are easier to clean than carpets," he explains. While the resale value of installing a hardwood floor is hard to definitively calculate, as many factors come into play, some home flooring pros will estimate wood flooring can bring back 1 to 1.5 times its cost when a home is sold. With 53 percent of homeowners making improvements to increase the resale value of their home, according to the Houzz & Home survey, that's a strong argument for a flooring upgrade.
"It makes sense that people want to invest in a floor that lasts forever," says Chris Sy, vice president of contractor sales and development at Carlisle Wide Plank Floors. "Taking out your flooring is a disruption at a high cost. With hardwood, you're putting down a surface that may outlast the lifetime of your house."
Since wood flooring does last so long, experts do suggest reminding homeowners to opt for a neutral wood color to accommodate the widest ranges of buyers' preferences and tastes during resale. The Houzz survey revealed that the top challenge for homeowners was finding the right products (39%), so they are up for guidance from flooring professionals, as each style of wood flooring comes with its own advantages and disadvantages.
Earlier this week, WarmlyYours Radiant Heating released its "WarmlyYours Radiant Heating Q2: 2014 Industry Report," which showed incredibly strong results for wood flooring floor heating products. Bamboo (floating) sales increased 311%, followed by wood (glued) and engineered wood (floating) at 196% and 124.3% respectively. See all categories and the full industry report here.
Bamboo is a fairly new type of flooring for the American market, but it is experiencing fast growth as an eco-friendly flooring option that is easy to clean and durable overall.
And more people are choosing engineered wood for its benefits, including resistance to damage from cold and humidity, affordability, and the ability to hide scratches and other marks slightly better than solid hardwood.
Wood is Trendy in Kitchens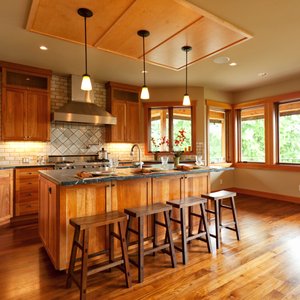 One area of growth for wood flooring installation is kitchens. In fact, hardwood — still less common than ceramic tile — accounted for one-third (32%) of kitchen floors installed in new homes in 2012, according to the most recent Builder Practices Survey by Home Innovation Research Labs. "While tile remained steady over the past eight years, hardwood snapped up 13 percent of the market share and is the fastest growing material in the category," according reports Sandra Malm in an article on flooring trends.
The same Builder Practices Survey shows that 12 percent of entry-level homes and 40 percent of move-up and luxury homes use hardwood in the kitchen.
Whether for use in kitchens, master bedrooms, or main living spaces, WarmlyYours makes it possible to put the finishing touch on the luxury of wood floor: warmth and comfort. Flooring's strong position as a remodeling upgrade and design feature among home buyers, along with a good return on investment, make it a compelling offering — for installers and homeowners alike.
Do you have any unique wood flooring installations or flooring ideas? If you install radiant heated flooring, then share your story, send us photos on the WarmlyYours Facebook page, or tweet us at @WarmlyYours.
Sources:
http://morningchores.com/flooring-ideas/
http://www.accoladerealestate.ca/sellers-resources/Renovations-with-the-best-return
http://www.homeflooringpros.co...
http://www.usatoday.com/story/...
http://c.ymcdn.com/sites/www.nafcd.org/resource/resmgr/Press_Releases/Executive_Trends_Index_and_R.pdf
http://homerenovations.about.com/od/hardwoodfloor/a/Wood-Flooring-Resale-Value.htm
---
Tell us About your Project
Our team of Radiant Experts is ready to help! Just tell us a little about yourself and your project to get started.
---
Did you find this post helpful?
Let us know by giving it some applause.
---
---