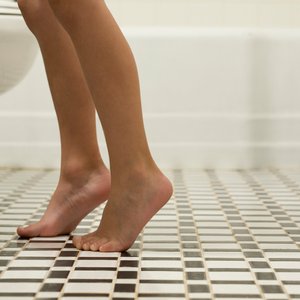 Thinking about a bathroom remodel? It could help you sell your house or simply heighten your own personal satisfaction in your home. "The kitchen and bathroom sell a house," says Ken Perrin, president, Artistic Renovations, Cleveland, Ohio. So when remodeling, find a balance between what you want now and the features you'll need to receive a nice return on investment (ROI) if you ever decide to sell. To get the highest ROI from your remodel, it has to be the right remodel. Paul Wyman, a real estate agent with Wyman Group in Kokomo, Ind., cautions that you will "turn off buyers if you only put in the minimal amount of work." Big details, such as deciding to change the floors, tile, or shower configurations should be planned with a professional. Smaller details, such as towel warmers or mirror defoggers will help add comfort without deeply denting your budget. Previous estimates by Remodeling Magazine have estimated that bathroom remodels have a "62 percent return on investment. To really get your full ROI here are some tips to maximize every dollar you put into a bathroom remodel with big and little changes.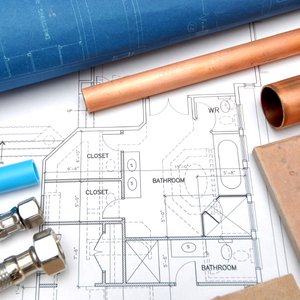 1) Know your numbers before you start.
The highest ROI starts by selecting a contractor who will bring you quality materials and a time-tested design that will hold resale value. DO NOT just go for the contractor who quotes you the lowest price; it is almost never the best option. It helps to know your numbers going in. To start, the cost of a typical bathroom remodel in the United States is about $16,000. Understanding this average cost will help you weed out low-quality contractors. If a contractor quotes you $9,000 for a full bathroom remodel, you should ask him how he's magically making that happen. "In most circumstances, anything below [$10,000] will include linoleum floors, a leaky bathtub, and other materials that you won't be happy with," cautions Steven Moore, Budget Bath USA, in "Real-World Budgeting for Bathroom Remodeling." As you set your budget for a bathroom remodel, a general rule of thumb is to spend 5 to 10 percent of your home's value on a bathroom remodeling project. So with a $200,000 house, you can estimate spending $10,000 to $20,000 on your bathroom, according to Moore. Once you've set your base budget, work with your designer and contractor to include design details that will create the most functional, comfortable space. Here are some additional details to consider.
2) Do choose your floor with care, and be honest about what you'll love over time.
If you want an easy-care floor Josh Garsk of This Old House Magazine advises choosing porcelain or glazed tiles and avoiding porous natural stone tiles like limestone. "Unless sealed vigilantly, they'll absorb drips and spills and become stained over time," he explains. If you want a nonslip floor he suggests choosing tiles with textured surfaces, matte finishes, or sand-containing glazes. "Smaller tiles with lots of grout lines will offer better 'grip' than large tiles," he says.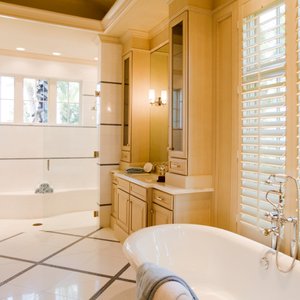 WarmlyYours Radiant Heating offers multiple options for a wide variety of bathroom flooring types, so you won't be limited on your choices in order to add the comfort of heated floors. Choose the style that best fits you and your family, and then your contractor will fit the appropriate TempZone™ heating mats to your space. From TempZone™ custom heated mats (which are custom-sized electric heating mats that arrive in one piece, making for a fast, simple installation — so your contractor doesn't have to make any cuts or trims) to our TempZone™ twin floor heating cable (which provide complete floor heating coverage of rooms with unusual dimensions), you can bring radiant warmth and comfort to your bathroom.
3) Make the shower a focal point with a heated bench.
There are a lot of inspirational examples of quality, memorable shower designs. One unique touch is to add a shower bench, creating a spa-like space and adding comfort and function.
There is an art to getting shower seating right, however. There are three kinds of permanent shower benches: built-in, floating and fold-down.
"1. Built-in bench: This is a trade term describing a seat that is framed into the shower wall and floor. This type of seating can run the entire width of a shower enclosure…or may be limited to a corner. It can have squared angles or be semicircular.
2. Floating bench: A floating bench is firmly secured to the shower walls but is open underneath.
3. Fold-down bench: This is a space-saving solution for smaller showers or universal design showers."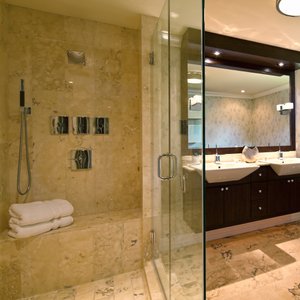 Built-in benches open the opportunity to heat the bench and eliminate cold in your bathroom completely. WarmlyYours offers safe heating for wet locations, including your walk-in shower. The system works well for larger, luxurious showers with a European curbless design, and is offered in several sizes, to accommodate any shower application.
When designing the shower bench, keep in mind the ideal bench height will vary. Taller people like higher benches around 21½ inches, while others will prefer a height more like a chair, around 17½ to 18 inches. Find a balance between your preferences and average heights, which will help maintain your ROI if you decide to sell.
4) Don't forget about the details.
There are certain things in life you could certainly live without, but, once experiencing them on a daily basis, well, you can't really imagine it. Mirror defoggers are one of those things — especially if you share a bathroom and are second in line for the shower, meaning you're dealing with fogged up mirrors when it is your turn. Eliminate that problem with ClearlyYou™ Mirror Defoggers, which transmit gentle warmth across the mirror's surface and prevent moisture from forming while you bathe or shower. The mirror defogger draws only a minimal amount of energy and operates at a constant, regulated temperature of 104 degrees. It is a simple change that will eliminate a common bathroom annoyance.
5) Create a start-to-finish experience with towel warmers.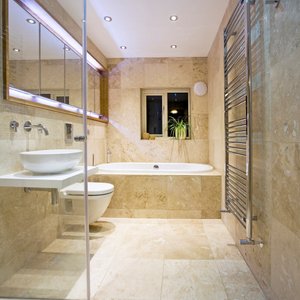 Imagine stepping out of a shower or bath to luxurious, freshly warmed towels waiting for you on warming racks that enhance the spa feel of your bathroom design. Available in several different models, towel warmers from WarmlyYours can help create the perfect finishing touch on your bathroom experience. They come in several finishes and designs, to offer an affordable option for warming and drying your towels.
All of these suggestions will maximize the money you spend on a bathroom remodel, no matter how big or small. Find a balance between your personal preferences and commonly requested features, and you'll have a bathroom that not only stands the test of time and rewards you with a good ROI, but also enhances daily life in the meantime.
How have you upgraded your bathroom into an oasis of comfort? Share your remodeling ideas with us on the WarmlyYours Facebook page or tweet us at @WarmlyYours.
---
Tell us About your Project
Our team of Radiant Experts is ready to help! Just tell us a little about yourself and your project to get started.
---
Did you find this post helpful?
Let us know by giving it some applause.
---
---