TempZone™ Custom Mats
Electric Custom Mats for Heated Floors
---
TempZone™ Custom Mats
Electric Custom Mats for Heated Floors
---
TempZone™ Custom Mats for tile, stone or hardwood floors were designed to offer the most optimal fit for rooms of any shape. Our custom-fit mats were developed to follow curves and angles with ease. These heated floor mats are ideal for bathrooms, kitchens and other areas in the home with permanent fixtures, solid structural elements or a non-standard room shape.
Request a Quote
---
Request a Free Product Sample
---
---
Maximum Coverage

Full coverage for any size space, such as bathrooms, kitchens, living rooms, or basements.

Easy to Install

Easiest installation, no cut and turns required.

Clean Heat

Doesn't disturb pollen, dust or other allergens like forced-air systems.

Safe

ETL listed
---
Description
Our recently upgraded custom-sized electric heating mats arrive in one piece, making for a fast, simple installation — you don't have to make any cuts or trims. TempZone™ Custom Mats are commonly used beneath tile or stone flooring. These floor mats provide 12-15 watts/sq. ft., depending on the room size, and evenly distribute heat for full room coverage.
The mats feature a layered construction with the heating element sandwiched between two durable layers of fabric. WarmlyYours will help you design the perfect floor-heating system with free overnight design services. Each custom mat is made to order and is non-refundable.
Please allow for at least 8 to 10 business days after the point of purchase for this customized item to ship.
Learn more about electric floor heating systems
---
Example Project
This is a real example of a floor plan that uses this product. If you want to design your own room or have any questions, please contact us.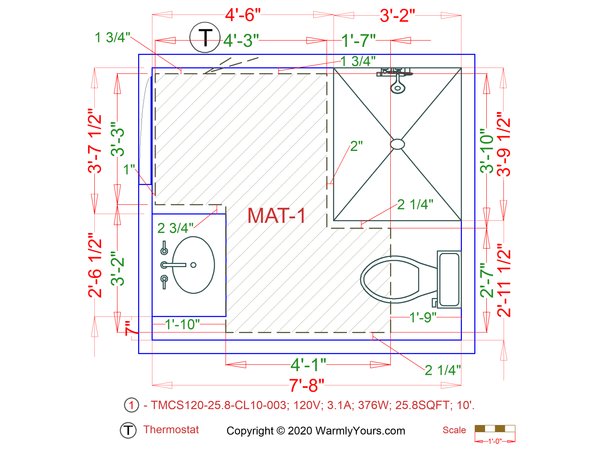 Flooring
---
Tile, Marble or Stone
Subfloor
---
Wood
Operating Cost
---
2 cents per hour
---
---
Frequently Asked Questions
---
Can I heat luxury vinyl tile/planks in the kitchen?
Yes, our TempZone Heating Products can be used for heating luxury vinyl tile or luxury vinyl planks in any indoor application.
Can I put furniture on top of underfloor heating?
Yes, but any furniture that may trap heat, such as pieces with an enclosed bottom, should be avoided. Furniture on legs with a clearance of at least 3" is permissible.
Can I use electric floor heating as a primary heat source?
Yes, in most cases, an electric floor heating system can be effective as a primary heat source. However, our TempZone™ and Environ™ systems are most commonly used as a secondary heat source, providing floor-to-ceiling radiant heat to any room in your home where you desire more warmth and comfort.
If you are considering electric floor heating for an addition to your home, such as a sunroom where you have no other source of heat, WarmlyYours offers an innovative online tool which calculates approximate heat loss. This tool can help you to determine if a WarmlyYours' electric radiant floor heating system will provide your desired comfort temperature throughout the year. You can access the Heat Loss Calculator or you can call us at (800) 875-5285 and a Customer Service Representative will make the calculation for you.
Can this floor heating be used on existing hardwood floors?
No, most in-floor heating is designed to be added to new flooring. If you do have existing wood floors you would like to add radiant heating to - it is possible to do so with an under-joist heating system. An example of this type of system can be found here: https://www.warmfloor.com/floor-heating/products-and-applications/step-joists/
Can this heating system be installed over Solid Polymer Core (SPC) floor or a Wood Plastic Composite (WPC) Luxury Vinyl Tile (LVT) floor?
We suggest removing SPC or WPC flooring before installing the floor heating system over it if possible. If that is not practical, use an underlayment designed specifically for covering these types of floors. Radiant heating can be used with many types of these floors, but check with the flooring manufacturer to confirm that it can be paired with these types of systems.
Can you heat under the appliances, fixtures, or furniture in a laundry room, mudroom, or utility room?
No, it is recommended that floor heating only be installed in the areas that you will walk on. Heat can become trapped if installed under objects that do not offer enough clearance for air to circulate (such as a washer or dryer).
Can you use glue-down Luxury Vinyl Tile products with this floor heating system?
Yes, if the flooring manufacturer recommends this installation method. In most cases, the heating element will still need to be embedded in self-leveling cement before the flooring is installed.
Does the heat cause any shrinkage, expansion, or warping of the vinyl flooring?
If the flooring manufacturer has a warranty for electric floor heating, it should not be adversely affected by shrinkage, expansion, or warping. Again, it will depend on the brand and construction of the product. Some manufacturers may place limitations on the maximum floor heating temperature. To minimize expansion and contraction, some Luxury Vinyl Tile companies require heating the flooring to a continuous heating level with "setback" temperatures (lower temperature settings during the day and overnight) kept to a minimum.

While radiant heating can affect the expansion and contraction of the floor, the most overlooked and important factor is the relative humidity in the space, so a humidifier or dehumidifier may be needed.
Do I need to cut and/or trim the TempZone™ Custom Mats to fit into my room shape?
No, TempZone™ Custom Mats provide the easiest installation with no cut and turns required as they are specifically designed and built based on the dimensions of your project that you've provided to us. Prior to installation, dry-fit your mat to make sure it fits correctly. If there are any issues, call WarmlyYours at 1-800-875-5285. 
How effective are radiant electric floor under 3/4" wood flooring?
For best results, we recommend a 1"- 1.5" maximum distance between the heating cable and the top of the floor. Nailed down hardwood will require sleepers to run the cable safely between board nails. Be sure to use 3/8" to 3/4" of self-leveling cement to embed the heating element.
How much does it cost to run an electric floor heating system?
The answer to this question will depend on a whole host of variables related to electric floor heating, including, but not limited to, the run time (for supplemental heating, we usually recommend between 4-8 hours per day), the electric radiant floor heating system you're using, the total square footage, and your local electrical cost. Typically, the cost is just a few cents a day. 
To figure out how much electric floor heating might cost to run for you, make sure to use our interactive Operating Cost Calculator. 
How will electric floor heating affect my wood floor?
WarmlyYours nSpiration controls are equipped with an in-floor sensor to precisely control the floor's temperature to comply with the wood manufacturer's temperature recommendation.
Is installing a floor heating system for LVT the same as for ceramic or porcelain tile?
Yes, Luxury Vinyl Tile (LVT) is typically installed over the embedded heating element using self-leveling cement (SLC). Many people choose to use SLC when installing tile over floor heating.

We do not suggest using thinset to encase the heating wires with LVT, as it is very difficult to get thinset completely flat.
Is there a way to heat vinyl flooring without embedding the heating system, such as a floating floor heating system?
There are heating systems designed for floating floors, such as our Environ system. However, the flooring must be rigid enough so it does not mold itself to the heating cables over time.

Check the flooring manufacturer's floor heating recommendations. In most cases, the heating system will need to be embedded beneath the flooring. Check for all "flatness" requirements for the flooring you choose. The flattest floors utilize self-leveling cement when installed correctly.
Should I be concerned about electric floor heating melting the toilet connection's wax ring?
To prevent any overheating, we recommend that you do not install any electric radiant floor heating elements closer than 4" from the wax ring.

What is the maximum temperature for Luxury Vinyl Tile (LVT) when it comes to in-floor heating?
This is stated in the Installation Manual of the LVT product when purchased. On average, this maximum temperature will fall between 80°F and 83°F. This number can then be used to program the thermostat during setup to set the floor's maximum temperature.
What is the recommended temperature for a heated kitchen floor?
Everyone has their own comfortable temperature setting, but we typically find that our customers use their thermostats to set the "floor temperature" of the system in the 78°F - 84°F range.
What is the warranty for the TempZone™ floor heating system? Do you warrant the cost of replacing the flooring installed on top of the system? What if there was a surge that damaged the system?
WarmlyYours' 25-Year No Nonsense™ Warranty is the most comprehensive warranty in the industry. In the event of a defect, we cover not only the repair or replacement of the TempZone™ system, but ALSO any labor costs AND flooring materials required to perform the repair. We do not cover the cost of flooring that needs to be replaced in the event of a repair necessitated due to damage. If a product is damaged by a power surge, that would not be covered by our warranty
What is wattage output/density of TempZone™ Custom Mats?
The mats provide between 12 and 15 watts per sq. ft. (depending on room size). They are designed to distribute heat evenly for full room coverage. 
What should I consider if I want to heat a vinyl or composite material floor?
We recommend verifying 3 things with the manufacturer of the flooring product to be heated;
1.) Is the flooring product compatible with electric floor heating?
2.) What is the maximum temperature the flooring product can withstand?
3.) What is the temperature set back recommendation of the flooring product?
What thickness is required for self-leveling cement when installing floor heating for Luxury Vinyl Tile?
We suggest the heating product be embedded in a minimum of 3/8" of self-leveling cement (SLC). Always check with the manufacturer for specific recommendations.
What type of floor preparation is required for Luxury Vinyl Tile (LVT) and radiant heating?
The subfloor will need to be prepared as per the instructions of the self-leveling cement (SLC) used. Please note that most self-leveling products require the use of a primer as specified by the SLC company.
Which LVT, WPC or Solid Core product can be paired with radiant heating? Is there a list of manufacturers who still provide a warranty when pairing with radiant floor heating?
LVT (Luxury Vinyl Tile), WPC (Wood Plastic Composite), and Solid Core all fall into the category of "vinyl flooring." These flooring types can be rated for floor heating, but will completely depend on the manufacturer's guidelines.
Please look in the installation manual and warranty documents of the product you're interested in to see if and what types of heating are allowed.

As for a list of manufacturers - many do provide a warranty for their products when properly installed with floor heating. The list of these is ever-changing, so please be sure to check with the flooring manufacturer for current recommendations.
Will the radiant heat affect the attached rubber or cork backing on Luxury Vinyl Tile? Does the attached backing have any effect on the floor heating system?
Since most Luxury Vinyl Tile (LVT) manufacturer's set a maximum temperature for radiant floor heating, the system should have little to no effect on the rubber/cork backing.

Pre-attached backing can act as an insulating layer though, meaning it can prevent the radiant heating from efficiently directing heat up through the floor. Please check with the manufacturer for the r-value of the product. Look for an assembled plank with an r-value of less than 1. The lower the r-value, the better!
Would the installation process be different if Luxury Vinyl Tile was installed in a bathroom?
No. A bathroom floor would be installed in the same way. Our TempZone floor heating systems are wet-location listed and ideal for bathroom floors.
---
TempZone™ Custom Mats

Customer Reviews Rated

4.8

/5 based on

520

reviews
---
We take pride in providing both exceptional service and great products. But don't just take our word for it, check out what some of our customers have had to say.