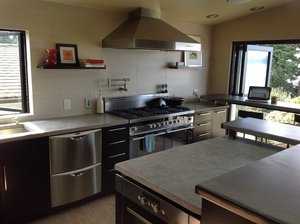 WarmlyYours is all about finding new and innovative ways we can better serve our customers with our products. One of the highlights in that quest is receiving a customer's story about how our products have improved the comfort of their lives in a new and different way.
This month's "Share Your Story" winner is from Seattle, WA, Lance Leasure, who installed WarmlyYours Slab Heating. Heating a concrete countertop is just another unique and innovative application that WarmlyYours can create, design, and provide for our customers. It's very exciting to learn of consumers who can use our products in different ways than the norm. In addition, we're glad that they chose to use our services when they were ready to install their countertops.
No More Cold Coffee!
When designing our new kitchen, my wife asked if there was a way to heat the concrete countertops that we were planning on installing. My wife was frustrated by how quickly our old countertops would suck the heat and warmth out of a simple cup of coffee or even a plate of food.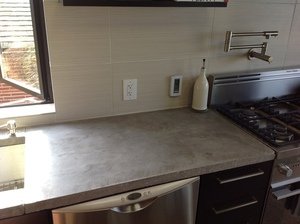 So when we installed the new concrete countertops, we allowed room for WarmlyYours radiant heating and a thin sheet of rigid foam to be installed. The support team at WarmlyYours helped us determine the best thickness for the concrete, and the instructions that were supplied with the mat and thermostat made the installation a breeze!
Even the thermostat design works well with the overall look and feel of the kitchen, which was definitely a nice bonus!
We are so thrilled that there will never be cold coffee on our counters ever again! Thanks WarmlyYours!
The Leasure's
-------------------
If you enjoyed this story, you may also enjoy reading about last month's "Share Your Story" feature, A Bathroom Remodel Done Right with Radiant Heat or feel free to read through all of our winner's stories!
We'd love to hear your story, too! Share it with us!
---
Tell us About your Project
Our team of Radiant Experts is ready to help! Just tell us a little about yourself and your project to get started.
---
Did you find this post helpful?
Let us know by giving it some applause.
---
---