At WarmlyYours Radiant Heating we place a premium on providing the best customer service in the industry because we know that our customers, whether homeowners, trade professionals, or kitchen and bath showrooms, are the most important part of our business. We enjoy building relationships with you and treasure the loyalty of our long-term partners.
Because we believe that recognizing and showing appreciation for each other is essential for a successful relationship, we've created the "Share Your Story" program to show our customers how much we appreciate them and to give them an opportunity to let us know how our products are making a difference in their lives.
Our most recent "Share Your Story" winner, Scott Skiermanski, president of Stoneridge Builders Inc., Prairie Grove, Ill., installed a TempZone™ Heating system and successfully turned a sunroom into a true Four Seasons room.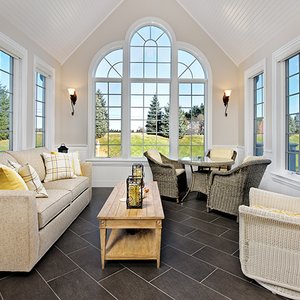 After homeowners added a sunroom on to their home, they made the decision to turn it into a full Four Seasons room. Because the sunroom was 5 ½ feet off the ground, the homeowners wanted heat and air conditioning (A/C) so the room could truly be used year round. The problem was that the home's basement was finished and there was no way to get heat and A/C to this room without causing major renovations to the finished basement, Skiermanski described.
Skiermanski is very familiar with Warmly Yours' products and chose a TempZone™ electric heat mat with a SmartStat™ control and A/C via a split wall unit. He chose to reinforce this with foam insulation under the floor and in the walls and ceiling. Once accepting the project, Skiermanski sent the sunroom blueprints over to WarmlyYours Account Manager Matt Caruso to put together an installation plan for the project. "I have to credit Matt Caruso for quickly pushing the project forward. I send him over a layout, told him I wanted a two-inch gap from the walls, and by the next day I had the correctly specified product ready to install," Skiermanski said.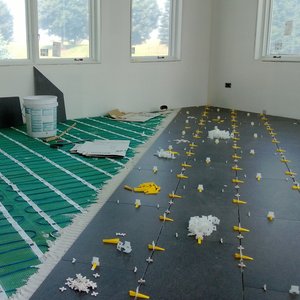 WarmlyYours always encourages customers to send over the plans — especially if the room has floor elements, Caruso said. "We can take rolls and get them to fit into whatever particular room is being installed. It speeds up the process for the customer." Skiermanski, who was local, had the plans and correctly specified TempZone™ rolls by the next day. With the properly measured TempZone™ rolls, the installation didn't even take a full day for Skiermanski's installer. "Unrolling the mat and getting everything in place was less than five hours —if that — and then putting Thinset over it took the rest of the day," he described.
"I visited in the middle of winter and the homeowners were very excited regarding the comfort of the room," Skiermanski shared. "It is a true Four Seasons room, that can be used at any time. That's because there's simply more wattage, more heat per square foot, and the lines are closer together with the TempZone™ product than anything else out there. We install only WarmlyYours for our projects and have had excellent results with every project from the beginning of the install to the finished product —warm rooms and feet," he added.
The homeowners have used the new Four Seasons room through the very harsh 2013/2014 winter, and have enjoyed it on even the coldest days with no worries about heat.
Products used:
TempZone™ Roll Twin 240V 1.5 ' x 8' - 12 sq.ft.
TempZone™ Roll Twin 240V 3.0 ' x 70' - 210 sq.ft.
SmartStat™ 120V/240V, 7-Day Programmable GFCI Thermostat and Floor Sensor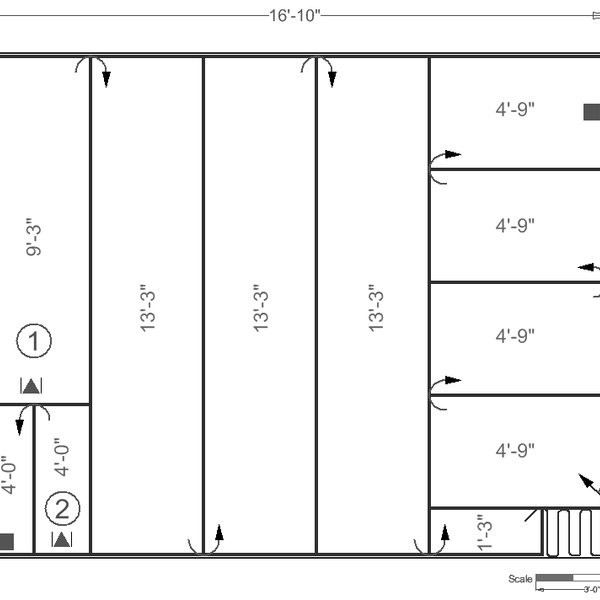 ---
Tell us About your Project
Our team of Radiant Experts is ready to help! Just tell us a little about yourself and your project to get started.
---
Did you find this post helpful?
Let us know by giving it some applause.
---
---