What started as an article by Rob Robillard about a WarmlyYours Radiant Heating snow melting system on his website, www.AConcordCarpenter.com, became a much-needed, perfectly timed, multi-company, pro bono project for Robb Butts, a 50-year-old quadriplegic living with his father in Hudson, Mass.
The timing couldn't be more perfect with this winter's record-breaking snowfall. Unlike winters past, however, this year the snow did not confine Rob Butts to his home thanks to the efforts of Robillard, WarmlyYours, and several generous companies that donated time and materials.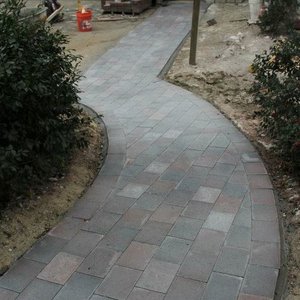 The project developed after Robillard posted the article, and he received an email from Rob Butts, a long time friend, asking for details about the snow melting system and how it worked. Rob Butts explained that during the winter he was often housebound, unable to leave due to slippery walkway conditions. After discussing the system, Rob Butts knew a snow melting system would be perfect for his needs, but, unfortunately, it was beyond his budget. Robillard responded by contacting all the companies he knew would be needed to help install the snow melting system pro bono.
When Robillard pitched the idea to Julia Billen, president of WarmlyYours, she was on board immediately.
"I got about halfway through my pitch to Julia before she stopped me and said 'Rob, we're in, what do you need?'" Robillard explained.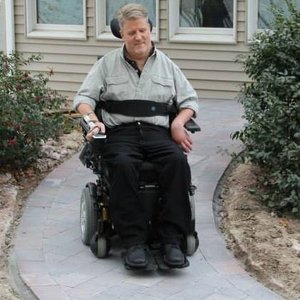 Billen was eager to get involved. "I wanted to support this project because I was excited to help someone who regularly faces challenges in his daily life to have something that is trouble free: free from the hassles of figuring out how to remove the snow and ice and free from the stress of worrying about how his wheelchair may react in these conditions," she shared.
To make the project a reality, WarmlyYours donated the snow melting system, Lawn Barber Inc. donated masonry labor, Ideal Concrete Block provided pavers, a crew from Concord Carpenter performed the installation, Concord Lumber provided materials, and electrician Basil Costa assisted in making the connections. Collectively, they all enabled the installation of the much-needed system.
Robillard, who headed up the install, is no stranger to WarmlyYours products, having installed multiple radiant heat systems and even other snow melting systems.
The installation, which took three days, began with tearing up an existing 25-year-old brick wheelchair ramp leading to a detached garage behind the house for Rob Butts' wheelchair accessible van.
From there, the crew installed a WarmlyYours snow melting system, spacing the wire about three inches apart for even heating, covered it with sand, and then reinstalled new "Patriot Place" pavers, using leftover pavers from the New England Patriots stadium. The new walkway ramps directly into the garage, removing a step that previously forced Rob Butts to go around to the side of the garage to enter.
Robillard said the hardest part of the installation was coordinating everyone's schedules. "Once we all were able to get together the install went smoothly. We brought the skills and know-how, and Julia brought the product," he said. "This project was all about compassion, generosity and volunteering."
In addition to the record-setting snow, the timing of this installation was perfect because this winter Rob's father, who shovels the snow, had heart surgery.
"For my father to not have to shovel the walkway to get to the garage is huge. He just had the heart surgery and who knows what would have happened if he had been shoveling all that snow this winter," Rob Butts shared.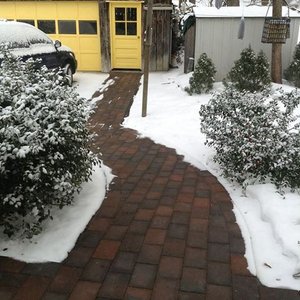 He estimated it is quite a distance to the garage, at least 30-40 feet, and with the new snow melting system, his father can just walk to the garage and hop on his snow tractor to finish the driveway.
"A heated walkway enables me to get to my van regardless of whether my father is home to do the shoveling," Rob Butts said. "The system from WarmlyYours, that was installed with so many volunteer/donated efforts, is fantastic," he emphasizes.
When the first snowstorm arrived, Rob Butts said he and his father actually stood and watched the system work. "As the snow started coming down heavier and heavier, we kept an eye on the system just to see how it would do, and it worked! It was amazing to see how it kept up with the snow, melting it and keeping the walkway clear. It worked exactly how it was supposed to work," he described.
WarmlyYours is proud to have been a part of this amazing effort. To learn more about the project, watch a video of it at http://concordtv.org/video-on-demand (Search Warmly In and Out). The song playing in the video (starting at 4:40) was written by Rob Butts to his children in an effort to explain his condition as a quadriplegic.
View photos from the installation on Facebook.
Photos provided by Rob Robillard, A Concord Carpenter.
---
Tell us About your Project
Our team of Radiant Experts is ready to help! Just tell us a little about yourself and your project to get started.
---
Did you find this post helpful?
Let us know by giving it some applause.
---
---