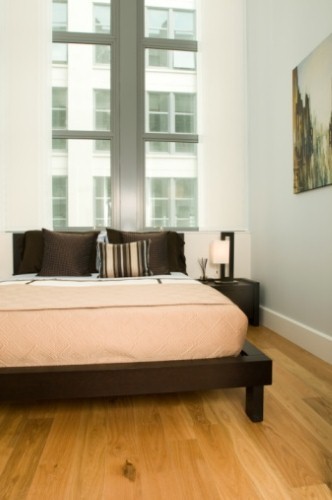 Summertime travelers are sure to find their way through your home this season and they'll need a place to lay their suitcases and their heads. Take the opportunity to refurbish and redecorate your guest bedroom, making it a relaxing summer getaway. Consider these design tips.
1. Twin beds instead of a queen or king. While everyone loves the luxury of a giant bed, not everyone's going to want to share one. Rather than being host to an awkward conversation, let couples push the beds together if necessary while kids or solo visitors can settle for a single. Not to mention, twin beds make for great décor opportunities. Use your design sensibility to find quirky arrangements or mix-and-match bedding.
2. Take advantage of closet space. Because your guests won't be moving in permanently, they won't need a full closet and will probably be able to make due with a well-appointed armoire or dresser. While taking that closet space and using it as storage is tempting, consider some alternatives. Shelving could easily turn it into a small library, and if it's a walk-in, the closet could be reimagined as an office space or studio.
3. Keep your guests warm. Summer mornings and nights still get chilly, but turning on the heat usually means a blast of hot, stale air from the ducts. Consider installing radiant floor heating in your guest bedroom. This eco-friendly form of heating spreads warmth up through the floor, keeping your guests comfortable through summer nights.
4. Provide them with something to read. This will be a matter of taste, but we suggest you save War & Peace for the bookshelf. Leave some magazines or pleasant-looking paperbacks on the nightstand to give your guests something to flip through before falling asleep.
5. Leave a welcome basket. No reason to go overboard with this, but a basket filled with a few necessities and treats can be a wonderful gesture. Shampoo, soap, towels and toothpaste can make for nice touches, as well as some chocolate or a bottle of wine. Leaving fruit and crackers also means that your guest doesn't have to sneak his or her way into the kitchen for an after-dinner snack.
6. Choose great prints and photos. While the rest of the house is yours to play with, avoid putting family photos or portraits in the guest room. Instead, choose a visual theme - from birds to island retreats to classic films - and search out prints and paintings in that style.
Like this post? Subscribe for regular updates
Make sure you don't miss out on the latest news in radiant heating by subscribing to our blog. We'll send you an email with links to the newest posts from WarmlyYours.
We won't share your information and you can unsubscribe at any time with a single click.
---
Did you find this post helpful?
Let us know by giving it some applause.
---
---