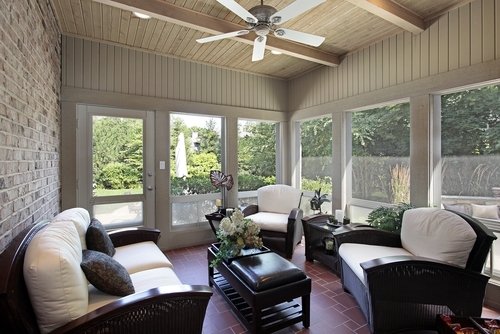 For homeowners contemplating the addition of a sunroom, the first rule of construction is the same as in real estate - location, location, location. The goal is to capture as much natural light as possible, so the structure should ideally be facing the south where sunlight is strongest.
While ultraviolet rays will heat up the room somewhat during cooler weather, there is a misconception about sunrooms that the more windows they have, the warmer they will be. But having a large number of windows decreases heat retention, so other choices for warming the space are needed.
Installing radiant floor heating will solve the problem and probably extend the use of the room for much of the year. It's also energy-efficient and operates without heating ducts. For people who want their sunrooms to look similar to the rest of their homes, installing hardwood floors, using interior rather than patio furniture and displaying accessories that can be used anywhere in their homes is the way to go.
Floor Styles
For those who prefer other types of flooring like tile or the coziness of area rugs, they can still have those choices with infloor heating. As long as enough of a border is left around the area rug, radiant heat will circulate fine throughout the room.
Another consideration when outfitting a sunroom with a new floor is to make sure the surface height is the same as the flooring height in the home so that people won't trip as they move from one space to the next. It also helps to have a doorway leading into the home that's wide enough for someone in a wheelchair.
Airy Atmosphere
High ceilings in sunrooms give an airy, larger appearance to the whole. Adding skylights not only brings light into the sunroom, but also into sections of the house that lost light by the addition of a structure onto the home.
Installing ceiling fans keeps air flowing by cooling it when necessary and dispersing heat into the space when the fan direction is reversed to a counter clockwise spin.
Some Extras
A sunroom is a natural place to incorporate as many energy-saving and sustainable materials as possible. There's also a cost savings in installing standard glazed windows because future replacements will be easier to install and less expensive.
Adding architectural features such as arches, lattice work and bead board on walls or ceilings creates a room design that's unique and adds value to the space.
---
Tell us About your Project
Our team of Radiant Experts is ready to help! Just tell us a little about yourself and your project to get started.
---
Did you find this post helpful?
Let us know by giving it some applause.
---
---