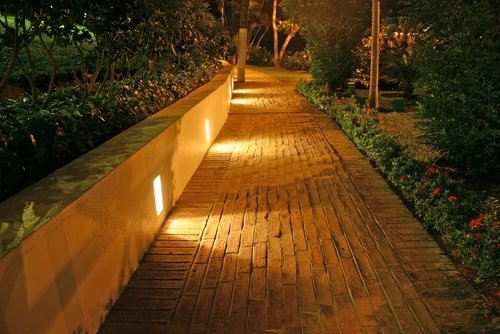 Bricks are among the most classic and durable of surface choices. They work well with both contemporary and traditional architectural styles and are suitable for virtually any climate or region, whether they're used in an expansive suburban patio or the entryway to an urban townhouse.
Bricks that are made for walls, sometimes called face bricks, shouldn't be used for outdoor flooring in cold climates because they may crack, according to MyHomeIdeas.com . Those that are intended for paving are the only ones to use for outdoor areas that have freezing temperatures in winter.
Radiant Heating Outdoors
To save beautiful brick walkways from the damaging scrapes of snow shovels and chemical ice removers, outdoor heating can be installed under the surface. From the warmth of their houses, homeowners can flick an electric switch and radiant heat will take care of snow removal and leave their pathways safer for walking.
In warmer states, wall bricks can be used on patios as long as they are protected with a coat of acrylic masonry sealer every two years. The sealer makes them resistant to stains, weather damage and scuffing from movement of outdoor furnishings.
Contractors often recommend that large patios should have a slight slope away from the house in order to drain properly in inclement weather.
Wide Selection
Through the years, bricks have developed some quaint names for certain styles. Clinkers are known for their irregularities, which create a cobblestone effect. When bricks are frogged, they have indentations that make them good choices in accent portions of a pattern. There are also less expensive, faux bricks made from concrete pavers but finished with a brick-like surface.
This Old House Magazine reports that the basket-weave pattern is one of the most commonly used  and is easy to lay out. Bricks alternate in right-angle pairs, with two set in one direction and the next two set perpendicular to them.
Other patterns that are a bit more complicated are running bond, pinwheel and herringbone. Circular patios done in brick are more intricate, often with different styles used as accents or borders.
While mortared brick pavement has a flatter surface that generally lasts longer than those installed on a bed of compacted sand or crushed stone, it's easier to remove these dry-laid bricks if homeowners have to make repairs later.
Bricks may be more expensive than other types of pavers, but they have an ageless look that has appealed to generations of homeowners.
---
Tell us About your Project
Our team of Radiant Experts is ready to help! Just tell us a little about yourself and your project to get started.
---
Did you find this post helpful?
Let us know by giving it some applause.
---
---