You do not want to put electric heating cables directly on top of a concrete slab!
Because the concrete slab will pull all the heat into it instead of allowing the heat to radiate up through the flooring surface.
You want to cover the concrete slab with thinset and then lay down CeraZorb® underlayment before installing the heating cables.
CeraZorb® is a synthetic cork underlayment that is recommended when installing an electric floor heating system over a concrete slab to prevent heat loss.

This thermal image of a heated floor shows the temperature difference in a section of the floor that does not have any underlayment (upper left in blue) compared to the rest of the floor surface containing CeraZorb® underlayment. The result is dramatic. The area with CeraZorb® underlayment (insulation) heats the floor as intended.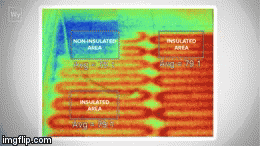 For more information, visit our website at www.warmlyyours.com. You can also call us at (800) 875-5285 to speak with one of our friendly knowledgeable account managers. Our technical support staff is available 24/7 to assist you during installation.
Like this post? Subscribe for regular updates
Make sure you don't miss out on the latest news in radiant heating by subscribing to our blog. We'll send you an email with links to the newest posts from WarmlyYours.
We won't share your information and you can unsubscribe at any time with a single click.
---
Did you find this post helpful?
Let us know by giving it some applause.
---
---