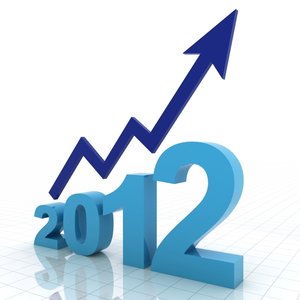 New Year's resolutions - you love 'em and you hate 'em. They are exciting, because a new year gives each of us hope that this year can be our best yet, but sometimes disappoint us, when we haven't followed through with them to the end. On any given day in January, you can pass by the local fitness center and see the parking lot packed with cars – all those who resolved to get into shape. But the sad truth is, in a couple months time, the open parking spots will probably be plentiful and the gym, a little less crowded. However, for WarmlyYours Radiant, I'm thrilled to say that we were able to keep our resolutions from 2011, even adding a few along the way, and now we're ready to take on 2012 with zeal!
Allow me to share some highlights of our past year with you:
Last year was successful, as we focused our internal efforts on the marketing department and our strategic competitive advantages. And, with that we used the first and second quarter to develop and set the stage for understanding our key advantages. Once this was prepared, we launched full-speed into the third quarter conducting marketing research and planning, giving our Sales Representatives information and strategies that they could use to further articulate the signature experience and product collection at WarmlyYours Radiant.
Now that sales has real ammunition - We rounded-out the end of the year, beginning to work on increasing and leveraging qualified leads and opportunities. The marketing work that we've focused on this past year, has positioned our Sales team for greater success. I feel that all of WarmlyYours Radiant is now "singing the same tune" upon entering 2012.
A few reasons to smile:
We are live on Walmart.ca
We received the Kitchen and Bath Industry "Best of Show" Award in April 2011
Brought on new synthetic cork insulation product - CeraZorb
Twin Conductor TempZone™ in-floor heating roll and the Riviera Towel Warmer line will be released during the first quarter of 2012, as a result of our product development work this year.
We successfully reached and exceeded the 1,000 "likes" mark on our Facebook Page.
Looking forward, here are our New Year's Resolutions:
We will expand our towel warmer and radiant panel lines.
Expand our indoor radiant heating product line with more customized solutions and additional Signature Services.
Expand our outdoor snow melting and deicing product line to provide more solutions to cover every area of life with the warmth of radiant heating.
Create the ability for our trade professionals to manage their business with us online, with a revamped professional section of our website.
Provide expert content to you on consumer trends, marketing intelligence, sales techniques, and technical installation news.
I fully expect that this year will be the best yet, and we're not stopping until we're on the moon! ;) Thank you for your loyalty to WarmlyYours Radiant, and we look forward to serving you in greater ways in 2012.
-Julia Billen, WarmlyYours Radiant President/Owner
---
Tell us About your Project
Our team of Radiant Experts is ready to help! Just tell us a little about yourself and your project to get started.
---
Did you find this post helpful?
Let us know by giving it some applause.
---
---