One of WarmlyYours' local distributors, Dix Systems, in Edmonton, Alberta, Canada recently installed their first cable-heating system. Because this was their first time installing this type of system, we were very interested and excited to share their experience and story. We always want to know how we can improve our support and ease of installation for our customers, and of course, love to hear when their experience is especially smooth and worry-free!
Here is Alison Dix's experience with their first cable heating installation: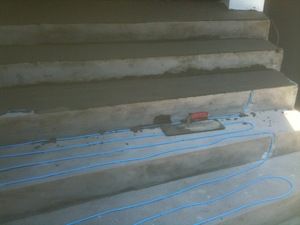 The homeowner was looking for a solution to heat her steps, so that she did not have to worry about cold stairs that could become icy stairs! The homeowner is in her 80's and her family was concerned for her health because she lives alone, so they mutually felt that installing radiant heat to heat the stone on the stairs was an ideal way to help her remain independent and safe. She is located near the River Valley area in Edmonton, where snow is as common as the hot sun is in Florida.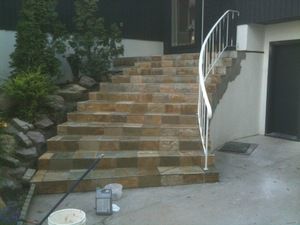 For the installation, we quickly found a rhythm and were able to lay out the wire and hot glue it in place long enough for a thick layer of thinset to be installed over top. It was a bonus that there is only one lead wire, so they didn't have to try and run two thick wires back to the relay panel.
For us, it was definitely a learning process and a good experience overall. And because of this new found skill, we are now well suited for the next job of this kind.
I'd also like to add that the technical and installation support was wonderful!!! I first put in a lot of calls to get the quote ready with my WarmlyYours Account Managers, Laura Brodt and Elodie Pasek, and our installers placed calls to WarmlyYours Technical and Installation support and they always received the assistance they needed."
Thank you for your help!
-Alison Dix
---------------------
Dix Systems Inc. is an innovative company, responding to the needs of the construction industry through the procurement of new products and the creation of cost efficient and innovative materials. Their products undergo extensive research, development and market research procedures to ensure effective and efficient products. WarmlyYours is proud to have them as a valued customer and distributor! Visit them at www.dixsystems.com for more information.