We have officially set out on a quest to learn how we can serve you better! Feedback about our floor heating, comfort products, and services has always been a valued resource to us, and that's why we created a forum for you to share your own story and to tell it in your own words; we call it the "Share Your Story" program.

This month, we received great feedback from Pete and Tammie Whitson in upstate New York! Take a look at their story of cold winters and cold floors transformed into the complete WarmlyYours experience – bringing them warmth for more than 8 years!
Cold Floors, Be Gone!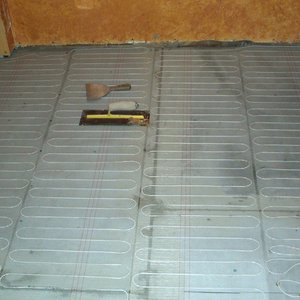 We own a farmhouse built in the 1880s and in the winter the mudroom and laundry room were miserably cold. Any snow that we brought in on our shoes would stay frozen on the floor. And, the chill would bleed into the kitchen from the connected mudroom. We needed a better solution; that's when we found WarmlyYours!
The first project we used WarmlyYours' electric floor heating in was in 2003 for a remodel of our laundry room. My wife, Tammie, hated doing laundry in the winter because of the cold floor – and trust me, with five kids, there's plenty of laundry to do year round! After we installed the TempZone™ floor-heating product in the laundry room, it also ended up becoming a multipurpose room where Tammie cures batches of her handmade soap on the warm floors for her natural spa products business.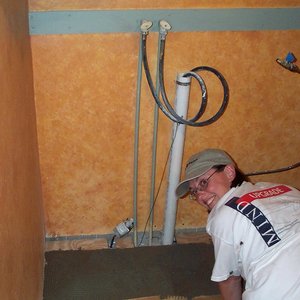 A few months later, we jumped into the next electric floor-heating project. We decided to tackle the cold, miserable mudroom. We, again, used your TempZone™ product and installed some rigid insulation and backer board, and then installed the floor heating on top. The mudroom is now toasty and stays warm during our Upstate New York winters. Any snow or water we drag in with us dries up in a snap! And, with five little kids that's a big deal!
After we did those two installations, Tammie's family was so impressed by how comfortable the floors were, that a couple of them decided to install floor heating in their own homes. Her family is full of contractors, and they chose to take their own route by purchasing other floor heating brands from the box stores, and they ended up very unhappy, because it didn't heat their floors very well. On the other hand, our WarmlyYours radiant floor heating system has been one of the best investments we've made!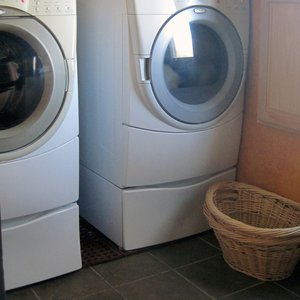 We also love how energy efficient your product has been for us. For the two rooms (laundry and mudroom) combined, we saw less than a $10 per month increase in our electric bill – that's only about $0.16 per room each day.
The two rooms that we did are profoundly more comfortable, and they're really a joy to be in. In fact, there are times in the winter when any one of us will go stand in the laundry room just to warm up our feet!
The product and the support are outstanding! My wife, Tammie, will tell you that I'm an obsessive "comparison shopper," especially when it's not a product that I've ever used before and it's something that we're going to bury under tile for a long time. I remember researching every floor heating option and floor heating company. And, when I called WarmlyYours, they were so accommodating, so knowledgeable, and so helpful that I felt confident that you were a company that could be trusted.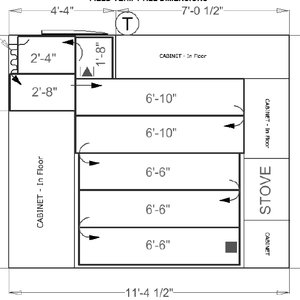 The technical support we received during the installation was exceptional. The customer service really is a difference maker. Between the customer service and how splendidly the product has performed (for 8 years), we didn't even look elsewhere when we decided to do 3 more floor heating projects in our home! We are now back for more and are installing floor heating in the kitchen, downstairs bathroom, and the upstairs bathroom.
Thank you WarmlyYours!
Pete and Tammie Whitson
If you enjoyed this story, you may enjoy reading about last month's Share Your Story winner, "Reclaiming the Family Room with Radiant Heat"
We'd love to hear your story! Share it with us!
Pictured: Before and after of the Whitson's installation of floor heating in their mudroom and laundry room, and their most recent custom installation SmartPlan for heating their kitchen.
---
Tell us About your Project
Our team of Radiant Experts is ready to help! Just tell us a little about yourself and your project to get started.
---
Did you find this post helpful?
Let us know by giving it some applause.
---
---