Most of us will never understand what it takes to return to civilian life after the traumatic injuries — including amputations —suffered by many of our troops while serving our country. After experiencing firsthand the struggle of troops overseas, Jim Peters took action, founding Tee Shirts 4 Troops, an organization committed to supporting recovering troops in a multitude of ways — providing them with everything from clean, uplifting, superhero-emblazoned tee shirts to wear during their hospital recovery to the rehabilitation services, coaching, and housing they need as they reenter civilian life.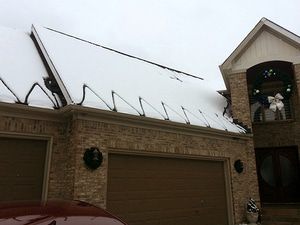 Everything Tee Shirts 4 Troops does is donation driven. It gives away tee shirts (14,500+ to date), offers music instruments (175+ to date) and lessons (which is very fitting since it was founded by three jazz musicians after a USO tour with the troops), and also operates a home in Indianapolis that provides wounded soldiers returning from Iraq and Afghanistan a place to recuperate and transition back to civilian life.
The wounded can stay in the home up to three months while they find jobs and get the counseling, care, and other help needed to move on in repurposing their lives, according to Peters.
"All of us have broken dreams, but these guys have broken dreams you can see because they have lost limbs. We help them at the level they want to be helped while putting their lives and dreams back together," Peters shared.
Just as Tee Shirts 4 Troops saw a need and took action to fill it, WarmlyYours saw a need to assist the organization in creating a warmer, more comfortable and safer environment for the troops at the home and responded with several donations to help the organization and the veterans it serves.
It started with two Infinity (plug-in) towel warmers and was followed by multiple electric floor heating systems for the bathrooms and bedrooms, a snow melting system for the front porch. Most recently, WarmlyYours donated a deicing system that keeps the roof and gutters above the front porch free of snow and ice.
The steps of the home are notorious for building up ice and snow, and staff previously had to worry about having someone constantly watch the front to keep it clear. Even after the snow melting system was installed on the front porch, because of the roof's design, snow and ice would still dam up in the gutters and eventually fall to the porch below, causing continued problems.
But with the newly installed deicing system, everything melts and the front porch is always clear, Peters reported.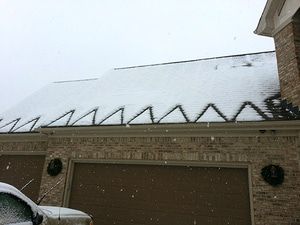 "The deicing system and the snow melting system on the front steps give us peace of mind. We never know who and when and what is coming to the door in the form of the wounded — whether they have all of their limbs or none. If you are missing a leg you can't feel the snow, and if you are a double amputee, you can literally ski out the door without those systems in place," Peters shared. "It was a huge assist for us and the amputees."
The system was installed in under four hours by a handyman with one assistant. "It was the first time he installed that product, but he did it flawlessly with just a few questions to WarmlyYours' customer service department in the beginning of the project. It is a very easy product to work with," Peters explained.
Each donation, including the deicing system, has been a new response from WarmlyYours to assist Tee Shirts 4 Troops in providing warmth, safety, and comfort to the troops, shared WarmlyYours Account Manager Matt Caruso.
"As a company, we want to go all out and contribute to the support and comfort Tee Shirts 4 Troops is providing our troops," Caruso said. "Every time we asked Julia Billen, WarmlyYours' chief executive officer, about a new donation for Tee Shirts 4 Troops — whether it was a floor, snow melting mat, or the latest donation, the deicing system — the answer was an instant 'Yes!' This is such an amazing organization that it really is an honor to assist them," he added.
Throughout the year, WarmlyYours maintains a strong focus on veterans, assisting them in many ways, from collaborating with veterans' organizations to offering the Military And Hometown Heroes Discount to help support the tremendous sacrifice of our country's veterans.
Donated Materials for Deicing Project:
Heating Element
CLT5-JT 120V 5-10 watts per foot, jacketed UL
Controls
SCP-120
Snow Melt Control Premium
RCO
Remote Manual Override Device
Relay Panels
RLY-4PL
Relay Panel Small
Sensors
AIR-SS
Sensor Snow Melt Aerial-Mounted
Accessories
SLT-LPS
Power connection kit w/end seal termination
VHB-PAD-P25
Double-sided tape Pads (25 per pkg)
AL-CL-P25
Aluminum 3-prong roof clip (25 per pkg)