For your kitchen remodel, you've thought about freshly-painted cabinets, new stainless steel appliances, granite countertops, a backsplash, and even a custom-built butcher's block. But what about heated floors? Your kitchen is perhaps the most-used room in the house, which means you spend lots of your time in it. Imagine the luxury of walking across your kitchen barefoot, with the feeling of warmth underneath. This is especially a great addition during the winter season. Along with a hot cup of coffee and your favorite sweater, a warm kitchen floor can add an extra layer of coziness to your home.
WHAT IS ELECTRIC FLOOR HEATING?
Electric floor heating is an effective, energy-efficient way to heat up the most used rooms in your home. Electric floor heating is:
Comfortable: An electric radiant heating system will not only provide warmth with every step you take, but also radiates upward to warm all the objects in your kitchen, even your countertops!
Clean: Electric floor heating is a forced air alternative, which means it doesn't rely on forced air that tends to circulate dust and other allergens. This means cleaner air for you and your family to breathe.
Affordable: Electric floor heating is inexpensive, which can be as low as $5 per square foot. Installing an electric radiant heating system can be really cost-effective, especially if you're already replacing or installing a new floor. It also doesn't require expensive pumps or water heaters like hydronic systems.
Energy Efficient: Because radiant heating directly heats people and objects in a room using infrared heat, it's more efficient than central air systems. In fact, it's often so cost effective that it can cost just a few pennies a day to heat a typical bathroom.
Flexible: You may be able to use underfloor heating as a primary heat source or a way to add supplemental heat to rooms that are difficult to heat such as the basement or a room above the garage.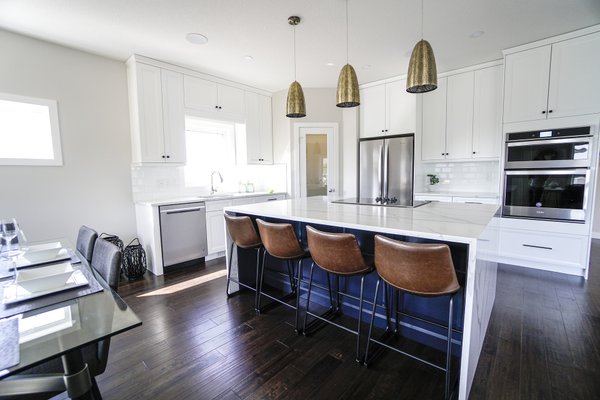 WHAT TYPES OF FLOORS ARE THE BEST FOR KITCHEN FLOOR HEATING?
The best type of floors for kitchen floor heating have good conductivity, which means how quickly and efficiently generated heat transfers to the floor surface. The best type of flooring heats up quickly, gives more heat output, and runs efficiently. While floor heating can be used with less conductive materials and there are systems available for use with virtually any floor finish - except carpet for the kitchen - the following materials are the best for kitchen floor heating.
Tile and stone are the best types of floors for kitchen floor heating because they have high thermal conductivity, which means that heat transfers quickly to the floor surface. Tile and stone also make the system more efficient because they retain heat well. These materials work great in areas with high heat loss. This means that if your kitchen loses heat often, tile and stone are great options to keep consistent heat throughout your kitchen.

WOOD
There are different types of wood flooring such as engineered timber, hardwood, soft woods, parquet, and bamboo. Among these types, engineered timber is the best type of wood flooring to use with kitchen floor heating because it responds well with changes in floor temperature. Other wood flooring can also work well. However, with softer and less dense wood, you must pay close attention to the thickness of floorboards so that they don't act as an insulator, blocking the heat. Because wood is a natural material, it is affected by the humidity of the environment as heat changes its moisture content, which can change the appearance of the floor. This is why it's so important to choose wood flooring that has the correct moisture content and heating cycle.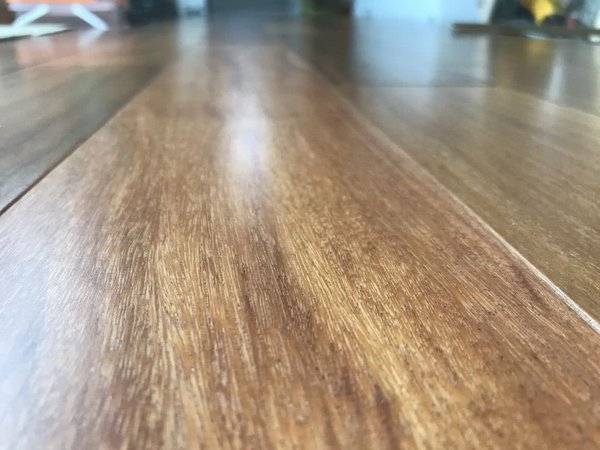 LAMINATE
Most laminates are safe to use with kitchen floor heating, but be sure to check with the flooring manufacturer before installing the system. Also, when choosing laminate, you should make sure the material is as dense as possible. This will ensure that it has good thermal conductivity. The denser the material, the better it transfers heat.
HOW DO YOU INSTALL FLOOR HEATING?
The flooring materials that you use in your project will impact which heating elements will work best and how the floor heating system is installed. In most cases you'll be installing radiant floor heating in existing home, but the methods outlined below would usually work for new construction projects as well.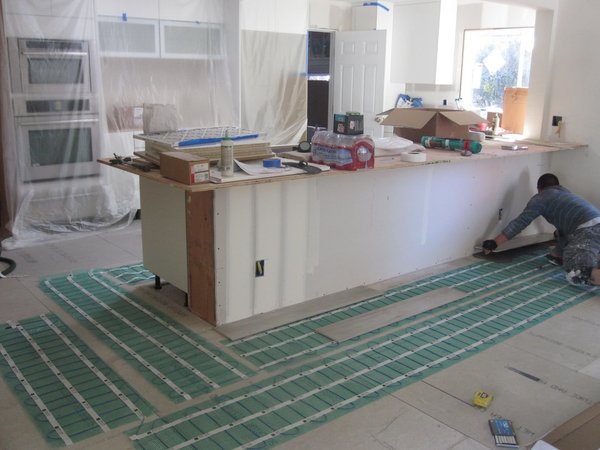 START SMART WITH A CUSTOM INSTALLATION PLAN
Perhaps one of the most crucial steps of a successful floor heating installation is getting a properly designed installation plan. By simply providing a few project details (like room dimensions and power source location), our team of skilled engineers is able to produce a custom SmartPlan with a turnaround as short as a single business day. that includes an itemized quote, an electrical plan, and an illustrated installation plan.
INSTALLING HEATED FLOORS WITH TILE, MARBLE, AND STONE
Before installing your heated floors under tile or stone, you must first measure your kitchen. Don't include permanent fixtures like cabinets, islands, and floor vents. 
Use a digital ohmmeter - which measures electrical resistance - to test your floor heating rolls to ensure that they're in good working condition. Make sure that the results are within 15 percent marked on the UL tag on the product.
Clean the subfloor to make sure it's clear of any nails or other sharp objects. For a concrete subfloor, be sure to adhere cork or synthetic underlayment.
Roll out your heating elements until it reaches the other side of the kitchen. Then, turn the roll 180 degrees towards the other direction. If you need to install it around a tricky corner, remove a portion of the cable from the mesh and free form the cable according to your installation plan. To secure the heating element to the subfloor or underlayment, use tape or hot glue.
Position the sensor near the thermostat and place it between two heating cables. Also, avoid overlapping them. Then, weave the sensor into the mesh or use hot glue to secure it in place.
Test the system again by using a digital ohmmeter.
Have a licensed electrician install the thermostat.
Spread a layer of modified thinset over the heating element and install the tile on top. Use a mechanical leveling system to make sure the floor is completely level.

INSTALLING HEATED FLOORS WITH LAMINATE
To install floor heating with laminate, you'll want to do the following:
Use floor-heating mats and place them on top of the underlayment.
Make sure all cold lead wires will reach the thermostat before adhering the mat to the subfloor.
Cut a 1/2-inch channel in the underlayment for the cold lead and for the floor sensor.
Place the sensor 6 inches into the mat. Use tape to make sure it is directly centered between the heating wires. Test the system with a digital ohmmeter.
Following the manufacturer's recommendations, install the laminate flooring. Then, perform another Ohms test.
Get a licensed, certified electrician to install your thermostat.

INSTALLING HEATED FLOORS WITH NAILED WOOD
Measure your kitchen.
Install wood sleepers, which are strips of wood that are 1-2 inches wide and 3/8-1/2 inches high. Follow the manufacturer's instructions to properly install the wood sleepers with the right spacing.
Install the fixing strips and floor heating cable so that they are between the sleepers. 
Apply self-leveling cement over the heating element until it is even with the top of the wood sleepers.
After the cement has dried and cured, install your hardwood floors. As you lay the hardwood, be sure to nail it straight down into the sleepers. You could pierce the heating cable if the nails go through the sleeper at an angle.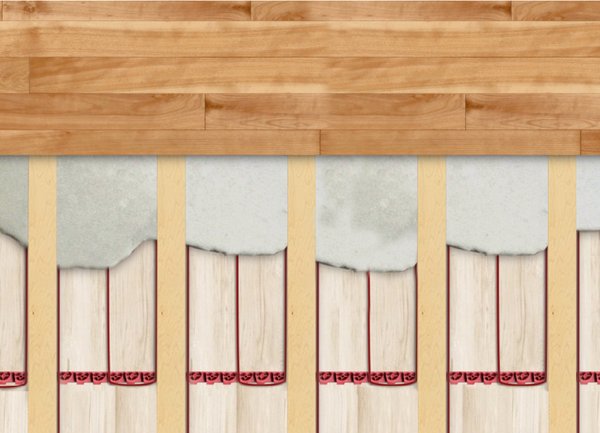 HOW MUCH DOES FLOOR HEATING COST FOR A KITCHEN?
If you want to install floor heating in your kitchen, the heated kitchen floor cost will depend on the size of your project. Since radiant floor heating ranges from $10 to $12 per square foot, it may cost around $600 for a typical remodeling project. For custom underfloor heating mats, the price can go up to $20 per square foot. For large projects using floor heating cables and fixing strips, the price can be as low as $5 per square foot. For the average mid-size kitchen around 100 square feet, an electric floor heating system can cost as low as $515. A larger kitchen that is around 200 square feet can range between $1990 and $2233.
The cost of heating elements is just one piece of the puzzle. You must consider other components such as the control for your system, optional accessories, and installation costs. A floor heating thermostat typically costs between $100 and $300. Additionally, if your subfloor is made of concrete, you'll want to install a thermal break underlayment, which normally runs between $1.80 and $2.75 per square foot.
Then, you must think about the cost of a new floor. Tile is the most common type of flooring used with radiant floor heating and it typically costs as low as $2 per square foot and as high as $25 per square foot. You'll also need to purchase adhesive such as thinset or self-leveling cement. The cost of the adhesive will depend on the recommended adhesive depth as outlined in the installation instructions and the total square footage of your kitchen.
If you want to hire a professional to install your floor heating system, that will be an additional cost, which depends on the professional and their pricing. To cut this cost, you can complete the flooring installation on your own. We do, however, recommend that you at least hire a licensed electrician to make the electrical connections for your floor heating system, which is typically between $50 and $100 per hour as well as a possible travel fee and minimum project charge.
Find out how much a floor heating system would cost for your next kitchen remodeling project by using our Radiant Floor Heating Quote Builder to get a free, instant quote. Feel free to contact us today for more information.
---
Tell us About your Project
Our team of Radiant Experts is ready to help! Just tell us a little about yourself and your project to get started.
---
Did you find this post helpful?
Let us know by giving it some applause.
---
---