PRO-Tect: Pipe Freeze Protection Self-Regulating Heating Cable (Sold by the Foot), 5W/ft. 240 VAC
---
"
PRO-Tect: Pipe Freeze Protection Self-Regulating Heating Cable (Sold by the Foot), 5W/ft. 240 VAC
---
Available max power outputs: 5W per linear ft., 8W per linear ft., and 10W per linear ft.
Automatically varies wattage for optimal energy savings
---
PRO-Tect: Pipe Freeze Protection Self-Regulating Heating Cable Description
Cold temperatures and non-flowing water pipes don't mix well. Residentially, these frozen pipes can mean inconvenience and high repair costs, but in an industrial or light-commercial setting, it can mean huge losses in productivity and potential damage to expensive property. The PRO-Tect Pipe Freeze Protection Self-Regulating Heating Cable from WarmlyYours provides a reliable, energy efficient defense to protect vulnerable pipes from freezing.
This trace heating product is great for protecting pipes that are located in poorly insulated areas or that are located on perimeter walls. The durable, thermoplastic outer-jacket makes this product impervious to the elements, which means it can be used for exterior pipes and in wet locations.
There are several other benefits offered by this pipe tracing product. For effective installation and minimal jobsite waste, we sell the heating element by the foot and with the PT-END-KIT accessory it can be trimmed to exact size by the installer. If you're unsure of how much material you'll need for your project, give us a call and we'll help you figure it out.
The PRO-Tect heat tracing product is also self-regulating. This means the power output (watts per linear foot) of the product will fluctuate based on the temperature of the pipe's contents and the ambient temperature around the pipe. This is automatic and ensures both energy efficiency and low operating costs. It also helps prevent overlapped or criss-crossed cables from overheating.
This product is an ideal solution for small and medium sized pipes with average to good levels of insulation in cooler and mild climates, where the lowest temperature will stay between 0ºF to -20ºF.
Features:
Max power output: 5W per linear ft.
Works with 208, 240, and 277 voltages
Durable, yet flexible, construction
Automatically varies wattage for optimal energy savings
Can be overlapped or criss-crossed
Safe: cULus Listed and cCSAus Listed
Warranty: 10-years
Specifications
Electrical
| | |
| --- | --- |
| Amps | 0.02 A |
| Available Max Output Wattages | 5W per ft., 8W per ft., & 10W per ft. |
| Benefits | Can be cut-to-length & overlapped |
| Cable Type | Self Regulating |
| Connection Method | Hardwired |
| Length | 1′ |
| Voltage | 240 VAC |
| Watts | 5 W |
Warranty / Certifications
| | |
| --- | --- |
| Approvals | cULus & cCSAus Listed |
| Warranty | 10 years |
Construction
| | |
| --- | --- |
| Cable Cross Section | 0.42" x 0.23" |
| Cable Jacket | Waterproof thermoplastic |
Identifiers
| | |
| --- | --- |
| SKU | PT-SR-240-05 |
| UPC (GTIN-12) | 881308050917 |
Example Floor Plan
This is a real example of a floor plan that uses this product. If you want to design your own room or have any questions, please contact us.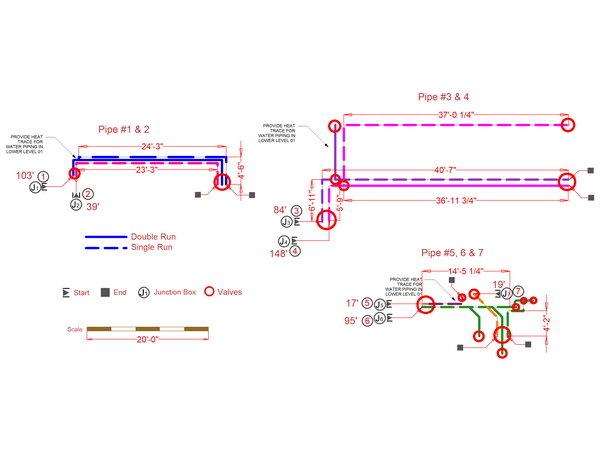 Flooring
Pipe
---
Subfloor
N/A
---
Voltage
240V
This Floor Plan Includes:
---
Customer Questions & Answers
How do I attach the cable to the pipe?
We recommend using a fiberglass-based tape, which is available from WarmlyYours.
---
Is it always on? Is there a built-in thermostat?
There is no built-in thermostat, but we do have recommended WarmlyYours controls which will activate the system for continuous operation at 40°F or below. 
---
Do I have to use insulation?
Yes, insulation is highly recommended for use with a pipe freeze protection system for the following reasons:
·      It helps cut down on heat loss from the heated water pipe. 
·      Properly installed insulation helps keep the cable in good contact with the water pipe so that maximum surface area contact is achieved. 
·      While the cable is wet location approved, weatherproofed insulation adds an extra layer of protection. Ideally, the insulation will be nonflammable and waterproofed. 
---
What makes up a "pipe freeze protection system"?
At a minimum: a PRO-Tect Pipe Freeze Protection Self-Regulating Cable, an End Seal kit, and a Power Connection Kit. However, we also strongly recommend a control. All of these components are directly available from WarmlyYours (along with other accessories).
Use of another manufacturer's components will void the warranty.
---
Will pipe freeze protection cables work on DC voltage?
No. They are not designed to be powered by DC voltage. They must be used with AC voltage. 
---
Is there a maximum length?
Yes, this depends on the cable type, voltage, and starting temperature. Refer to the Maximum Length vs. Circuit Breaker Size chart found in the manual.
---
Can pipe freeze protection cable be cut-to-length?
Yes. Because the cable is a parallel electrical device, it can be cut to length without affecting its power output per foot. Because we also sell this product by the foot, you can ensure minimal waste on the job-site. 
---
How much cable will I need for my project?
The amount of cable needed depends on the size and type of pipe, and on the lowest expected temperature. Once you know the type of pipe (metal or plastic), pipe diameter, length of pipe, and the minimum expected temperature, you can use this form to request a quote. Just follow the instructions on the form to get it back to us. 
---
What is the power output of this cable?
We sell three different max power outputs: 10W/ft. 8W/ft., and 5W/ft. Because these cables are self-regulating, the actual power output will depend on the temperature (i.e. the lower the temperature, the higher the power output). 
---
How does this type of cable work?
Self-regulating heating cables, like PRO-Tect: Pipe Freeze Protection cables, use a conductive polymer core, which continually adjusts its heat output.
This is why ­­­­­this type of cable, unlike some heat tapes, won't burn out if it is wrapped closely together, overlapped, or overinsulated. This also means lower operating costs and increased energy efficiency. 
---
Where can pipe freeze protection cable be used?
This heating cable can be used to protect aboveground water pipes, which are insulated and weatherproofed, from freezing—weatherproofing is particularly important for any cable installed outdoors. 
---
Customer Reviews
PRO-Tect: Pipe Freeze Protection Self-Regulating Heating Cable achieved an average rating of 5.0 stars with 1 reviews by our customers.
Great Design Support
Dave R., Woodstock, IL on 05/25/2017
Easy product to install. In stock and quick delivery. Great design support.
View all customer reviews