What home upgrades increase value? As low housing inventory continues to sweep much of the nation, new construction may be the best course of action for many home buyers. You get to choose your lot, select the finishes you like, and avoid the hidden problems that often come with buying an older home. However, building new can be costly if you aren't careful with the upgrades you choose. You need to know what home upgrades increase value and what new construction upgrades to avoid.
The base price of a home may fit perfectly within your budget, but it's shocking how quickly it can go up when you realize how many upgrades you want. Don't forget – each upgrade you select adds to the total price of the home, which means you're being taxed on it and raising your mortgage. By opting out of as many upgrades as possible, you can strategically keep your costs as low as possible. Tackling projects after closing on your home will give you the best of both worlds if you have the money in your savings. With that being said, there are some upgrades that will be much easier and more cost effective to complete during construction. To help you decide which upgrades to add to your home right away and which ones to wait on, we've compiled the following list.

New Construction Upgrades that Add Value
These high-ROI new construction upgrades add value to your home during new construction.
1. Wood floors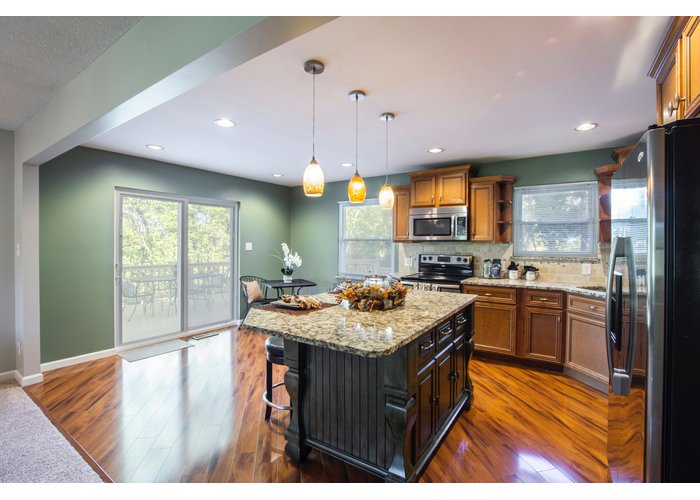 Generally, carpet comes standard everywhere except for the kitchen, bathrooms, entryway and hallways. Many homeowners desire the seamless look of hardwood or laminate throughout the first floor. Removing carpeting and matching the existing floors after move-in can be challenging because it's difficult to match the exact color of a floor once it's already been exposed to the sun for a while.
If you're trying to match hardwood, you may wish to re-stain the entire floor to make sure it matches perfectly. If you have laminate or engineered hardwood, the batch of color can be slightly different than the batch originally installed in your home. Replacing the flooring can also create quite a mess and make living in your home difficult until the project is complete. In the end, upgrading the carpet so that you have one flooring type throughout will save you the headache. Plus, this is one of the home upgrades that increases value right off the bat!
2. Roughed-in plumbing
If you ever want to add a bathroom to your home, make sure you pay for roughed-in plumbing. This will save you time and money. Imagine having to drill through concrete in a basement to add piping — it doesn't sound easy or cheap, and it isn't! Roughed-in plumbing is well worth the cost if you're even considering adding a bathroom to your home.
3. Electrical
Similar to roughed-in plumbing, installing any additional electrical will be much easier when your house is down to the studs. Whether you want to run cable for in-wall speakers or allow for new appliances like a double oven or
towel warmer
, planning for it in advance will save labor and, therefore, money.
As far as new construction upgrades that add value, having enough in-wall and in-floor electrical systems is a major game changer. The more outlets you have, the easier it is to rearrange furniture in rooms without unsightly extension cords, and you can install the latest and greatest technology. While it's true that technological advances move at the speed of light these days, things like having enough outlets in the right spots will never not be a home upgrade that adds value to your home.
4. Master bathroom tilework
If there's one place upgrades can really add up, it's tilework. Upgrading your bathroom floors and shower/bath surrounds can add up quickly. To save money, go with the standard options in every bathroom except your master bathroom. If needed, you can ask to have your tile floor staggered for an upgraded look without the high price tag. However, the master bathroom requests some extra pizzazz. We suggest upgrading to large-format tile on the floor and adding a point of interest to your bath and/or shower surround. This can consist of a mosaic glass tile waterfall, a horizontal border or shelf inset.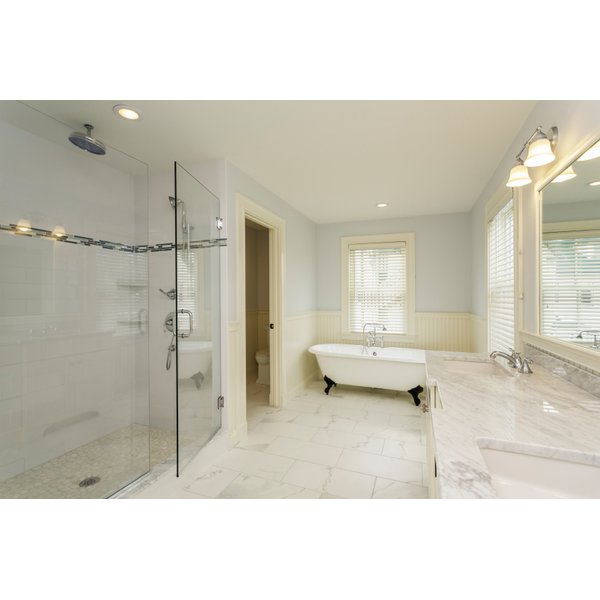 5. Radiant floor heating
If you're installing brand-new tile in your bathroom, it's the perfect time to add a home upgrade that increases value in a home by putting in a radiant floor heating system. Because floor-heating systems require the flooring to be torn up before they can be installed, this is an upgrade you don't want to save for later. An in-floor heating system is an energy efficient option that will add warmth, comfort and luxury to your bathroom, and become a new construction upgrade that adds value to your home.
You can also consider adding a towel warmer in the master bathroom (this is another reason why you want to have good electrical installed in your walls). Towel warmers are available in a range of sizes and styles. Most recently, they've adopted metal trends like oil-rubbed bronze, gold and matte black, so you can take your style to the next level. If you want a hardwired option with no visible wiring, you should have an electrician add an electrical box during construction, as mentioned previously.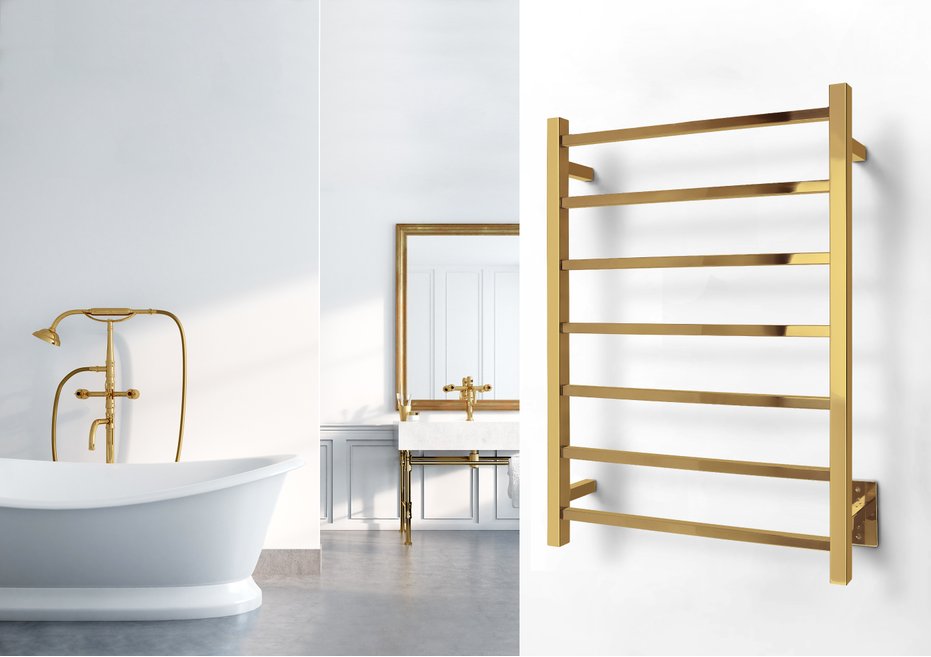 The pre-construction phase is also the best time to consider a heated garage, which is a great new construction upgrade that adds value. Heating cable can be installed within your concrete slab as it's being poured to keep your garage warm all winter long. Plus, if you have any living space located above your garage, heating the garage will be particularly helpful in maintaining a comfortable temperature on the floor above.

6. Deeper basement
If you have any plans to finish the basement down the line, you should consider paying for a deeper pour. An extra foot of height in the basement will make it feel like any other floor in the house, making it a space everyone will want to frequent. This upgrade doesn't come cheap, but if you're particularly tall or want to get a lot of use out of your basement one day, it's an important one to consider.
New Construction Upgrades to Avoid
These potentially risky upgrades may not pay off in a newly built home but some you can accomplish yourself to save money and increase ROI. 
1. Appliances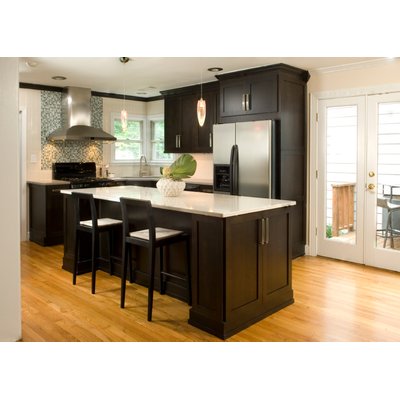 If appliances aren't included with the house, you may be better off buying them yourself. This gives you the opportunity to pick the specific appliances you want and the style you want. If you've had your heart set on a black stainless-steel appliance set, this is your chance! There are often sales and bundles that make appliance packages pretty affordable, so be sure to look into your options before committing to an appliance upgrade.
It's also often the case that the appliances that come with a new construction home are bought in major bulk purchases by the land developer for use in all the new homes in the neighborhood, and their eye is more closely looking at price than that quality. Being able to pick out your own appliances is a home upgrade that will increase value.
2. Lighting
Another new construction upgrade to avoid is lighting. Typically, the lighting that comes standard from builders is just that — standard. Stick with the standard lights that the builder provides and upgrade them on your own later. This way, you'll be able to select some unique lighting that suits your particular taste. And, you can control how much you spend. If you need extra electrical boxes added in bedrooms or over the kitchen island in order to install lights or ceiling fans, here's something to consider. If there is an attic above, have an electrician finish the work for you after closing. However, if there isn't an easily accessible space above, have the box added during construction. As mentioned before, it will be easier for an electrician to work when the house is down to the studs, but this doesn't apply if the attic is available. Every electrical box counts, so save where you can.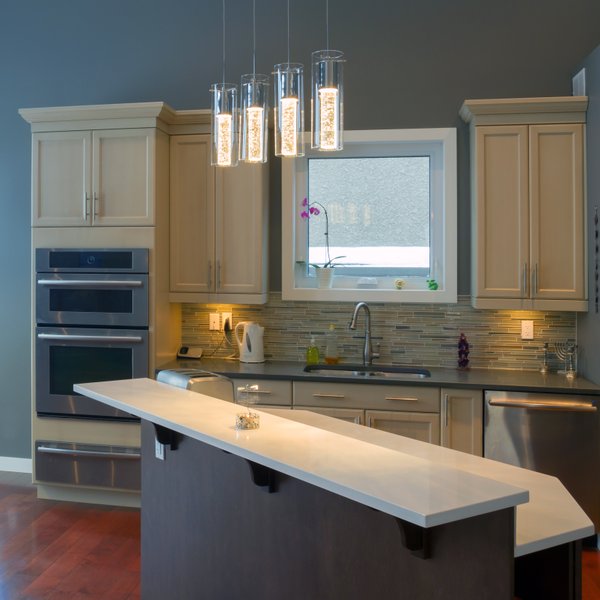 3. Cabinet hardware
This is hands-down the easiest project to complete on your own after closing. Homeowners can buy a template from their local hardware store and install the cabinet hardware themselves. Builders are typically limited in the hardware they have available. By side-stepping this upgrade, you can choose from a plethora of options and get something unique that's just your style. This is one of the least expensive upgrades you can make to your home that adds value, and it's one of the easiest upgrades for you to install by yourself with hardly any tools.
4. Kitchen backsplash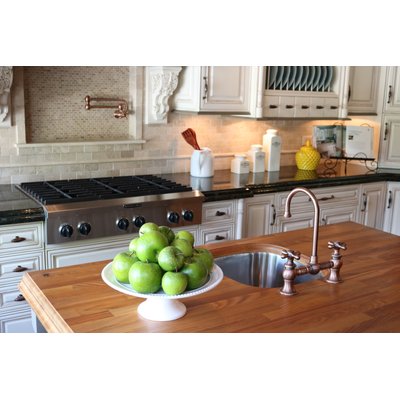 The kitchen backsplash is a major focal point of the room. Again, this is an area where you want more options rather than less. Think about the pattern and colors you want and find the perfect tile or stone backsplash post-construction. If you're handy, you may be able to complete this project on your own. Doing this home upgrade yourself adds value to your home, and tile manufacturers have made the installation process for backsplashes--even the most beautiful and elegant--a simple procedure that will only take you a day or two of labor.
5. Outdoor space
If your builder offers an outdoor upgrade, like a deck or patio, you should hold off for a couple of reasons. This is a new construction upgrade to avoid. First, the house will settle, which is why builders typically suggest waiting at least a year before putting in a deck or patio. Secondly, you may wish to put in a larger deck or patio than the builder offers. By waiting a year or so, you can select the size, shape and materials that you want.
6. Crown molding
Crown molding is a beautiful upgrade, but unfortunately, it doesn't recoup much value if you plan on selling. If you really want crown molding, identify which rooms you want it in and hire a contractor after you close. This may be a good project to complete when you decide to paint the walls.
Conclusion
Committing to a new-construction home can be nerve-wracking because there are so many options to choose from! There are many home upgrades that increase value, and many new construction upgrades to avoid. By keeping these things in mind when you commit to a new build, you can ensure that the number of upgrades you choose don't get out of hand. In turn, your base price will stay as low as possible and the projects you save for later will be as easy and convenient as they can be.
Interested in learning more about how much a floor heating system would cost for an upcoming project? Use our Quote Builder to get an quick estimate!
---
Tell us About your Project
Our team of Radiant Experts is ready to help! Just tell us a little about yourself and your project to get started.
---
Did you find this post helpful?
Let us know by giving it some applause.
---
---