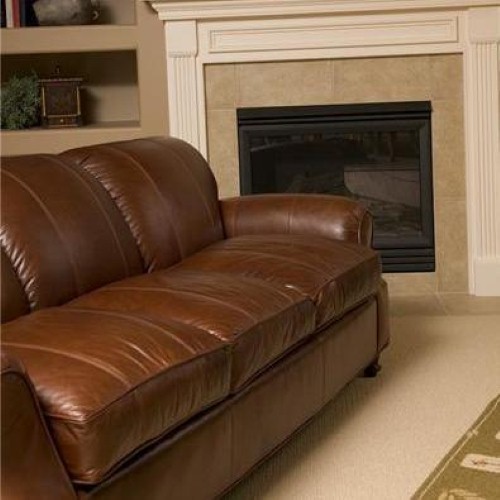 Your living room is likely where you spend most of your time, so it's probably also the place that drains most of your energy resources. Whether you have gas heat, an old TV set or just want to replace outdated furniture, consider some green options when giving your living room the makeover it needs.
1. Radiant heat flooring. This is a versatile, eco-friendly choice that will keep more than just your feet warm throughout any weather. Radiant heat rises through the floor and conserves considerably more energy than gas or electric duct heating. Easily installed, it can be placed under a number of different flooring types, from stone to hardwood.
2. Energy-efficient entertainment and appliances. From lightbulbs to your new HDTV - look into energy-efficient models of everyday appliances. Give the Earth a break while you catch up with your favorite TV shows, movies, podcasts or even just a good book by  lamplight. Also consider using energy-efficient air conditioners. A wide variety are SEER (Seasonal Energy Efficiency Ratio) and EER (Energy Efficiency Ratio) qualified well above the national standard.
3. Sustainable wood furniture. Finding wood furniture that isn't contributing to deforestation can be a bit tricky, but by following a little advice you can find attractive and sturdy designer wood to perfectly complement your home. Gaiam Life advises using products certified by the Forest Stewardship Council, the Rainforest Alliance or similar organizations. But don't just trust anyone - not all green seals-of-approval are entirely honest.
4. Organic fabric curtains. These may fly right under your radar if you don't think of them, but curtains made of organic fibers are a great way to keep every part of your living room green and eco-friendly. Easy to find in plenty of shades and patterns, curtains in every fabric from hemp to cotton are a great choice.
Your living room can be as green as you want it - even literally, so long as you use non-toxic paint! Any way you want to design it, an eco-friendly living room is easy on the eyes and a load off Mother Nature's back. Start your makeover, and enjoy.
Like this post? Subscribe for regular updates
Make sure you don't miss out on the latest news in radiant heating by subscribing to our blog. We'll send you an email with links to the newest posts from WarmlyYours.
We won't share your information and you can unsubscribe at any time with a single click.
---
Did you find this post helpful?
Let us know by giving it some applause.
---
---