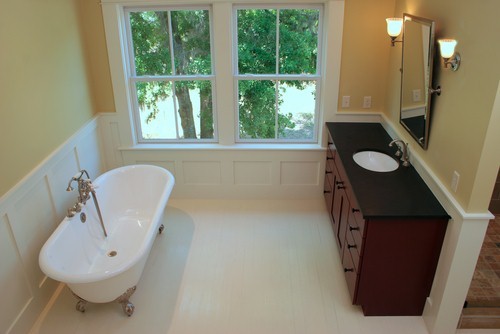 Autumn begins September 22nd this year, so there's no better time than now to talk to your homeowner clients about installing radiant heat in their homes. While all rooms could benefit from radiant heat flooring underfoot, one of the prime spots is the bathroom, where cold tile and porcelain will need plenty of warming up. Get your clients excited about top-of-the-line radiant heat technologies and appliances from experts like WarmlyYours.
Radiant floor heating
Radiant floor heating has numerous advantages over central heat. Not only is it an eco-friendly option that reduces reliance on gas and consumes minimal electricity, but it's sure to improve a home's air quality. Forced air heating pushes through old, dusty vents, jeopardizing air quality in a confined room your client uses multiple times each day. On the other hand, radiant heat is installed easily below a variety of flooring types - even those used often in the bathroom, like tile, stone or engineered hardwood. It also uses entirely natural convection currents to keep a room warm.
Just imagine stepping out of a steaming shower on a cold morning and not having to shiver - radiant heat can give that and much more. Consider these other great energy-efficient radiant heat options from WarmlyYours.
Towel warmer
These professionally crafted towel warmers won't set your clients back much considering the luxury they provide. Best of all, with such extreme energy efficiency, most folks won't notice a change in their utilities bill! Encourage your clients to indulge in the guilt-free luxury of a piping hot towel straight out of the tub.
Mirror defogger
This easy-to-install amenity will keep any bathroom mirror fog free after even the steamiest of showers. Installed behind mirrors, these ease morning routines and reduce the accumulated smudges of wiping away fog.
Radiant heat panel
If your clients are looking for a unique way to heat their bathroom and maybe add a touch of style to the space's décor, radiant heat panels could be just what they're looking for. Installing these in clients' bathrooms provides them with an energy-efficient source of heat, not unlike radiant floor heating, but also gives them a stylish piece of art that's sure to impress guests. WarmlyYours provides a number of variations on its panel design, any of which are sure to be a hit with homeowners.
Like this post? Subscribe for regular updates
Make sure you don't miss out on the latest news in radiant heating by subscribing to our blog. We'll send you an email with links to the newest posts from WarmlyYours.
We won't share your information and you can unsubscribe at any time with a single click.
---
Did you find this post helpful?
Let us know by giving it some applause.
---
---