Heated bathroom floors are the epitome of luxury — but that doesn't mean they have to carry an exorbitant cost. The average homeowner has no idea how affordable heated floors are or that they can even install an electric floor-heating system themselves if they'd like. If this sounds like you, you've come to the right place. 
WarmlyYours Radiant Heating is helping to bridge the gap by sharing its expertise. We'll share the elements that go into in-floor heating cost to purchase and run an electric floor heating system. This includes how to install a heated bathroom floor, and which flooring types are compatible with a radiant heating system.
Check out our Bathroom Floor Heating page for even more information!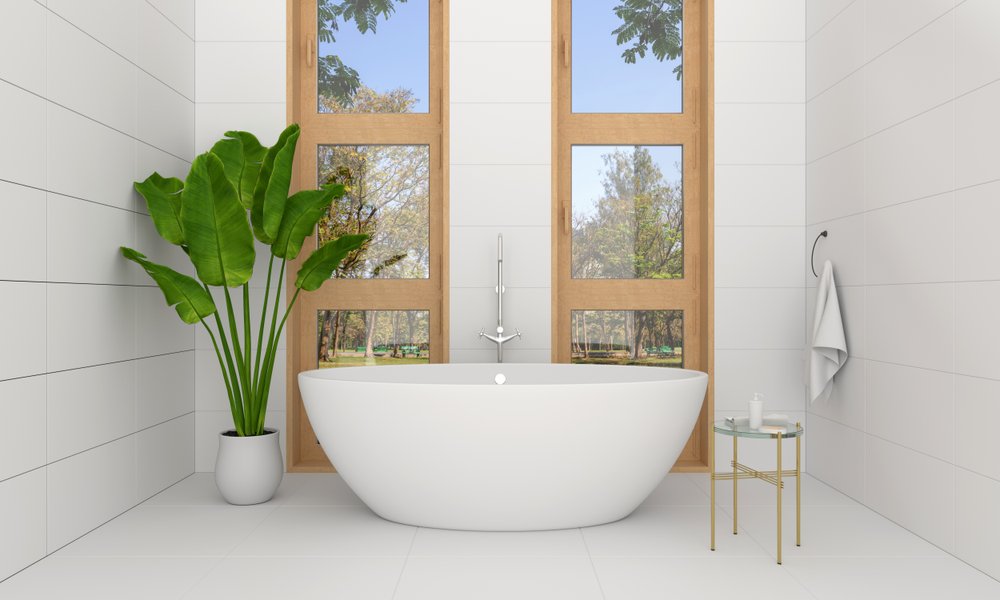 How Much Does A Heated Bathroom Floor Cost?
Floor-heating systems for warming tile in a bathroom cost between $5-$12 per square foot for electric heated mats, rolls or cables with fixing strips. The in-floor heating cost goes up to $15-$20 per square foot for heating cables with a waterproof installation membrane instead of fixing strips. You can calculate how much floor heating will cost for your specific bathroom by using WarmlyYours's Radiant Floor Heating Quote Builder. 
Here's an example: a mid-sized bathroom is typically about 50 square feet, with about 35 square feet that can be heated (you can't heat right up against the wall or under permanent fixtures like vanities, showers, tubs or toilets). That would put the price for a floor-heating system between $175 and $420. If you'd like to use a waterproof installation membrane, that raises the price to between $525 and $700.
For a detailed floor heating installation plan and the estimated cost for your next project, go to 101 Bathroom Floor Plans. There you can select the floor plan that best represents the shape of your own bathroom.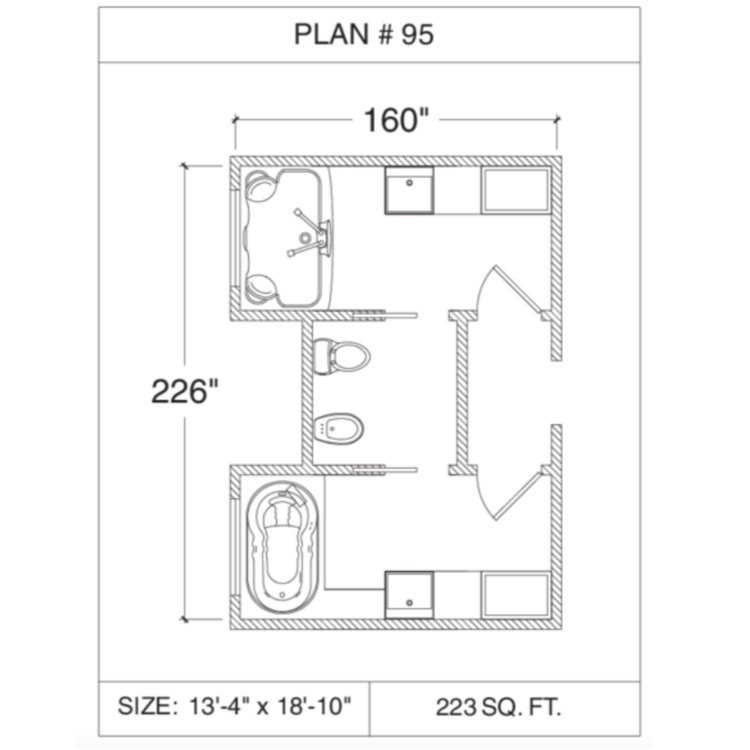 The estimated cost for heating this bathroom with TempZone Cable with Strips would be $930.83 and with TempZone Flex Roll the total would be $1,233.99. Click here for details about this quote.

Do Bathroom Heated Floors use a lot of Electricity?
No, a small bathroom will only end up using about 3 cents worth of electricity per hour of operation. The cost to operate your bathroom floor heating varies depending on the cost of electricity in your area, but generally it's only pennies a day to run. 
The best way to maximize your energy savings with a floor heating system is by using a programmable floor heating thermostat, like the nSpire Touch. This allows you to set up the floor heating system to only turn on when you need it. 
Many programmable thermostats come with the ability to program multiple "events" (for example, the nSpire Touch can program up to 6 events per day). This means that you can truly customize your heating system's performance to your daily routine while also cutting down on energy use without having to sacrifice comfort. 
Most homeowners only use their bathrooms for about 1-2 hours a day, but let's overestimate and say that you're heating your bathroom floors for 4 hours per day. The average cost of electricity in the United States is $0.12 per kilowatt hour, which would put you at a cost of just $0.11 a day, $3.30 a month and $40.15 a year to heat your bathroom. 
If you want to know how much floor heating will cost for your next project, we make it easy for you. Just visit our website and use our Radiant Floor Heating Quote Builder Tool
How to Install Heated Bathroom Floors?
One of the fastest, least expensive ways to heat a bathroom floor is with a TempZone™ Flex Roll. These rolls feature electric cable embedded in a serpentine pattern in green mesh, so they are already properly spaced. The green mesh of the rolls helps to protect the electric heating cables during installation. Heated bathroom floor mats or rolls are typically installed by embedding them in thinset beneath a new tile floor.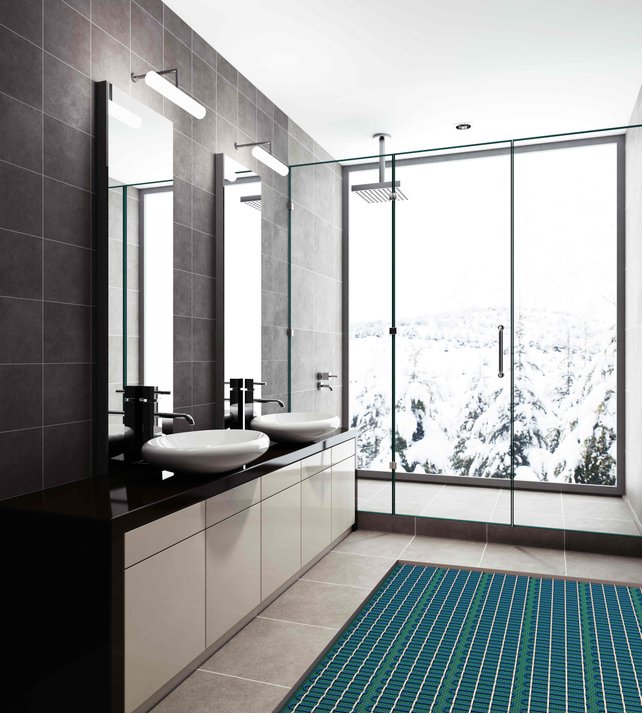 More specifically, TempZone™ Flex Rolls are installed in about 6 steps. 

Get a Custom Installation Plan.
Installing an electric floor heating system is relatively simple when you have WarmlyYours's custom SmartPlan installation plan in hand. By submitting your room's dimensions online, WarmlyYours will provide you with everything you need to know to get your project started. This includes what products you need, where the thermostat should be located, and how to lay out the heating element. 
Prepare the Subfloor.
Before you start the installation, you need to make sure your subfloor is clear of any debris. That means ensuring that there are no staples, nails or other sharp objects protruding from the subfloor that could damage the heating element. 
Test the Heating Element.
Use a digital ohmmeter to test your heating element. The results should be within 15 percent of the value marked on the UL label. 
Install the Heating Element.
Following the directions on your installation plan, roll out your TempZone™ Flex Roll with the heating cable face down. When you reach the end of a run, cut the mesh (not the cable) and turn the heating element to continue installation. You can free form the cable as well if you run into an awkward corner or pillar in the room.
If your thermostat is compatible with a floor sensor, you can install it now. Place the sensor in between and parallel with two heating cables, making sure not to overlap them. Secure the sensor with hot glue to make sure it won't move when you apply the thinset or self-leveling cement to bind to your flooring. 
Test the Heating Element Again.
Once the heating element has been installed, test it again with a digital ohmmeter as well as a Circuit Check to ensure it is in good working condition. 
Install the Thermostat.
Finally, have an electrician connect your thermostat per the instructions provided with the control. 
When heating under tile, stone or nailed hardwood, loose cable is also an option. TempZone™ Cable can be installed with fixing strips or a Prodeso Cable Installation Membrane. Fixing strips are provided with your purchase of TempZone™ Cable. 
This option is generally the most affordable, but it is also the most labor intensive. On the other hand, TempZone™ Cable with a Prodeso Membrane is the easiest installation method but also the most expensive. 

To see an installation of cable in a Prodeso Membrane in action, watch the video below. 
Best Materials for Heated Bathroom Flooring
Ceramic and porcelain tiles are the most popular materials selected for heated bathroom flooring. From these sturdy tiles to more sensitive options like marble, electric floor heating was designed to work with nearly all flooring materials available. And as advancements in laminate make the material more waterproof, that's another option for radiant floor heat. 

Because we're talking about the bathroom, which is prone to water spills, you may want to consider waterproofing your floor-heating system. In fact, you may want to consider waterproofing your subfloor regardless of whether you have heated floors as a proactive defense. The best way to ensure your subfloor and heating element stay dry is with the Prodeso Membrane and waterproofing accessories. When it comes to rooms like the bathroom, it never hurts to waterproof.

If you're going install a tile shower, by far the best option for including a floor heating system is with one of our Shower Waterproofing and Floor Heating Kits. These include not only all of the components of a traditional shower waterproofing system, but also an entire pre-sized electric floor heating system.  
To find out how much it would cost to heat your bathroom floors, you can use WarmlyYours's Radiant Floor Heating Quote Builder.  
---
Tell us About your Project
Our team of Radiant Experts is ready to help! Just tell us a little about yourself and your project to get started.
---
Did you find this post helpful?
Let us know by giving it some applause.
---
---