Do you love the feeling of walking on a warm floor in winter? If so, you're not alone. A lot of people enjoy the comfort and convenience of heated floors. You are probably wondering, what are they all about, how do they work, what about the cost and maintenance? We have all the answers for you! This guide will take you through everything you need to know about heated floors and explain their pros and cons in-depth. Let's get started!
What Are Heated Floors?
Heated floors, or radiant floor heating, is a system where either electric wires or hot water pipes are installed underneath the flooring to create warmth. The heat then radiates up and warms the room evenly from the ground up. Radiant floor heating is an efficient way to heat a room since there are no bulky radiators or vents that can take up valuable space.
How does Radiant Floor Heating Work?  
Did you know that radiant heating systems date all the way back to the Roman Empire in the form of hypocausts? Traditional heating systems such as fireplaces and space heaters are inefficient when compared to radiant heating systems since they heat the air directly. This causes hot air to rise while the cold air sinks, resulting in an uneven distribution of heat in a room. Radiant floor heating overcomes this by warming the objects and people in a room directly.
The heated floors work by either circulating warm water through pipes or by passing an electric current through wires which generates electrical resistance. The heat then radiates up and warms the rest of the room evenly via radiation.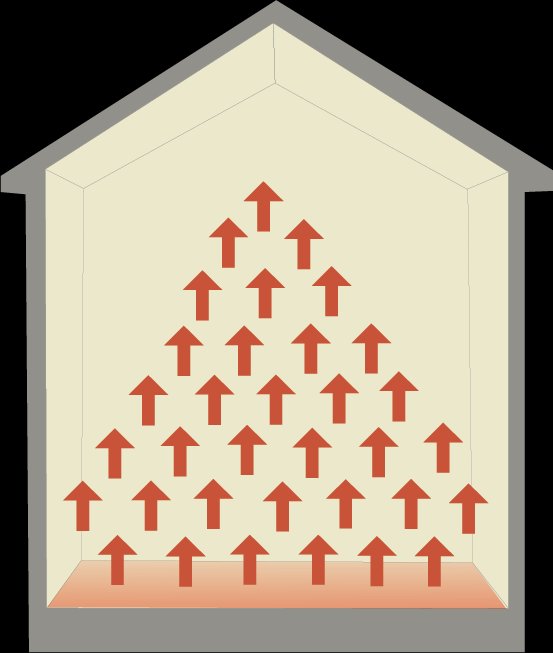 Can Radiant Floor Heating Benefit your Home?  
Have you ever walked into a room in your house that was noticeably colder? Or have you ever stepped out of the shower or tub and felt a chill? Most homes have these "cold spots" due to tile flooring, which is inherently cold, or other factors like a cement slab, unheated crawl space and unheated garage. If you're wondering, "Can radiant floor heating heat an entire house?" The answer is that while nearly all homes can benefit from radiant floor heating, floor heating won't always be enough to serve as the only heat source. To see if floor heating can be a primary heat source for your home, make sure to check out our Heat Loss Calculator. 
Some of the most common rooms for radiant heat are bathrooms, kitchens, basement and bedrooms located over a garage or unheated space. To decide which radiant floor heating system is right for your project, you should first be familiar with the different types of radiant heating systems.
How Warm Do Heated Get?
Most floor heating thermostats allow you to either control your radiant heating system with the ambient temperature (so the temperature in the room itself) or, if your system was properly installed with a floor sensor, with the floor temperature (the temperature that the floor sensor picks up). The floor temperature will almost always be warmer than the ambient temperature since some heat is lost to transference when the floor materials are warmed up.
While floor temperature can be set as high as 104° F, the floor temperature is usually set between 80° F and 85° F, which is comfortable for most people (depending on the room and ambient temperature).
The feeling of radiant heat is very similar to what you experience on a summer day when the sun suddenly appears from behind a cloud. Except in this case, you don't have to worry about clouds when it comes to floor heating!
Types of Radiant Floor Heating
There are two types of radiant floor heating: electric and hydronic.
Electric radiant floor heating uses electrical resistance to generate heat through mats or wires installed underneath the floor. The electric elements are woven in a serpentine pattern to ensure that the heat is evenly distributed. Many electric floor heating elements are designed to be embedded in thinset or self-leveling cement under the floor covering but some heating options, like our Environ product line, are meant to be installed without adhesives which can cut down on project costs. 
Hydronic floor heating, otherwise known as hot water heating, uses water that is heated by a boiler and then circulated through plastic pipes. The heat from the water warms the floor and radiates throughout the room.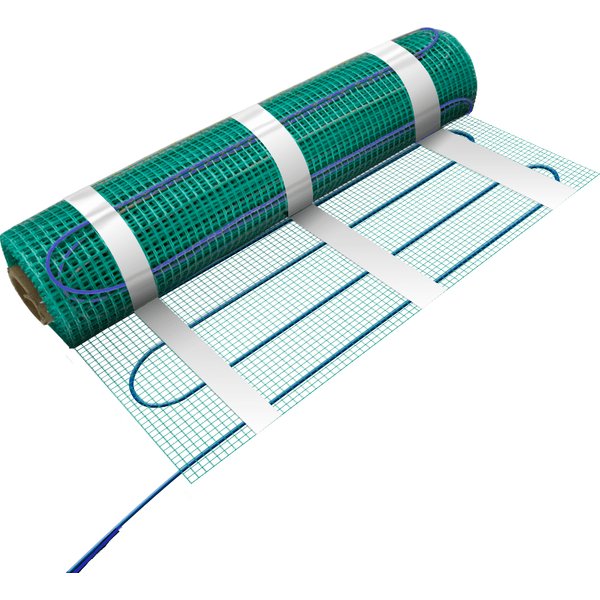 Electric vs. Hydronic Radiant Floor Heating
Both electric and hydronic floor heating systems do the work of heating your floor to make your home more comfortable. There are, however, some differences in how they operate. Here's a quick rundown.
Electric radiant floor heating is easy to install and can be done as a DIY project. They are also more affordable up-front and are ideal for smaller areas or rooms. Additionally, they are versatile and can be used with all types of flooring. Finally, a properly installed electric floor heating system requires essentially no maintenance to run properly.
Hydronic radiant floor heating, on the other hand, can be used to heat larger areas than electric. It, however, takes a longer time to heat up compared to electric radiant floor heating, which typically takes around 30-50 minutes to heat up. This means you might have to leave them on for a couple of hours before you need the heat. Additionally, they are more expensive to install but can last for decades with proper maintenance. The installation is more complex and usually requires a professional. It also requires higher up-front costs because of the boiler and associated equipment.
Generally, both methods are effective in providing radiant floor heating. The main difference lies in the installation process, the cost, and the time it takes to heat up the floor.
If you are doing a complete home remodel or building a new home, a hydronic in-floor heating system would be ideal. On the other hand, the electric radiant floor heating system would be a better and more affordable option if you are renovating a room (or a few rooms) or looking to only add floor heating to specific areas in your home.
Pros and Cons of Radiant Heat
The epitome of luxury and comfort has to be radiant heated floors. The idea of having warm floors to walk on during those cold winters or even enjoying the warm bathroom floors while you get ready for your day is very appealing. Radiant floor heating comes with a lot of benefits, as well as some drawbacks that are important to consider before making the investment. Let us explore in more detail below.  
Pros of Radiant Heated Floors
Sure, maybe we're biased but there really is a lot to like about installing heated floors! 
1. Uniform heating
The biggest benefit of floor-heating systems is their ability to uniformly heat a room and floor. Forced-air heating systems use vents to distribute warm air throughout a room. The location of the vents determines which parts of the room will be warmer than others. In contrast, underfloor radiant heating heats the entire floor, which leads to an evenly heated room and for an even ambient temperature around a person's body. This means that you will feel more comfortable at a lower ambient temperature level because you won't experience cold drafts. 
2. No maintenance

Radiant floor heating systems do not require any maintenance. Once they are installed, they will last for 20+ years without any issues. In fact, WarmlyYours warranties its TempZone™ electric floor-heating system for 25 years (and for life if the system is installed with our SmartInstall service . If there is any cable damage during the installation process, a thermal imaging camera can be used to easily and quickly find and repair the issue. In case you need any floor heating support, WarmlyYours has you covered!
Note: Hydronic floor-heating systems do not offer this benefit.
3. No noise
Imagine trying to concentrate on your work with the sound of a furnace running in the background. It would be very difficult to focus, right? This is not an issue with radiant floor heating as they are very quiet. Unlike forced-air systems, there isn't a loud furnace that kicks on. Therefore, you won't hear anything while they're on.
4. Non-allergenic
Radiant floor heating does not move air around, meaning there is no circulation of dust or other allergens in the room. This is a major benefit for people who suffer from allergies or asthma.
5. Energy efficient
Radiant floor heating is one of the most energy-efficient ways to heat your home. In fact, they are considered at least 20 to 25% more energy-efficient than forced-air heating systems. This is because the heat is evenly distributed throughout the room, so there is no need to overheat the room to compensate for cold spots. Additionally, radiant floor heating is very efficient because it doesn't rely on ductwork that can leak heat.
Furthermore, thanks to the advanced technology, you can easily regulate the temperature of the room using a WIFI or Programmable thermostat. This means that you only heat the room when you need to and can lower the temperature when you are not using the room. As a result, you save energy and lower your energy bills.
Generally speaking, the radiant floor heating cost to operate is very low. In fact, for a typical bathroom, it will cost you less than a dollar a day to run the system. 

6. Easy to install
Electric floor-heating systems are so easy to install that a handy DIYer can even do it. Which electric in floor radiant system do you recommend? It depends on a large number of variables including project budget and installation capabilities but the good news is that floor heating systems can be used under almost any flooring type. They're available in rolls that already have the heating cable attached to mesh in a serpentine pattern. Therefore, all the installer has to do is roll them out and cut and turn them where necessary to fill up the room. They're also available in loose cable with an installation membrane that features square-shaped "studs" to hold the cable in place. This option also offers crack prevention benefits for a heated tile floor. In contrast, hydronic systems are not as easy to install. They require a professional for installation.  

Another advantage of radiant floor heating installations is that they require no additional duct work, which can be both costly and time consuming. 
Cons of Radiant Heated Floors
Every coin has two sides, and radiant heated floors are no different. While there are many benefits, there are also some drawbacks that you should be aware of.
7. Flooring must be replaced
If you want to install radiant heated floors in your home, you will need to replace your existing flooring. This is because radiant heated floors need to be installed under the new flooring. The most popular choice for radiant heated floors is tile because it conducts heat very well. However, you can also choose from a variety of other options, including laminate, floating hardwood, nailed hardwood, vinyl (including LVT), etc.
8. Slightly elevates the floor height
Radiant heated floors need to be installed on top of a subfloor, so your existing flooring will be raised by about an inch. This can be an issue if you have doors that swing into the room, as they may not clear the new flooring. With our ultra-thin Environ heating mats and our TempZone floor heating elements (even with embedding thinset) the floor height increase will be much smaller (typically 19/64" for Environ plus CeraZorb insulation underlayment and 3/8" for TempZone heating elements embedded in thinset or SLC). 
9. Cost
The initial cost of radiant heated floors can be higher than other types of heating systems. Depending on the system you purchase, electric floor heating systems range in price from $10 to $20 per square foot. You can use our Floor Heating Quote Builder to see how much a system costs for your project. You can also check out our Operating Cost Calculator to find out how much it will cost to run the system.
However, you need to keep in mind that radiant heated floors last much longer than other heating systems and are very energy-efficient. In the long run, you will actually save money by installing radiant heated floors.
Contrary to electric systems, hydronic floor-heating systems are typically more expensive upfront because they require a boiler, a pump and gas lines to operate. However, if they are being used throughout a house, their cost per square foot goes down because multiple rooms share the cost.  
How to Get Started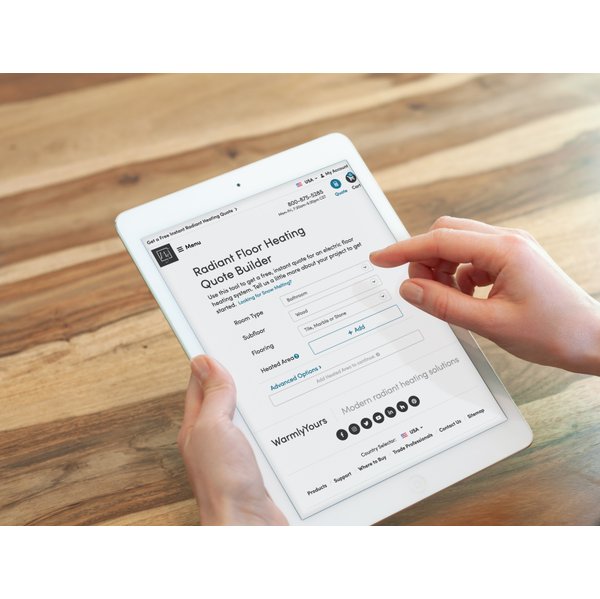 To find out how much the in-floor heating cost would be for your next remodel, check out WarmlyYours's Radiant Floor Heating Quote Builder. Does electric floor heat cost a lot per month? You can get a rough idea of how much it will cost to run a system by using the WarmlyYours Operating Cost Calculator. Once you're ready to move forward with the installation, you can find a list of the contractors in your area that work with radiant floor heating here. Choose a professional to install your floor-heating system, tile, thermostat, etc. Or, do the work yourself if you're so inclined, and only hire a professional electrician to finish the job by installing the thermostat. The option is yours.
Once you've started your project, WarmlyYours will still be there to help. Our technical experts are available by phone 24/7 at 800-875-5285 to help you with any questions that arise during installation.
---
Tell us About your Project
Our team of Radiant Experts is ready to help! Just tell us a little about yourself and your project to get started.
---
Did you find this post helpful?
Let us know by giving it some applause.
---
---