If there's one thing that floor heating is, it's luxurious. It would be difficult to find someone who is unimpressed by the comfort of a heated floor. That's because heated floors are known for their upscale appeal. There's something about heat radiating upward through tile, stone or hardwood floors that produces that "wow" factor that furniture and décor just can't replicate.

Of course heated floors are more than just an upscale heating option. They earned their "high-end" reputation because of their discreet ability to operate efficiently and effectively under nearly any flooring surface. Compared with alternative systems that boast unsightly vents or radiators in order to transmit heat, radiant floor heating is invisible and more efficient because it offers no escape route for hot air leakage. Ductwork, for instance, is prone to leakage and a forced air system often requires regular maintenance for the filtration system.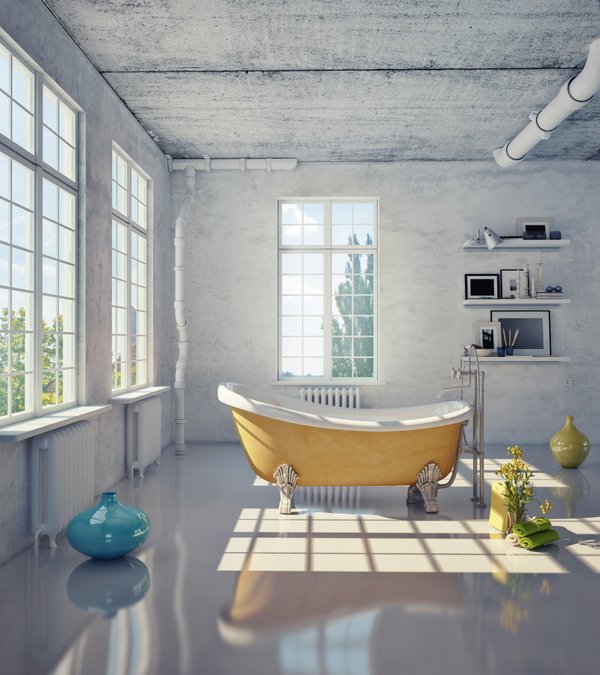 Because in-floor heating is so efficient and such a luxurious way to deliver heat, many homeowners take interest in heated floors when they're ready to replace (or install for the first time) the flooring in one of their rooms — the bathroom, in particular. However, when homeowners start shopping, they may be surprised to learn how affordable electric floor heating is, in terms of both material and operational costs. 
How Much Does Radiant Floor Heating Cost? 
Radiant floor heating cost will range from $10 - $12 per square foot— or about $600 for a typical remodeling project. 
This price per square foot for electric floor heating elements can go up to $30 for custom underfloor heating mats or down to $5 for large projects using floor heating cables and fixing strips. For a full 50-square-foot bathroom, the radiant floor heating cost can be as little as $265. A larger master bathroom that is 120 square feet will range between $590 and $833, depending on the type of heating product you select.
Heated Flooring Options
WarmlyYours Radiant Heating offers five different heated flooring options to meet its customers' budgets and level of expertise. 

TempZone Flex Rolls: Cut-and-turn fiberglass rolls with pre-attached heating cables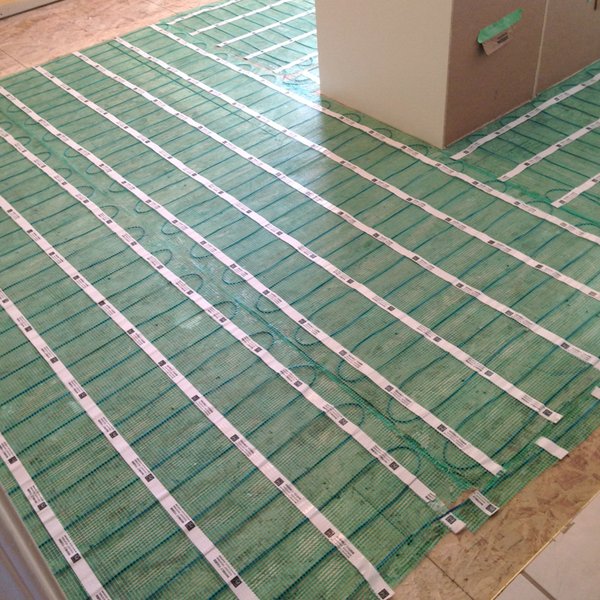 Flex Rolls are 1.5 feet wide and consist of a heating cable attached to a mesh at 3" spacing, which ensures an even heat output of 15-watts per sq. ft. 
These mats can be embedded (in thinset or self-leveling cement) beneath almost any flooring type and can be cut and turned during installation for ease and to accommodate the room layout. 
This is our most popular electric radiant floor heating product and has been for many years, largely due to the easy installation and the broad applicability of this heating system with the most commonly heated flooring types, like tile, marble, and stone. They can also be installed so that the heating wire is facing the subfloor and the fiberglass mesh facing towards the floor covering. 
This will help protect the heating cable during installation (as the mesh will block some incidental contact while cleaning grout lines or applying thinset above the system) without limiting heat transfer, which maintains low in-floor heating cost.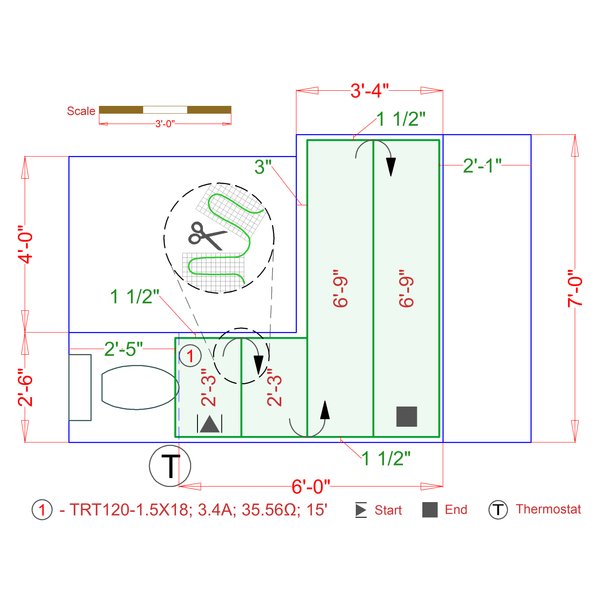 In this install plan, a single TempZone Flex Roll was used to cover this entire bathroom project.
For TempZone Flex Rolls, the in-floor heating cost will typically be between $10 and $12 per sq. ft. 
TempZone Easy Mats: Targeted floor heating mats for high-traffic areas 
Easy Mats are rectangular mats designed to heat small areas such as the space in front of a vanity, shower or toilet. 
These fiberglass mats also come with heating cables attached to them at a consistent 3" spacing, which means they also boast a heat output of 15-watts per sq. ft. 
The advantage of these mats, besides super simple installation, is that you're only heating the areas of your floor that you need to heat most, which means lower material costs and operating costs of your heated flooring options. 
For some smaller projects, two abutting floor heating mats can be used to maximize coverage but the TempZone Flex Roll will typically be a better solution as it will make the electrical connections easier later on in the installation. Like Flex Rolls, these heating elements can be installed so that mesh protects the heating elements during the installation process.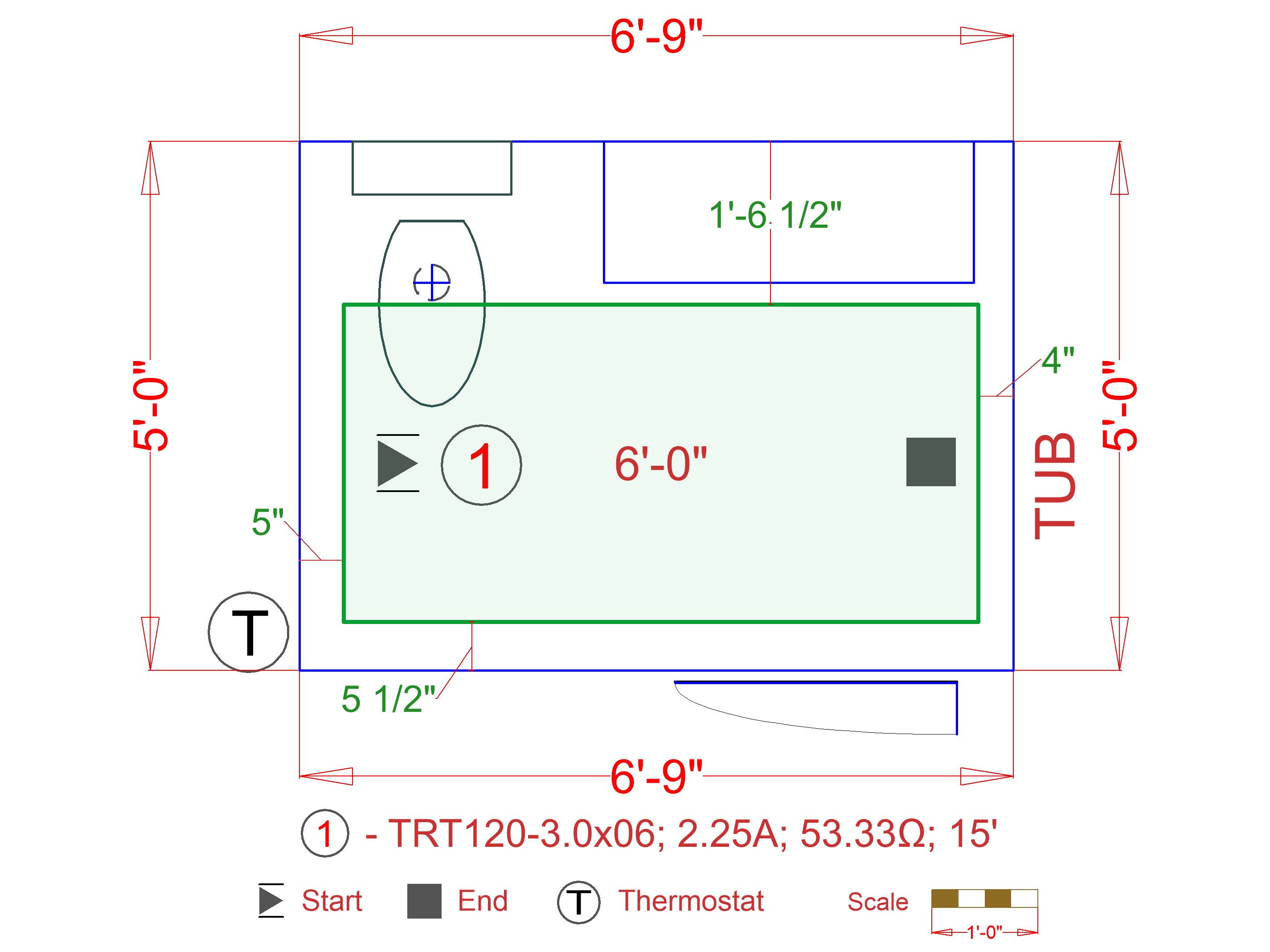 TempZone Easy Mats, like Flex Rolls, typically cost between $10 and $12 per sq. ft. but the total square footage is usually much smaller than projects with full coverage. 
TempZone Cable: With Prodeso Cable Installation Membrane or with Fixing Strips 
TempZone floor heating cable cable can be installed using fixing strips or an installation membrane for maximum flexibility. Each installation type has its own advantages and disadvantages.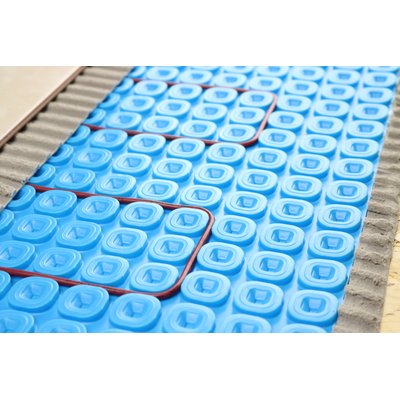 The Prodeso cable membrane serves not only as a framework for holding the electric floor heating elements at proper spacing (either 3.75" or 5") for even heating (between 7-watts and 15-watts per sq. ft.), but it also functions as an uncoupling membrane. This means the membrane is able to protect fragile flooring types, like tile or stone, from both foundational movement and from cracks telegraphing from the subfloor into the flooring surface. This can greatly extend the lifetime of these floors. 
The combination of the cable and the membrane is a costlier option, but can often cut the installation time for electric floor heating systems down to a single day (unlike other methods which can require time to let the embedded heating elements fully cure). 
This combo typically costs between $15 and $20 per sq. ft. but this is often mitigated by the fact that it eliminates the need for a secondary uncoupling membrane. 

A more economical option is to install the TempZone electric floor heating cable with fixing strips. These fixing strips are adhered to the floor on either end of the room and the cable is then strung at consistent spacing between the two anchoring lines of fixing strips. 
The method for adhering the strips to the subfloor will depend on the material and whether or not insulation is being used (but a very common method of installation for any well-cleaned subfloor is to use double-sided tape). This process is more labor intensive than most, but also affords a good amount of design flexibility and is by far the most affordable option. 
Typically, for a project using TempZone Cable and fixing strips, the in-floor heating cost will be between $5 and $15 per sq. ft., with larger projects costing less per sq. ft.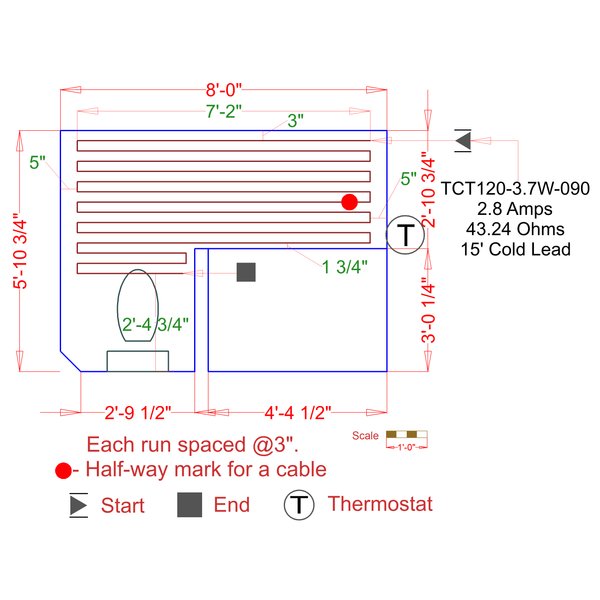 TempZone Custom Mats: Customized heating mats that perfectly fit your project
Custom Mats are delivered pre-cut according to your room's specs so that all you have to do is roll it out to install it. These products can also be customized in terms of the wattage per sq. ft. with a range of 12 to 15. Because they're perfectly sized to the room they're designed for, this is the easiest floor heating product to install. 
While there are a lot of variables that will go into pricing this product, most projects the in-floor heating cost will be between $15 and $30 per sq. ft. for a TempZone Custom Mat.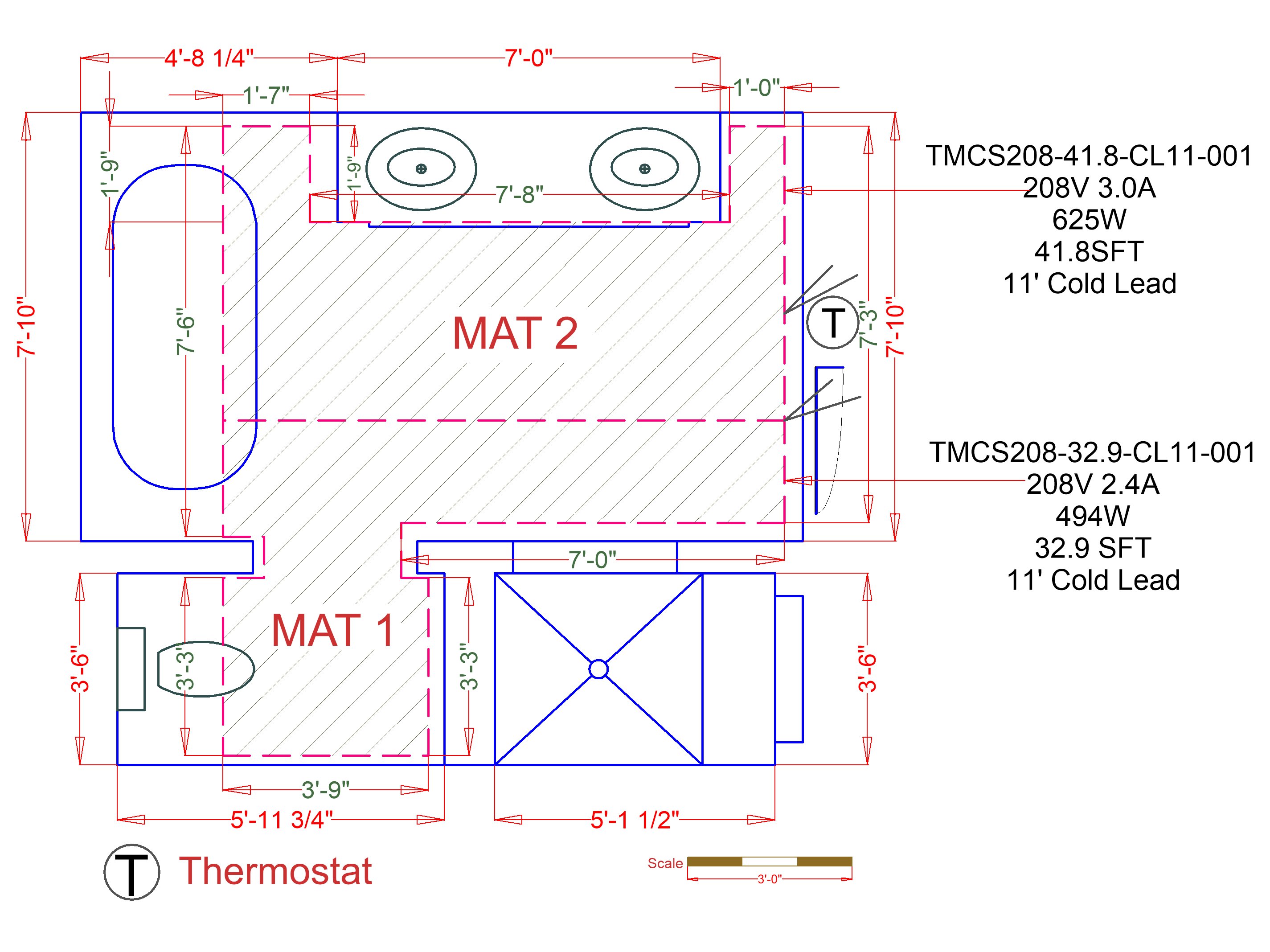 WarmlyYours makes it easy to decide which product is right for you through its Radiant Floor Heating Quote Builder.
How To Get A Quote
By accessing WarmlyYours's Radiant Floor Heating Quote Builder, you can enter the type of project, how large the room is, and a few more simple details to see your recommended choices side by side. 
WarmlyYours will show you the cost of each heating option and what the differences are between them so that you can select the one that best fits your budget and level of installation expertise. Once you've made your selection, the tool will even help you pick out a thermostat and any accessories you might need to complete your project.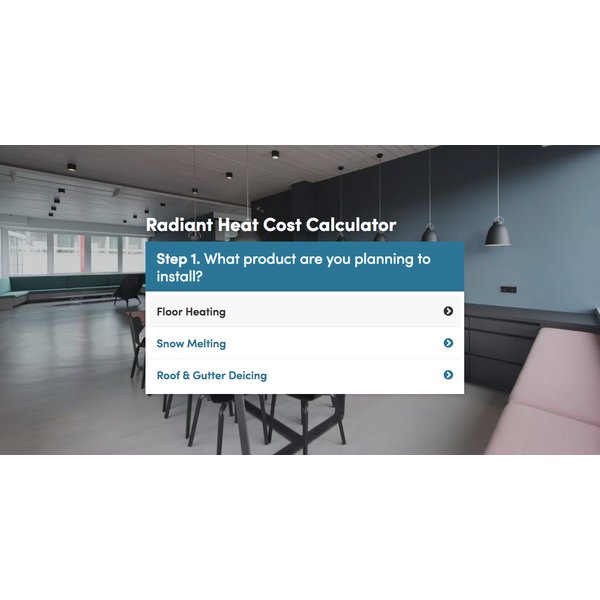 With the Radiant Floor Heating Quote Builder at your fingertips every step of the way, finding an affordable in-floor heating system couldn't be easier. WarmlyYours also offers free SmartPlans, which are custom installation plans for electric floor heating. 

Other Floor Heating Costs: Accessories, Controls, and Installation
For in-floor heating cost, the cost of the heating elements is just one piece of the puzzle. there are several other components to keep in mind including the control for your system, applicable accessories, and installation costs. 
Thermostats and Accessories: The key to energy efficiency 
WarmlyYours offers a wide variety of radiant heating thermostats ranging from the nSpire Touch WiFi smart thermostat to the dependable nTrust non-programmable thermostat. You should typically expect to spend between $100 and $300 on a floor heating thermostat (more if you're looking to integrate it into a home automation system). A programmable thermostat can allow you to set up a heating schedule for your floor heating system that can decrease wasteful energy use, and turn into significant savings.
Likewise, if you're installing a floor heating system on top of a concrete slab subfloor, you'll want to install a thermal break underlayment like CeraZorb. This artificial cork underlayment helps prevent heat-loss and costs between $1.80 and $2.75. 
Installation Costs: Labor and Materials 
Obviously, the cost of a new floor heating system will also involve the costs of a new floor. Tile, the most commonly heated flooring surface, has a huge variety in costs. 
The tiles for a new floor will typically cost between $2 per sq. ft. at the very low end up to $25 per sq. ft. 
Luxury vinyl tile (LVT) floors will typically cost between $2 and $7 per sq. ft. 
Nailed hardwood floors (which can be installed over TempZone Floor Heating Cable) can have a huge range of costs based on the species of wood, thickness, and quality--this can range from $3 to $6 for a softwood like pine to $8 to $14 for more exotic hardwoods like mahogany. 
A heated concrete floor cost can have a huge range based on the features desired (from $2 per sq. ft. all the way up to $30 per sq. ft.) and the heating system for a heated concrete floor would be between $8 and $16 per sq. ft. based on the project size and the heating elements used (either cables or mats). 
Another cost involved in tile floors is the adhesive, such as thinset or self-leveling cement. Make sure to check the installation guidelines on your floor heating system to identify how much adhesive depth will be needed for your project (also keep in mind that the electric heating systems outlined in this article will need to be installed no more than 1.5" from the finished flooring surface). Combining this with the total square footage should give you an idea of how much adhesive you'll need to purchase. 

If you'd like to hire a professional to install the floor heating system beneath a flooring material, there may be a surcharge since installing floor heating typically requires a few extra steps. If you're a DIY-er, you can probably accomplish the flooring installation yourself over a weekend. 
However, we always recommend that a licensed electrician make the electrical connections for your floor heating system. Hiring an electrician may involve more than just their hourly cost (typically between $50 and $100 per hour), such as a travel fee and a minimum project charge. Feel free to give us a call at 1-800-875-5285 and we can provide some guidance about hiring a professional for your project. 
One other tip that might help you save on labor costs is to make sure that your system is being installed with a Circuit Check electric continuity alarm. While it does represent a small upfront charge, it can end up saving you from a costlier installation. This handy device will be attached to the heating cables during installation and sound an alarm if the cables are damaged during installation. This can be huge in terms of saving headache (and labor costs) because it will prevent the installers from unknowingly installing damaged cables, where a section of the floor may need to be removed to affect repairs. 
WarmlyYours SmartServices 
If you're looking for specialized help installing your floor heating system, WarmlyYours now offers a wide range of different services for electric floor heating with competitive pricing where our Radiant Experts will help ensure your next project is a success. We offer both onsite and remote services and even a few that can be both like SmartGuide, our installation supervision service where a Radiant Expert can assist your installer (either onsite or via video conferencing). 
We also offer an onsite service called SmartInstall where our Radiant Experts will install an electric floor heating system so that your flooring installer can safely put down the actual floor covering. The cost for this service starts out at $399. We also offer a SmartFit professional measuring service and a troubleshooting and repair service called SmartFix.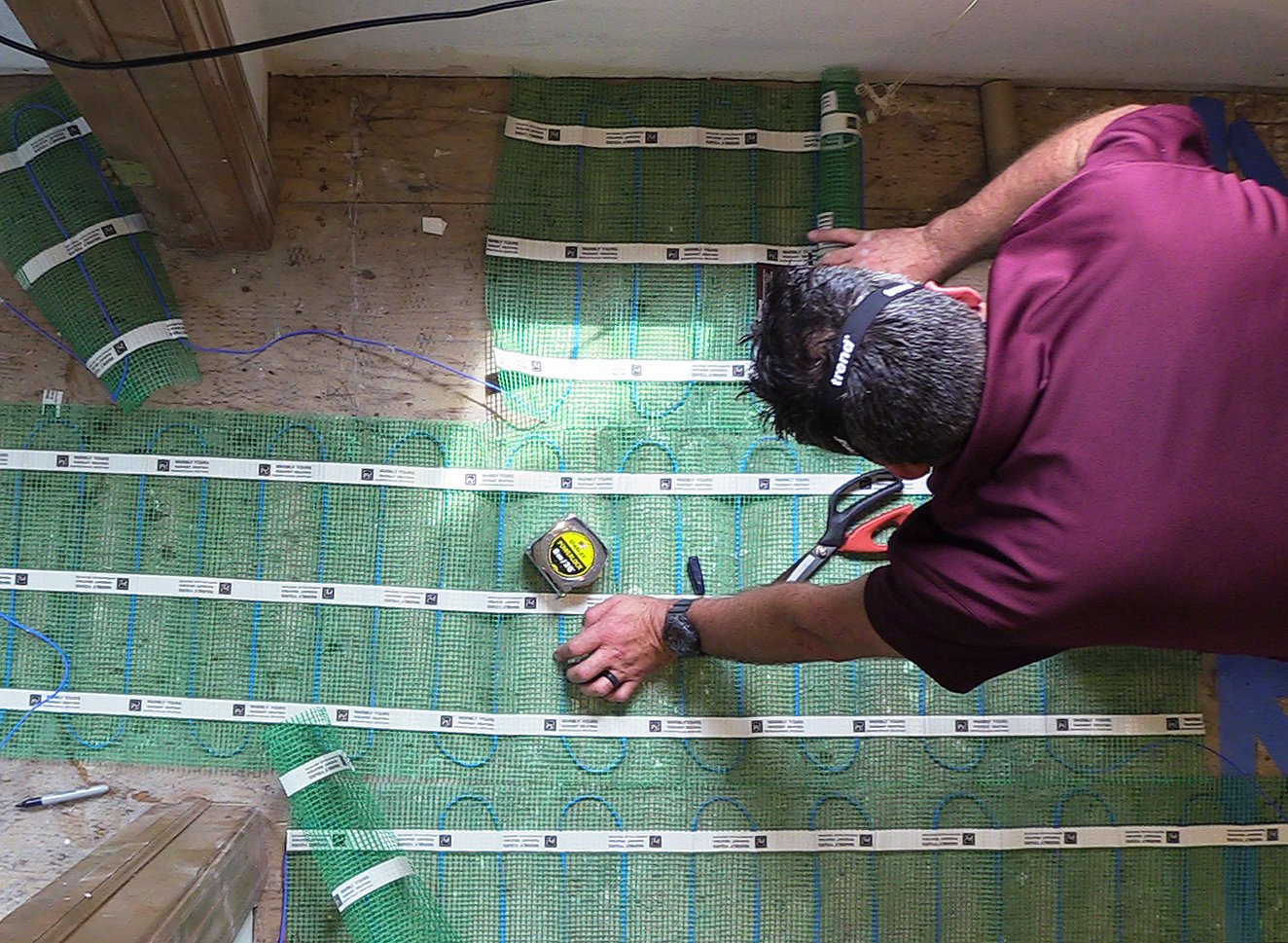 Make sure to check out our entire line of SmartServices for radiant heating.
What Are The Operating Costs?
If you want an even better understanding of how much your electric underfloor heating system will cost you on a day-to-day basis, WarmlyYours has another tool you should check out. By submitting the square footage of the heating area, the cost per kilowatt hour in your state, and how many hours a day your system will be running, the Electric Floor Heating Operating Cost Calculator will show you how much you'll spend each day on electricity in order to run your system. 
For example, it would cost an average of $0.09 a day to heat the 50-square-foot bathroom mentioned earlier for four hours each day. That's less than $3 a month! For a larger 120-square-foot bathroom, it would cost about $0.22 a day, which is less than $7 a month.
Test out the Electric Floor Heating Operating Cost Calculator yourself.
How does the energy use of electric floor heating compare to other appliances?
To really get an idea of just how energy efficient electric floor heating is, it helps to compare the energy use of an electric floor heating system to other household appliances. For example, if you used a 1500-watt portable electric heater for 8 hours a day to add supplemental heat to your home, you're going to see a sizable $43.80 increase in your electric bill (assuming a kWh cost about 12 cents). 
By contrast, an electric floor heating system can be run in a 35 sq. ft. bathroom for about $6.60 per month. 
Even if you ran that system 24/7 in the bathroom, it would only cost $19.80 per month. For more information on energy efficiency and floor heating, check out this post. 
Curious about how much it would cost to heat your project? Get started with a free, instant floor heating quote here. You can even get the process started with our team by uploading a photo of the room you'd like to heat here. 

---
Tell us About your Project
Our team of Radiant Experts is ready to help! Just tell us a little about yourself and your project to get started.
---
Did you find this post helpful?
Let us know by giving it some applause.
---
---