Electric heating cable affixed to mesh rolls and mats offer ease of installation because the cable is already properly spaced and secured. But what happens when an angled wall comes into the picture? That's exactly why WarmlyYours introduced TempZone™ Cable three years ago.
Many installers began requesting free-form cable for its flexibility. This way, whether a room has an angled wall, pillars or another obstruction, the loose cable can easily maneuver around it while still providing the square foot heating coverage you've come to expect from radiant floor heating systems.
"We studied the European market and found that installers are 50/50 on their preference for loose cable vs. cable affixed to mesh rolls and mats, and we believe that the U.S. market will follow in a similar manner," WarmlyYours President Julia Billen said when the product was first announced. "We have already seen an increase in requests for a loose cable product from veteran installers, so WarmlyYours has added the TempZone™ Floor Heating Cable (Twin) to provide them with the options they want."
By adding free-form cable to its offerings, the company has enabled customers to get full heating coverage in uniquely shaped rooms. The cable product can also be used under a huge variety of flooring materials, including hardwood flooring. 
Beyond the primary objective of the product, TempZone™ Cable offers many other benefits. We've called out a few of the most significant ones to demonstrate why this product remains so popular.
1. Flexibility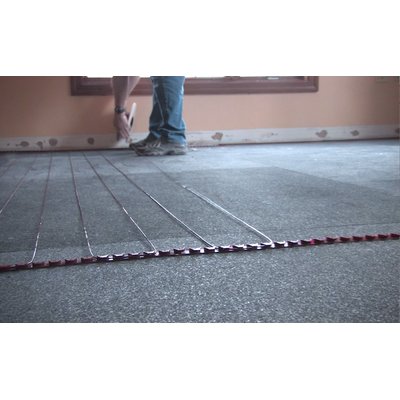 As already mentioned, the prime advantage of TempZone™ Cable is its flexibility. It is flexible enough to weave around obstacles, but it's also flexible in terms of wattage. Because the cable is not secured in mesh, it can be spaced at 3 or 4 inch intervals, depending on the customer's needs. When spaced at 3-inch intervals, the wattage will be between 12 and 15 watts per square foot, which can potentially be the primary heat source for a room (check the Heat Loss Calculator to be sure). However, if less heat is needed, the cable can be spaced at 4-inch intervals and used as a supplementary heating source. Fixing strips are provided with all TempZone™ Cable purchases (unless you opt for a Prodeso Installation Membrane). These fixing strips are secured to the subfloor and provide tabs that allow the installer to space the cable properly and hold it in place per the recommended layout. The 4-inch spacing option can also save customers money because less cable will be required. 
2. Format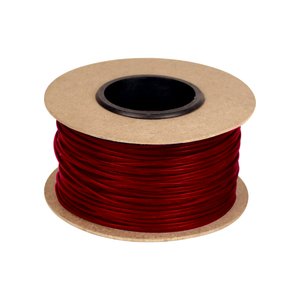 The format of the cable itself is easy to work with. The cable comes in a spool, which makes it easy to install the radiant heat system and reduces the chance of tangling.
3. Affordability
When fixing strips are used, cable is the most affordable floor-heating option. Customers can save up to a third of the price of a TempZone™ Flex Roll when choosing cable at 3-inch spacing. However, there is a tradeoff. Although cable is the most affordable, it's also the most labor intensive because it has to be woven between fixing strips.
To see the difference between TempZone™ options for specific projects, check out WarmlyYours's Instant Quote tool.
Additionally, the cable product is extremely energy efficient when paired with a programmable thermostat, which can cut down on operating costs. 
4. Ease of Installation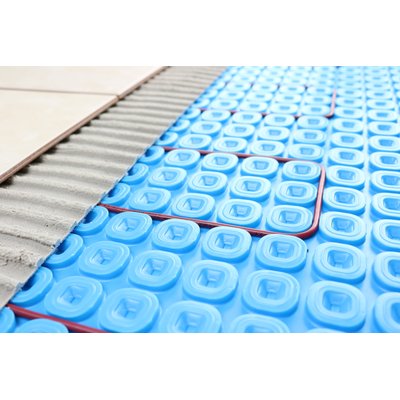 For those seeking a floor-heating product that's easy to install but still has the flexibility necessary for their project, WarmlyYours recently introduced the Prodeso Installation Membrane. The membrane features rounded square-shaped reliefs that allow the installer to secure the cable and space it at 3.75-inch intervals in the fastest amount of time. Unlike other installation techniques, the Prodeso membrane has the unique ability to complete a floor-heating and floor-installation project in just one day. When using the membrane, the thinset or self-leveling does not need hours to dry, which means you can install the flooring right over the heating element once it's secure. Because the heating element is spaced at 3.75 inches in the membrane, it emits 10-12 watts per square foot, which is slightly less than the 3-inch spacing with fixing strips. This option is also more expensive because of the convenience factor and additional materials provided. However, it's a great option for those who value ease of installation over price.
Here are some other tips that will also help make your TempZone Cable installation easier. 
Use Double-Sided Tape 
If you're on a budget, then using cable fixing strips to secure the cable (instead of an installation membrane)  is the way to go. They come with the TempZone™ Cable you buy, and they do a great job holding the cable in place. The downfall in using fixing strips is that installation takes longer because you have to wait for the thinset to dry before installing the flooring. Also, it can be time consuming to adhere the strips to the subfloor or underlayment if you're using hot glue. However, a good tip is to use double-sided tape instead of hot glue. Industrial-strength double-sided tape is easy and quick to lay out. Plus, as you're installing the cable, you're pulling it from side to side. Double-sided tape is great at resisting this lateral shear.
Test the Cable 
Before you finish the job, test the heating cable. In fact, you should test the cable before, during, and after your installation. It only takes a matter of seconds to connect a digital ohmmeter or Circuit Check to determine if your cable is working properly. Plus, the heating element's installation manual tells you exactly how and when to do it. By checking your work as you go, you can make sure that your project goes off without a hitch. And if you do detect any issues along the way, you still have time to correct them before you've covered the heating element and laid the flooring. Trust us, it's much easier to fix a break in the cable before installing the flooring.
Call an Expert
Have you ever put together a piece of furniture on your own? If so, you'll probably agree that a professional could have done it about twice as fast. That's because it's what they do day in and day out. Likewise, the WarmlyYours technical team knows how to install a floor-heating system backwards and forwards. So why not leverage their expertise? If you run into any issues while you're trying to install the heating cable, don't hesitate to give WarmlyYours's technical team a call! They are available 24/7 at 800-875-5285, and they'll make sure that your installation is finished as quickly and correctly as possible.
To see how much a TempZone Cable floor heating system would cost for your project, use our Radiant Floor Heating Quote Builder. 
---
Tell us About your Project
Our team of Radiant Experts is ready to help! Just tell us a little about yourself and your project to get started.
---
Did you find this post helpful?
Let us know by giving it some applause.
---
---