The definition of floor heating is pretty straightforward. It's heat that radiates upward through the floor. But did you know there are two different types of floor heating? You can either use plastic tubing with hot water (hydronic) or electric cables. Both offer the same end result — a room that's evenly heated from the floor up — but each operates in a very different way. Learning the pros and cons of each system will help you determine which type of radiant floor heating is right for your project.
Electric Floor Heating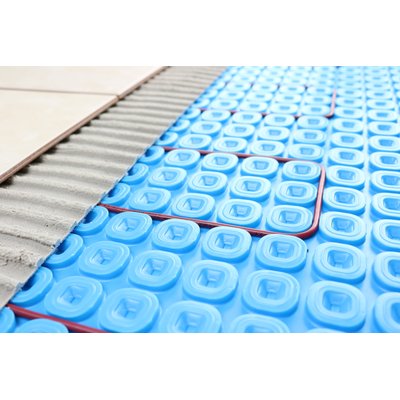 Electric floor-heating systems are known for their versatility. They're easy to install and, thus, they can be installed by a professional or DIYer. They emit enough heat to offer primary or supplementary heat, depending on the specs of the room. And, they typically don't require extensive work to wire the system to the circuit, which means they work well for both new-construction homes and remodeling projects.
Electric floor-heating systems also check off a lot of other items on homeowners' lists: they're low maintenance, only minimally raise the height of the floor, and — best of all — save energy and money.
Electric heated floors are generally maintenance free. Once the floor-heating system and flooring have been successfully installed, the only thing you'll have to "maintain" is that the system is up and running. If the system ever ceases to work, the homeowner can troubleshoot the issue with a WarmlyYours Radiant Heating expert by calling 800-875-5285. If a break in the cable is causing the issue, a professional can use a thermographic camera to locate the break and fix the issue. This is a unique advantage to electric floor-heating systems because it means only part of the flooring must be removed to fix the issue.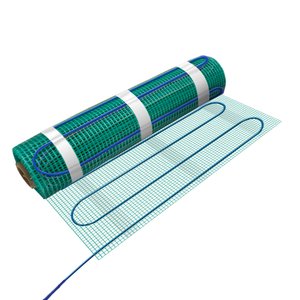 WarmlyYours floor-heating systems are ultra thin. The cable is only 1/8 inch thick, which means the height of the floor will be very minimally raised. Floor elevation is something many homeowners don't think about, but it's important that the floors look even throughout the home.  
Above all, electric systems are inexpensive to install and save energy when they're programmed well. Electric floor-heating systems cost between $10 and $20 per square foot, depending on the system you buy. They're also energy efficient because they can be turned down or completely off when not in use. They heat up quickly (usually within 30-60 minutes), so they can be turned back on shortly before they need to be used again.
Electric floor heating's biggest downfall is in the cost of operation. Depending on where the homeowner is located, electricity may be expensive. If so, it would not be cost effective to install a whole-house electric floor-heating system. Instead, it's more practical to heat only the bathrooms (or other small rooms) with electric floor heat. To find out how much it would cost to operate a system in your home, check out WarmlyYours's Operating Cost Calculator. 
Similarly, when heating large rooms or an entire house, hooking the system up to the electrical requires a little extra work. When electric floor-heating systems are installed in a bathroom or other small room, they can almost always be connected to an existing circuit. However, when the cable is used in a very large room or throughout an entire house, you'll need a professional electrician to run a new cable to the main panel and connect a new circuit there.
Pros
Easy to install
Primary or supplemental heat
Ideal for remodeling projects
Maintenance free
Minimal floor elevation
Inexpensive to install
Energy efficient
Cons
High cost of operation depending on location and square footage
Not ideal for whole-house heating
Circuit may need to be added to main panel
Hydronic Floor Heating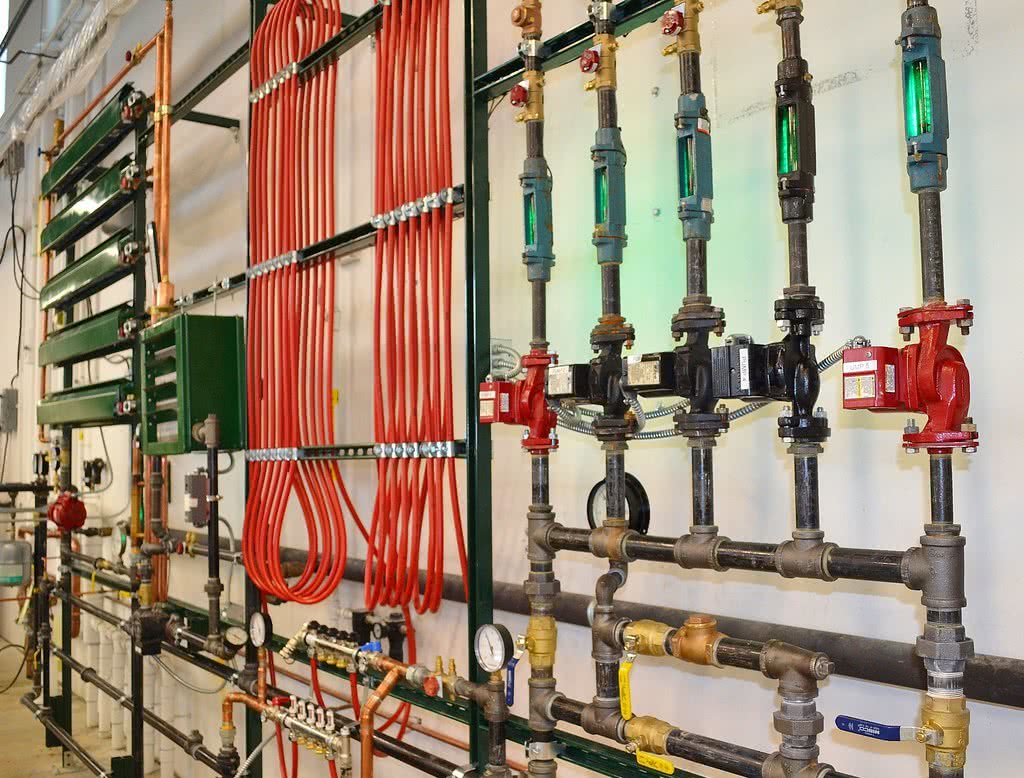 Unlike electric floor-heating systems, hydronic floor-heating systems are ideal for whole-house heating. Along the same lines, they're not great for remodeling projects. That's because hydronic systems should be installed when a home is being built. Hydronic floor-heating systems require a boiler, a pump and gas lines, which make remodeling with hydronic floor heat very complicated. These items can also make hydronic heating very expensive if the home isn't already outfitted with a boiler. However, the overall cost to operate a whole-house hydronic system is generally lower because the cost per square foot drops as the square footage increases. In other words, when multiple rooms are sharing the expensive components (i.e. the boiler, pump and gas lines), they share the cost, which brings the overall cost per square foot down.
On the down side, hydronic floor-heating systems are difficult to repair if issues arise because it's impossible to tell exactly where a leak is if it occurs. That means the flooring must be removed in order to find and repair the damaged plastic tubing.  
Additionally, hydronic systems take much longer to heat up than electric systems do, which leads most homeowners to leave their systems running all season long. This lag in start-up time means most users aren't programming their systems to turn on and off according to their schedules. As a result, they're often using more energy.  
Pros
Ideal for whole-house heating
Primary or supplemental heat
Low operating cost
Cons
Expensive to install
Not ideal for remodeling projects
High maintenance
Not energy efficient
For more information about electric floor heat, visit www.warmlyyours.com. 
---
Tell us About your Project
Our team of Radiant Experts is ready to help! Just tell us a little about yourself and your project to get started.
---
Did you find this post helpful?
Let us know by giving it some applause.
---
---