Bordering the states of Maryland and Virginia, the U.S. capital, Washington, DC, is a compact city on the Potomac River.  Well known for its imposing neoclassical monuments and buildings – including the historic ones that house the federal government's three branches: The Capitol, White House and Supreme Court, DC is also famous for its museums and performing-arts venues such as the Kennedy Center.
While the typical DC winter can be moderately cool with temperatures averaging around 38 degrees Fahrenheit (3.3 degrees Celsius) from mid-December to mid-February and annual snowfall averages 15.5 inches (39 cm), the occasional Nor'easter can drop significant snowfall on the area. A perfect way to combat the chill and warm up your environment during those cold, snowy DC winters is by adding electric radiant floor heating to your next bathroom remodel.
Radiant Heat – A Simple Upgrade that Yields Extra Comfort
For these Washington DC homeowners, adding radiant floor heat to their master bathroom was an affordable and efficient way for them to bring the relaxing warmth and comfort of floor heating to their daily lives. To warm their cold tile floors, they installed TempZone™ floor heating cable in their 56-square-foot bathroom for $424.00 at a cost of $13.25 per square foot. They also chose to add the Prodeso membrane underlayment (54 sq. ft. for $159.00, inclusive in the cost above) as it ensures water proofing and crack suppression for their beautiful tile flooring (see floor plan).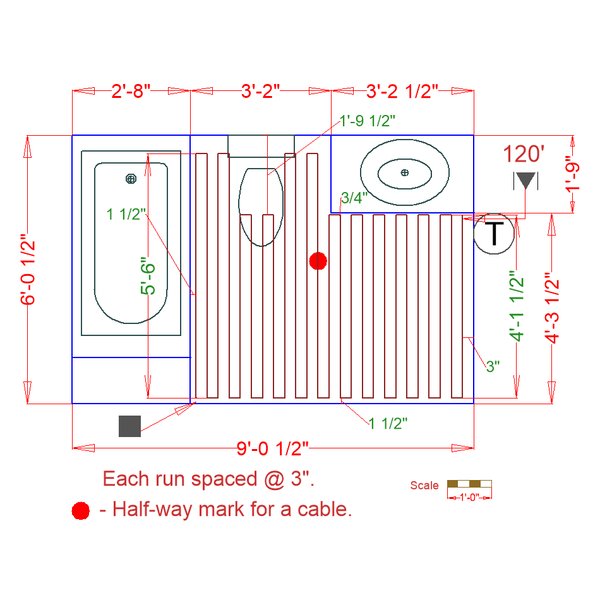 In addition to the reasonable cost of materials, see how low the operating cost is. Based on WarmlyYours' Operating Cost Calculator, it only costs 11 cents a day to heat this bathroom for four hours, a very economical way to add the comfort and luxury of a radiantly heated bathroom with soothing warm floors while upgrading your home at the same time.
When remodeling your bathroom, go one step further to create your own in-home spa with the simple addition of a towel warmer or mirror defogger. To complete the effect, there are shower floor and bench mat heating systems. Your comfort is worth the small additional cost.
See If Radiant Heat Can be a Primary Heat Source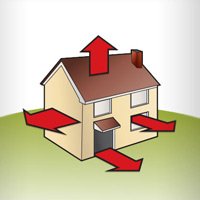 To calculate whether radiant floor heat can be your primary heat source, the WarmlyYours' Heat Loss Calculator just needs a few details about your desired room temperature, including how well your room is sealed, and other parameters to determine how much heat is being lost. In this instance, the bathroom has 9 foot ceilings and is located above a basement. Based on WarmlyYours' Heat Loss Calculator, a floor-heating system can be the primary heat source for this room so no additional heating will be necessary; an added value as it translates to substantial cost and energy savings. 
According to our heat loss calculations, it costs approximately $30.00 to heat the bathroom during the coldest month of the year. If the room contained significant heat loss indicators, radiant floor heat would be recommended as a supplementary heat source instead. Check out WarmlyYours' Heat Loss Calculator for yourself to see if radiant heat can be your room's primary heat source.
Fast and Easy to Use Instant Quote Tool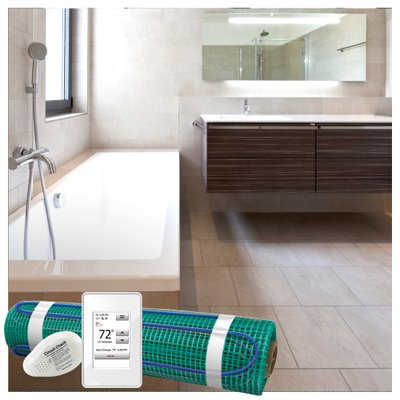 It's simple to get a quote for your bathroom, or any room in your home, with WarmlyYours free online Instant Quote Tool. Just enter your project information for a side-by-side comparison of the recommended products including the cost. For additional information explore the Instant Quote Tool to see for yourself. 
WarmlyYours is committed to helping you start smart. You can begin by requesting a free custom installation plan for your room. Just submit a floor plan online or send it to your account manager via email (sales@warmlyyours.com) or fax (800-408-1100). Getting a SmartPlan™ installation plan will ensure that you have all the necessary information to get your project smoothly underway. 
Have any questions? It's easy for you to reach us. 1) Call us at 800-875-5285, 2) live chat us at www.warmlyyours.com, or 3) email us - sales@warmlyyours.com. Last, but not least, when you are ready to install the product, our technical support experts are available to guide you every step of the way, 24/7 whenever you need assistance. For more information on all of our radiant heating solutions, visit www.warmlyyours.com.
---
Tell us About your Project
Our team of Radiant Experts is ready to help! Just tell us a little about yourself and your project to get started.
---
Did you find this post helpful?
Let us know by giving it some applause.
---
---