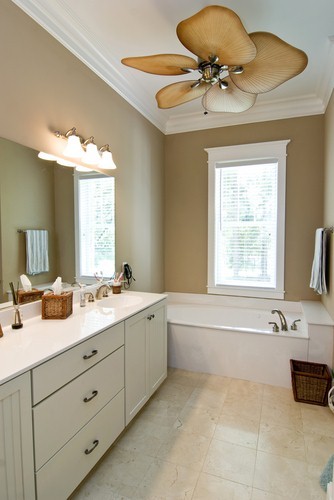 If you're a parent, you undoubtedly know just how difficult it can be to keep your bathroom clean when multiple family members are using it each morning. With such a constant turnover of users, your washroom can begin to accumulate mold and mildew, not to mention the fogged-up mirror you'll have to use each morning. This can even lead to costly repairs down the line if the practice continues, so looking for a solution should be one of your chief home design goals. If you're sick of dealing with this everyday occurrence, there are ways that you can dramatically improve your bathroom's ventilation and make it easier for your family to get in and out of the shower each morning.
1. A mirror defogger. Before you start installing fans, and examining how air moves throughout your space, a mirror defogger from WarmlyYours could solve one of the most pressing problems. Constantly wiping off your mirror after a shower can lead to unsightly streak marks, meaning it will need to be cleaned more often, but a mirror defogger can solve the problem. This device mounts in back of the mirror to provide an economical source of radiant heat that prevents moisture from forming during showers. This investment can solve one of the chief problems of your bathroom and help keep it cleaner in the long run.
2. Install a ducted fan. One of the most reliable methods of controlling moisture in your bathroom is with a ceiling exhaust fan, which can filter out much of the damp air that is produced during showers. According to Better Homes and Gardens, it's best to hire a professional contractor to install this device, as it may need an internal duct that filters to the outdoors. You can also consider a variety of panels that include timers and other features that can improve its energy-efficiency. All in all, this is most likely an improvement that your washroom shouldn't be without.
3. Open up windows and doors. While this isn't the best choice during some months of the year, opening up your window during a shower can allow much of the moist air to vent out to the outdoors. This can be a bit of a challenge when it comes to privacy, so window treatments are a must. Opt for versatile window blinds that can be drawn and closed quite easily while still providing air flow between indoors and out. You can also decide to leave your windows and doors open a crack, so the hot air can cross-ventilate to the outdoors.
4. Ceiling fans. In a master bathroom that's a bit larger than a standard space, a ceiling fan may be the optimal choice to improve air circulation. These devices use a nominal amount of energy and can help prevent moist air from rising and leading to mold and mildew buildup. They can provide an additional source of light with an attached fixture, and they are available in countless colors and styles that can complement your design scheme. Simply turn it on before hopping in the shower and leave it on afterward to dramatically reduce the build-up of damp air in your washroom.
If you're the last person to use your bathroom in the morning, it may not be the most inviting place. Teaching your family a few of these shower-time rituals and investing in one of these bathroom improvements can go a long way toward creating a comfortable environment to walk into every day.
---
Did you find this post helpful?
Let us know by giving it some applause.
---
---