They say good things come in small packages and WarmlyYours' compact towel warmers prove it. Smaller sized electric towel warmers are an easy, cost-effective way to upgrade a bathroom. Perfect for powder rooms or smaller master bathrooms, small towel warmers conserve space while providing an effective way to offer luxury at a minimal cost. 
WarmlyYours offers several compact, space saving towel warmers.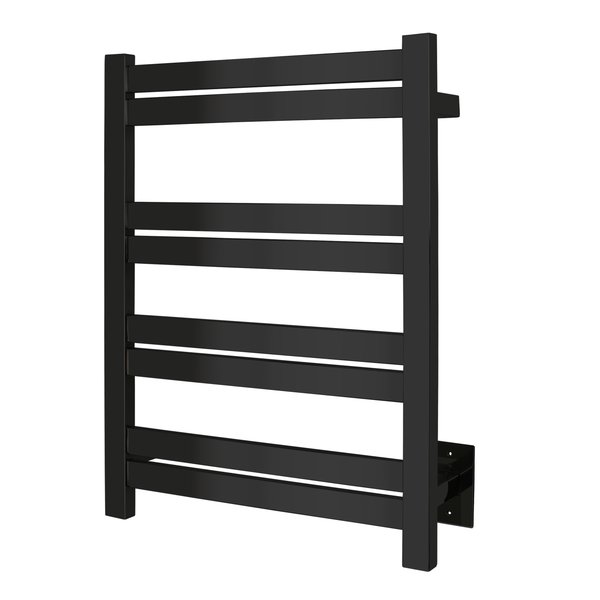 Compact Towel Warmers 
The Maui
The compact 22.44" x H x 20.27" W x 9" D Maui contains 7 heated bars in a lustrous polished stainless steel finish, delivering a heat output of 222 BTUs per hour. The Maui is hardwired so no visible cords. It also comes with an integrated non-heating storage shelf for extra towels.
The Palma
Compact and economical, the Palma at 19.68" H x 17.71' W x 4.33" D comes with 4 square heated polished stainless steel bars, offering the same functionality as the larger models but requiring much less wall space. It comes as a plug-in so it's very DIY friendly.
The Vancouver
The hardwired Vancouver at 20.4" H x 23.6" W x 13.3" D has 6 curved polished stainless steel bars to warm and dry your towels and bathrobes pretty quickly. An integrated (non-heated) top shelf for towels is convenient for storage.
The Elements
The Elements towel warmer is the most affordable model in the Classic Collection. With its sleek, polished chrome four-bar serpentine design that allows towels to slide on and off easily, it can warm up to two towels. It measures 28.5" H x 16.3" W x 3.5" D with the unique feature of a wall mount that swivels for easy access. Plus, the Elements towel warmer can be upgraded with a plug-in WiFi Switch for control via a mobile device.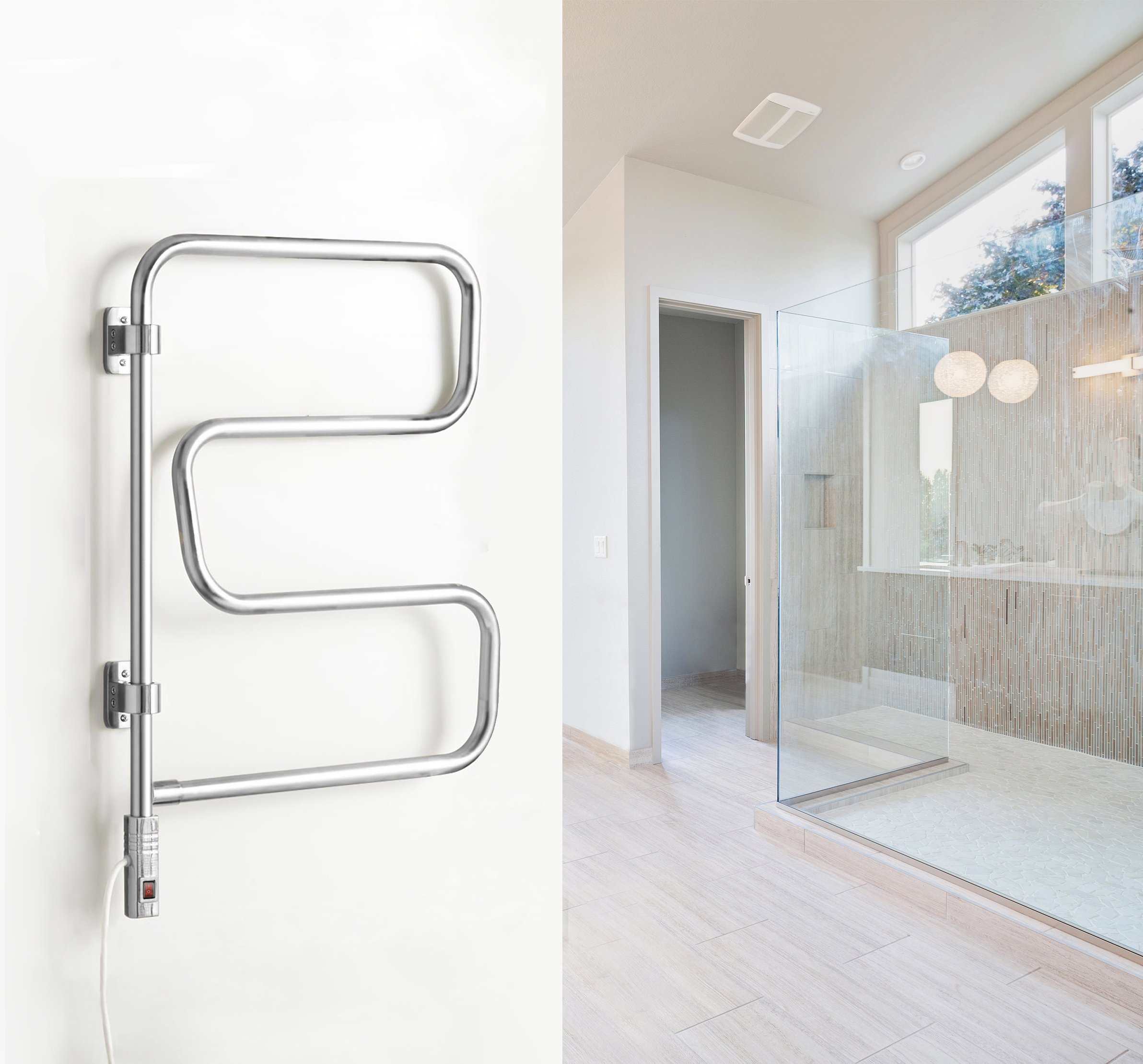 The Barcelona
And whenever you are trying to conserve space, you may want to consider a freestanding towel warmer since it can be moved from room to room and simply stored when not in use. The Barcelona is a very popular choice with 8 rounded bars in a brushed stainless steel finish. At  23.6" W x 37" H x 15.5" D, the Barcelona takes up minimal floor space, with the ability to warm two bath towels or a bathrobe.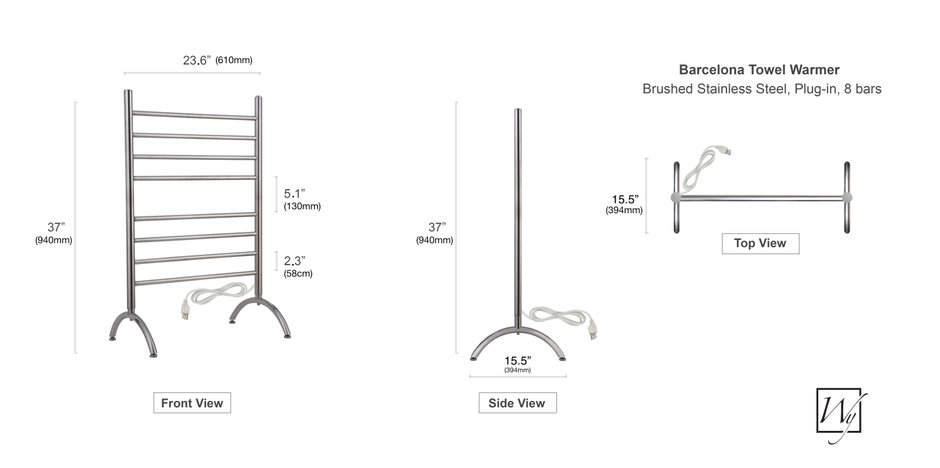 Many people appreciate the ease of moving their towel warmer from room to room. In addition, if they should sell their house, they can simply unplug their freestanding towel warmer and take it with them to their new home.
 
To complement your small heated towel rack, a review of the 12 Best Bath Towels of 2019 is sure to provide some luxurious options. WarmlyYours recommends you only use towels with 100 percent organic materials (like cotton) with our towel warmers for best results.

Frequently Asked Questions
Can I Leave my Towel Warmer on?
Often this question comes up and the answer is yes, you can. In fact, during a recent webinar, WarmlyYours President and Owner, Julia Billen, shared that she leaves her towel warmer on all the time so that a warm towel is always handy. She can also dry any damp towels on the spot without waiting for it to warm up. 
How Much Does it Cost to Operate the Towel Warmer?
The cost to operate your model will depend on two different variables: 1.) the wattage of the model you've selected. 2.) the cost of electricity in your area. 

To figure out the hourly operating cost quickly, just take the cost of electricity in your area (typically measured in cents per kilowatt hour) and multiple it by the wattage of your towel warmer divided by 1000 to determine your towel warmer energy consumption. For example, the cost to operate an Infinity towel warmer (a 150-watt model) in Lake Zurich, IL (where electricity costs 10.44 cents per kilowatt hour) would be less than 2 cents an hour and the formula to figure that out would look like this: $0.1044 x (150/1000) = $0.0156 per hour. 

Small Bathroom Remodeling 
Although it would seem that remodeling a smaller space would be much less costly, bathrooms are more expensive than other room-types by the nature of their elements and design needs. Here's a recent article on remodeling small bathrooms with pros and cons and what you need to consider before undertaking a remodel. That way you can better make an informed decision.
 
You may also want to review some photos and ideas for small bathrooms. For such a crucial and functional room in your home, it's worth it to consider all your options. When you are replacing flooring in a bathroom remodel, consider adding radiant floor heating underneath. When combined with an electric towel warmer, it creates an in-home spa experience. 
Check out our line of towel warmers today! 
---
Tell us About your Project
Our team of Radiant Experts is ready to help! Just tell us a little about yourself and your project to get started.
---
Did you find this post helpful?
Let us know by giving it some applause.
---
---