Last year, a customer called WarmlyYours asking why two of their newly installed floors did not heat with our Radiant Floor Heating System. Usually, this is a simple issue caused by the thermostats not being wired correctly when they were installed. With the help of some troubleshooting over the phone, our Techs were able to determine that the wiring was done correctly. However, it's clear that something is awry when two rooms that share a doorway are both not functioning, so more detective work was needed to discover the cause.
Next, you must test the ohms resistances of the rolls in the two rooms. The installers had done the required tests on the rolls with their ohm meter. These tests are very important. These tests include:
Testing the rolls immediately out of the box;
Testing the wires after they were laid out on the floor before being covered with cement;
Testing the wires after the tiles are installed. Once these tests were completed, each passed with no defects.
So what happened to the floor after the tiles were installed? Unfortunately, the installers returned at a later date to clean the grout lines with a blade, in preparation for grouting. Very sharp blades can be very damaging to electric wire of any type, and it is the same with heating wire. This is why WarmlyYours recommends cleaning the grout lines as the tiles are being installed, eliminating the need to use sharp blades to clean the lines afterward.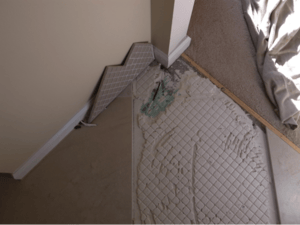 Here we can see a repair of a cut wire, right in the grout line. This picture shows where one grout line actually passes over 2 separate rolls, for 2 separate rooms. The first repair (shown in black) was in the room shown, the second repair (not shown) is a wire from the room on the other side of the doorway.
Needless to say, the installer vowed to never use a blade to clean grout lines again.
Like this post? Subscribe for regular updates
Make sure you don't miss out on the latest news in radiant heating by subscribing to our blog. We'll send you an email with links to the newest posts from WarmlyYours.
We won't share your information and you can unsubscribe at any time with a single click.
---
Did you find this post helpful?
Let us know by giving it some applause.
---
---