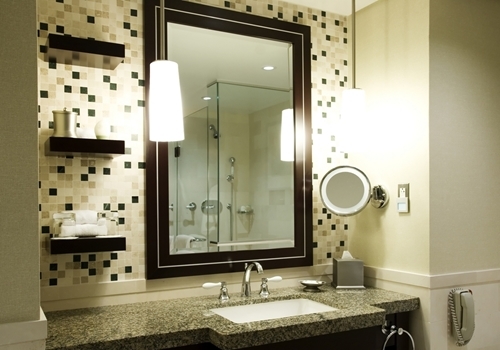 The first things that generally come to mind when homeowners are redecorating their bathrooms are new tile and fixtures. But they don't have to stop at traditional renovations.
"Now, bathrooms are much more than just a small room in which to bathe," interior designer Rachel Horn told DIYNetwork.com. "The bathroom has become a sanctuary for some and has come to reflect the owner's taste in more than just tile."
Adding furniture
Designers and homeowners have begun to integrate pieces of furniture for seating or in place of traditional vanities into bathrooms.
Vintage pieces are particularly attractive when juxtaposed against the smooth, clean lines found in a modern-day bathroom. Renovating an old bedroom dresser into a vanity can be done easily by taking out the back and some interior shelves to make room for plumbing. The top can be replaced with a countertop to accommodate a sink and fixtures.
For country-style decor, the doors of a vanity can be painted and decorated to look like the front doors of a home. For hardware, use traditional door knockers, centered in the doors, instead of corner pulls.
Warm up the floors
It doesn't matter how attractive a newly decorated bathroom is if it isn't comfortable to those who use it. Stepping out onto a cold floor isn't pleasant in the most beautiful bathing setting.
Homeowners don't have to wait for warmer weather to set in to get warm floors. Radiant floor heating can take away the shock from stepping out of a shower onto a cold tile surface.
The result is a spa-like item that will give families a comfortable atmosphere in their bathrooms. If they sell the house, the value of adding such a desirable feature will provide a financial bonus.
Don't overlook wallpaper
Too often, homeowners overlook the unique style that wallpaper can bring to a bathroom. Many people think the damp atmosphere will cause peeling, but there are wallpaper products on the market that are made specifically for bathroom use.
Wallpaper can be as subtle or as bold as homeowners like. A simple grasscloth provides textural interest in natural shades while patterned designs can create a bright and interesting design scheme. To create a focal point in the bathroom, wallpaper a prominent wall and paint the rest of the space in a coordinating color.
Like this post? Subscribe for regular updates
Make sure you don't miss out on the latest news in radiant heating by subscribing to our blog. We'll send you an email with links to the newest posts from WarmlyYours.
We won't share your information and you can unsubscribe at any time with a single click.
---
Did you find this post helpful?
Let us know by giving it some applause.
---
---