Next to the kitchen, the master bathroom is the most important room to update. If you're selling your home, an updated master bathroom is a must-have for many buyers. And even if you plan to stay in your home for years to come, the master bathroom is where you spend much of your morning. That's why having an up-to-date, modern, and most of all functional bathroom is so vital for any home. To give your bathroom the style and functionality it needs, we've compiled a list of five relatively simple updates that will drastically change the look of your bathroom for the better.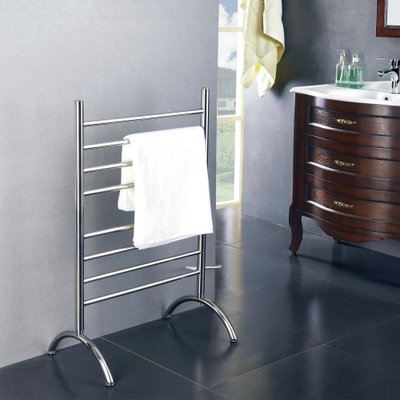 1. Install a Towel Warmer
Nothing says "luxury" quite like a towel warmer. With a high-end appearance and function, a towel warmer instantly elevates any bathroom it's in. Depending on how strong your renovation skills are, towel warmers offer various levels of difficulty for installation. If you're choosing an electric towel warmer, you can purchase a hardwired or plug-in model. The plug-in models offer easier installation because they only require mounting to the wall and plugging in to an existing outlet. If you can hang a picture, you can mount a plug-in towel warmer. WarmlyYours Radiant Heating's plug-in options include the Elements towel warmer, which features a serpentine design and swiveling base; the Studio towel warmer, which boasts six curved bars and a simple, modern design; the Barcelona freestanding towel warmer, which has eight bars and requires no mounting; and the Infinity towel warmer, which offers nine bars and a sleek, rectangular design.
2. Replace the Faucet
Nothing ages a bathroom faster than polished brass. Luckily, cabinet knobs are easy enough to swap out, and shower door trim can be retrofitted with a little DIY magic. When replacing your faucets, however, you have a chance to add a unique, modern touch. Waterfall and vintage faucets are particularly trendy right now. Waterfall faucets exude a serene ambiance that's perfectly fitting for a master bathroom. On the other hand, if you're looking to add some vintage charm to the room, a couple of classic faucets with twist-knob handles are the way to go.
3. Swap out the Lighting
If you feel like you're in a makeup chair on the set of a Hollywood movie, it's time for a lighting change. Hollywood-style bulb lighting was popular in the '90s, but is definitely past its prime now. This strip of bulbs can be easily replaced with a new light fixture that will significantly modernize your bathroom. Choose your lighting fixture based on the style of the room. You can pick a simple, modern fixture or jazz it up with an industrial, contemporary or glam fixture. Whatever you choose, just be sure to tie it in with the rest of the style of the bathroom.
4. Update the Sink
To add a focal point to your bathroom, replace the top of your vanity with a new sink, such as a trough sink or bowl sink. Both of these types are in high demand right now and add style and character to a bathroom. Plus, they're available in a variety of styles, so you can select one that stays within your particular theme. For example, an above-mount trough sink fits well with an industrial or vintage theme, whereas a vessel trough sink is well-suited for a sleek, modern bathroom.
5. Replace the Mirror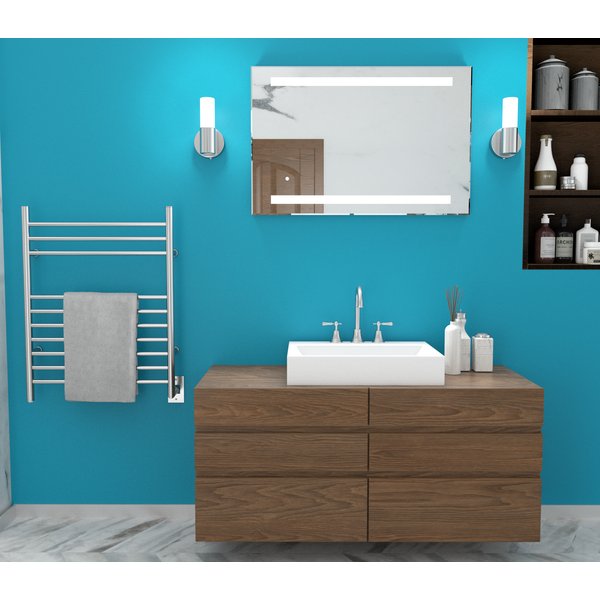 Finally, you should replace a standard one-piece, frameless mirror with something more modern. You can find unique framed mirrors in a range of shapes and sizes at nearly any home store you visit. Or, you can purchase a round or rectangular mirror with built-in lighting for an even more modern touch. WarmlyYours just released its new line of LED mirrors in four different styles to modernize any bathroom. If you go the light-free route, adhere a mirror defogger to the back of a traditional mirror and you'll get added functionality for a nominal price.
With these five bathroom remodeling ideas in tow, your master bathroom will feel like your dream bathroom in no time.
Have you recently renovated your master bathroom? If so, we want to see your before and after pictures! Show off your masterpieces by sharing them with us on Twitter, Facebook and Instagram. 
---
Tell us About your Project
Our team of Radiant Experts is ready to help! Just tell us a little about yourself and your project to get started.
---
Did you find this post helpful?
Let us know by giving it some applause.
---
---