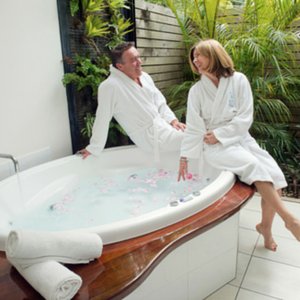 The bathroom is your place of solace; your escape to solitude. It's a retreat, a spa, an instant vacation – or at least it should be. However, winter weather can cast a chilly shadow on your bathroom. That's why we've compiled five different ways that you can make your bathroom feel more comfortable all season long.
1. Heated Flooring
Nothing kills a great shower more than stepping out onto ice-cold tile or stone floors. Radiant heated flooring heats your bathroom so you don't have to deal with the discomfort of winter chills running through your body every morning. Radiant flooring is available in two forms: electric and hydronic. To learn why electric floor heating is recommended over hydronic heated floors, click here.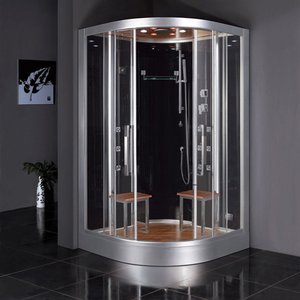 2. Steam Showers & Saunas
Steam showers are the ultimate luxury amenity, bringing the comfort of a full-service sauna inside your home. You'll never want to leave your house once you install a steam shower, such as the Maximus Premium Steam Shower by Trade Winds Imports. This soothing sauna-like sensation will relieve any stress that you've been carrying throughout the day. When Murphy's Law is in full effect, you'll find refuge relaxing in your personal sauna.
3. Lighting
One thing that's easy to forget is the way that lighting instantly changes your mood. Dim lighting puts a damper on the mood of the entire room, but the proper lighting fixtures will add an aura of energy to your master bathroom. The other aspect that is important to consider is the functional purpose that your lighting serves. It's not enough to just have standard overhead bar lighting fixtures that cast shadows over your face. Vertical bar lighting and eye-level sconces provide the best lighting for the application of cosmetics, shaving and checking up on those pearly whites.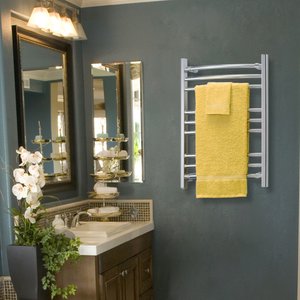 4. Towel Warmers
Once a luxury amenity found in upscale hotels, towel warmers are much more feasible for residential use in modern times. Electric towel warmers will provide you with a warm towel that feels like it's fresh out of the dryer. Your warm towel will shield you from the instant chill that awaits you the moment you step out of the shower. Towel warmers also radiate heat throughout the room, so they're wonderful to have during the colder winter months.
5. Comfort-Height Vanities
Ever use a bathroom sink and feel like you had to bend over further than normal to wash your hands? You're not imagining things – vanity height does vary. Comfort-height vanities are taller than standard-height vanities. This dramatically reduces the strain placed on your lower back. The height of these countertops is placed at 36 inches – the same dimensions as a kitchen countertop.
With these tips in mind, your bathroom should remain bright, warm and comfortable all season long. 
(First two images courtesy of Daniela)
---
Tell us About your Project
Our team of Radiant Experts is ready to help! Just tell us a little about yourself and your project to get started.
---
Did you find this post helpful?
Let us know by giving it some applause.
---
---