Our latest Share Your Story comes from a customer who has brought out the best in her tiny home thanks to floor heating - creating a safe heating space to practice and record with her antique cello.
Cheryl, a professional musician, turned her tiny home into the perfect mobile music studio with in-floor heating throughout. While wood and floor heating may not seem like a natural pairing, it can actually provide the stable, consistent heat that wood surfaces and objects need.
While designing the home, the studio space took center stage to help accommodate the delicate balance between adequate heating and low relative humidity. With an instrument as precious as a 200 year-old cello, the room was designed with a non-heated area where the instrument could rest while not in use.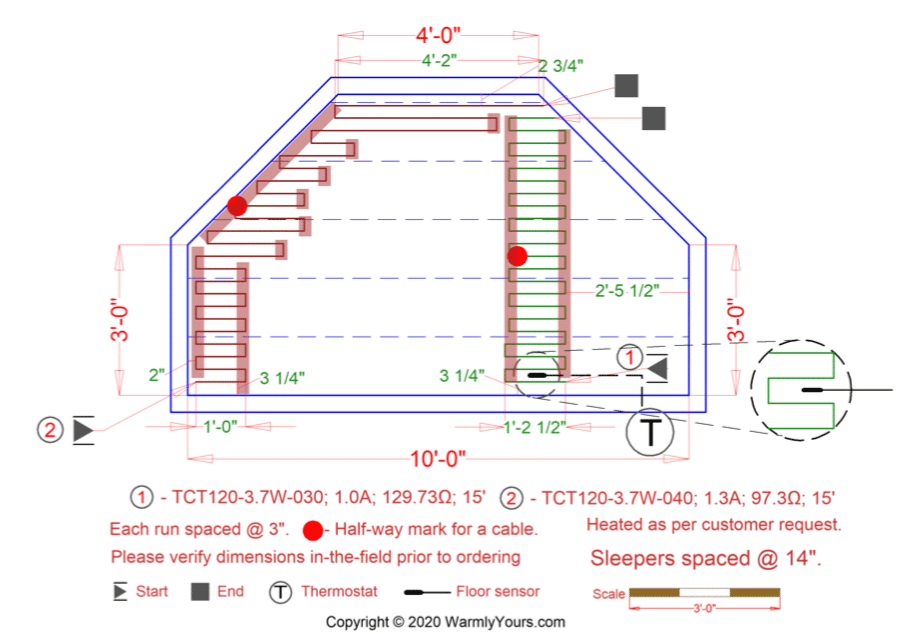 Cheryl's Original Submission
What were the key things motivating you to go with floor heating vs. traditional heating methods for a tiny home?
"I always had on my wishlist for my little house to have radiant floor heat; for my studio it was my first choice for several reasons:
Radiant heat avoids drying out my cello with a fan heater. It's 200 years old this year! So temperature control must stay very even with no sudden changes, and not be extra drying. All the other heating ideas had either fans to blow the heat around or were not CSA approved.
The wood stove heat will not reach this room and I designed the house this way on purpose, contrary to what others would do. Because of that, I designed this room to be 2x6 walls rather than 2x4 like the rest of the house and I insulated it with Argon insulation. I am hoping it will need very minimal heating. That allowed me to make plans for the floor heat to avoid where the cello would stand when closed up, in the corner where there is no heating, and also avoid the areas on the floor where I set my looping pedals. Only mapping out floor heat would give me the specific heated/not heated areas that I needed. I also wanted to have a place for other instruments to be placed when others visit the studio.
I hope to keep a very low constant temperature while I'm out or away, so I don't have to worry about massive changes.
Wall heaters are ugly and take up space. Floor heat is ideal for a tiny home! It needs very little added infrastructure - the liquid floors need maintenance, manifold space, and cannot freeze. Those are all bad for a Canadian Tiny Home. Also floor heat makes sense with convection doing most of the work. No fan needed! Fans dry out my eyes when I'm working long hours.
Electric floor heat invested now will allow me to use less fossil fuels in the future; I plan to have a solar set up when I can afford it, so it was another reason I went electric. As soon as I can afford it I'll be able to be environmentally cleaner. With a propane wall heater I would never have that option."
For the Music: Customizing Floor Heating
Cheryl noted that some of the key reasons for choosing floor heating were to preserve the way she practices and records music with her cello. The key being that floor heating is quiet, and offers comfort where traditional heating methods would not.
"The floor heat will be silent! I record in here…the sound of heating coils, fans, etc will spoil recordings. I use bare feet when using my floor pedals so a warm spot to put my feet (under the chair where I mapped it) will allow me to keep my feet warm, but not my pedals. I sit for long hours in this space so don't want to have to get up to change the temp. And I have very minimal space in the studio- it's about 36 sf with full length windows- so any wall heater would have to be installed on the only small available wall which would make it more difficult to hang up my cables anywhere. Floor heat is invisible in a small space!"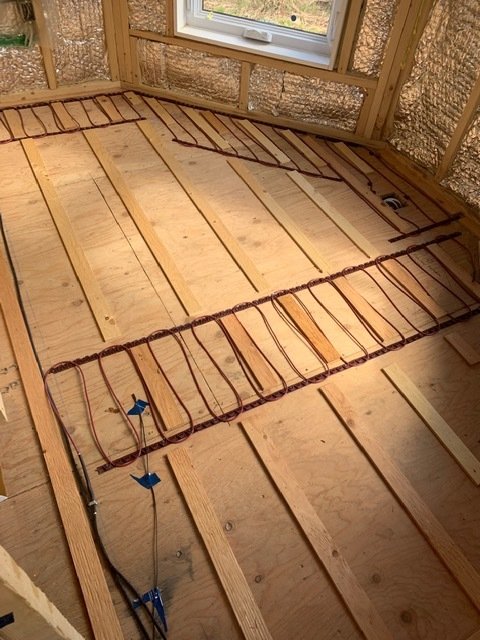 A Warm Forever Tiny Home
After leaving her apartment with her daughter earlier last year, Cheryl tallied up how much rent had gone into that place over 11 years. Astounded by the overall cost, she was determined to find something permanent that she could customize to her and her daughter's musical needs.
"My daughter and I (single parent) were evicted this year… I knew it would come eventually (landlord wanted his house back) and when I added up the amount of rent I had paid over the 11 years I was renting the house I was sick about it. But then I couldn't find anything more than a basement bachelor apartment in Toronto for what I was paying, and the stress was huge. I had dreams of going back to full time music and beginning a recording career, but for that you need a space that is fairly quiet, and as a single parent I didn't have the budget. Plus most of the places I would be renting had so many issues. I had worked in interior design in the past and was fairly certain I could come up with a design that worked specifically for me, with a teenage daughter who also sings."
"That is the beauty of a Tiny Home. I designed it for me. Likely no one would do it the way I have done it, but that's why we build them."
"Floor heat was an expensive investment, but over time, I hope it will pay off, and my only other source of heat is a wood stove, so secondary, stable heat is necessary. I was also able to design it around the storage units in the kitchen floor, which are [the] pantry and cold storage for root vegetables and some camping gear. [S]o customizing the floor heat meant I wouldn't heat the potatoes!"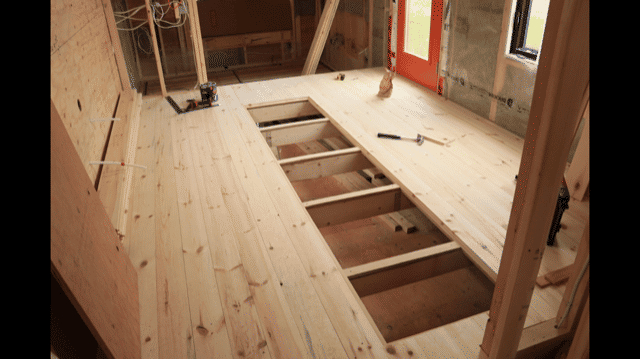 Along with Cheryl's clever design, our radiant experts were able to help her achieve the perfect space for creating music with her daughter:
"WarmlyYours accommodated all my crazy ideas! The service has been amazing. Laurie has been exceptional and the design team was very patient."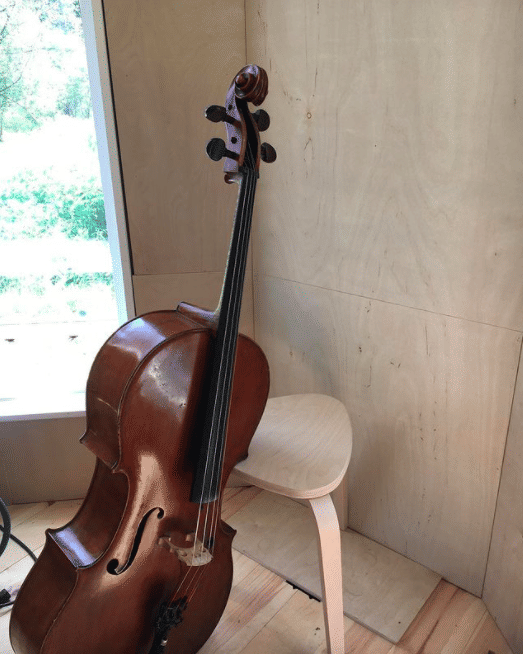 | | |
| --- | --- |
| MSRP for Studio Floor Heating System     | $641.31 |
| Operating Cost for this Project | $0.05 per hour at $0.125 per kWh |
The team behind the tiny home craftsmanship is Ravenwood Tiny Homes a division of Eco Trailbuilders. To see the full details of this project, explore the specs over in our Project Showcase for this tiny forever home.
Read more stories like these with our Share Your Story Blogs. Share your own story with us today here.
---
Tell us About your Project
Our team of Radiant Experts is ready to help! Just tell us a little about yourself and your project to get started.
---
Did you find this post helpful?
Let us know by giving it some applause.
---
---