When you hear the words "heated floors," most people probably picture a bathroom with a toasty warm tile floor. Although the bathroom is the most popular room in which to install radiant heated floors, you might be surprised to learn that you can actually use radiant heat in any room of the home and under nearly any flooring type — even nailed hardwood!
Installing radiant heat under a wood floor will bring beauty and luxury to any room. By following these four steps, you can successfully and safely install radiant heat under nailed hardwood flooring to add function and comfort to your room.
1. Install wood sleepers.
The key to a successful installing radiant heat under wood floors is wood sleepers. What are sleepers? They are strips of wood that are 1-2 inches wide and 3/8-1/2 inches high. They should be installed at nail spacing requirements specified by the manufacturer. The sleepers are installed to create lanes into which the warming system will be placed. The flooring should be installed as per the flooring manufacturer's requirements. Verify with the manufacturer that the flooring has been approved for this use. Supply WarmlyYours with nail spacing parameters and the SmartPplan will be drawn accordingly.

When selecting your heating element, you'll want to check out WarmlyYours' TempZone™ line of products, which are approved for radiant heat under a wood floor. You can choose to use either TempZone™ Flex Rolls or Cable, but the loose cable is generally the most efficient choice because it does not require any cuts. However, both heating options are proven to effectively heat the flooring from below, so the choice is yours!

2. Lay out the heating element.
If you've decided to use a Flex Roll, simply roll out the 18-inch-wide heating element between the sleepers, then cut and turn the heating element around the sleepers as needed. If you're working with loose cable, weave the cable in a serpentine pattern between the sleepers using fixing strips on either end of the lane.

3. Cover the heating element with self-leveling cement.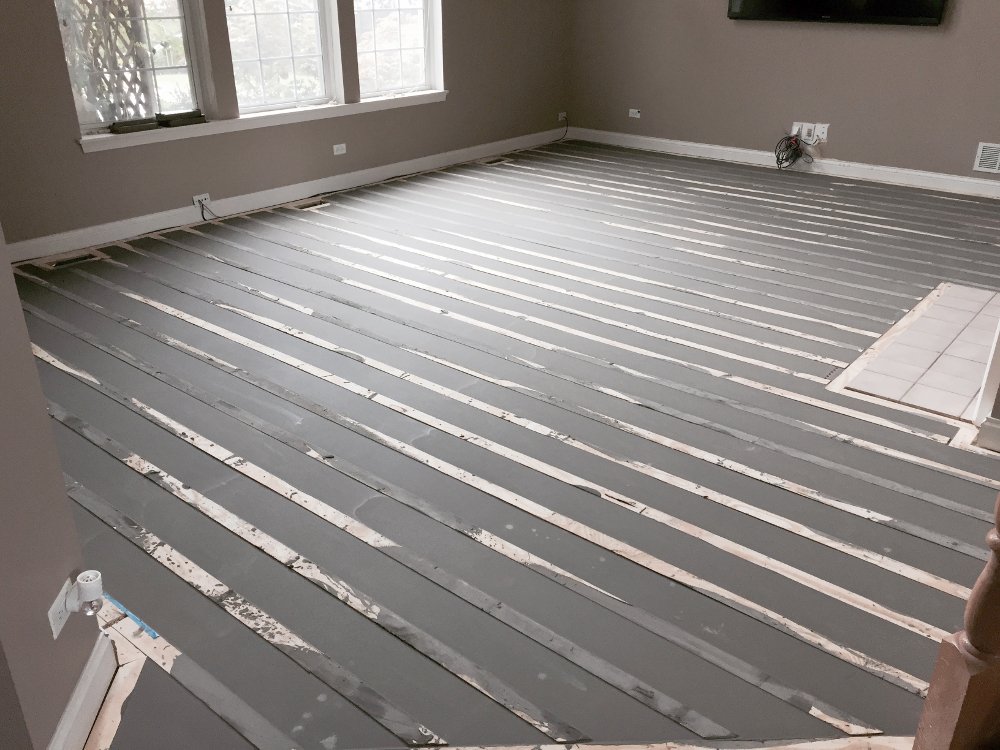 Once the heating element is in place, it should be completely covered with self-leveling cement. Apply the cement until it is even with the top of the wood sleepers.
4. How to Install hardwood flooring.
Once the cement has dried and cured, it's time to install your hardwood floors! As you lay the hardwood plank by plank, nail it into the wood sleepers below. Note: Be sure to nail straight down into the sleepers. If the nails go through the sleeper at an angle, there is a chance they could pierce the heating cable. If you do accidentally nick the heating cable, don't worry — all of your hard work hasn't been in vain. The cable can be repaired with our splice kit, but it will save you a lot of time and effort if you're extra careful during this last step.
Once all of the planks are nailed in, you're finished! Installing radiant heat under a wood floor can seem like a daunting task, but if you know the right way to install it, there's nothing to fear!
If you're interested in installing radiant heat under nailed hardwood floors in your home, start by requesting a custom installation plan by contacting sales@warmlyyours.com. You can also get ready by making sure you have all the tools you need for your project. WarmlyYours suggests seven tools for radiant heating projects — check them out here.
If you need any help during your installation, you can reach WarmlyYours' technical support team 24/7 at 800-875-5285. We're here to ensure that your radiant heat under a wood floor project goes smoothly from start to finish.
---
Tell us About your Project
Our team of Radiant Experts is ready to help! Just tell us a little about yourself and your project to get started.
---
Did you find this post helpful?
Let us know by giving it some applause.
---
---