Maybe you're tired of trudging into your bathroom in the early morning only to be greeted by ice-cold floors that make you want to crawl back into bed. Or maybe you hate stepping out of a warm shower and feeling the chill of your cold tile floor immediately making you feel less cozy and warm. Whatever your reason for wanting a heated floor in your bathroom, kitchen, or other room, no one can deny that it's a luxurious addition to any home. Even better? It's easy to install, not as expensive as you might think, and can be customized to fit any room in the house.
Yes, you read that right: any room. Even a room that's small, awkwardly shaped, or located in a tiny apartment in the middle of New York City. At WarmlyYours, our SmartPlans allow us to custom-design radiant heating floor plans for essentially any space inside or outside your home. They also serve as the installation guide when you're ready to get started. Not convinced? Let's take a famous case as an example and see what it would be like to customize a SmartPlan™ for one of the most famous bathrooms in television history: Jerry Seinfeld's apartment bathroom from the hit show Seinfeld.
The Apartment
If you've seen Seinfeld, chances are you remember Jerry's apartment. After all, in the famous "show about nothing," it's where Jerry, George, Elaine, and Kramer spent the bulk of their time hatching zany plans and coining the phrases we still use today ("yada, yada, yada," anyone?). Jerry's apartment is characterized by a wide, open concept kitchen and living room with plenty of room to commune and commiserate, along with a bedroom in the rear and a small bathroom.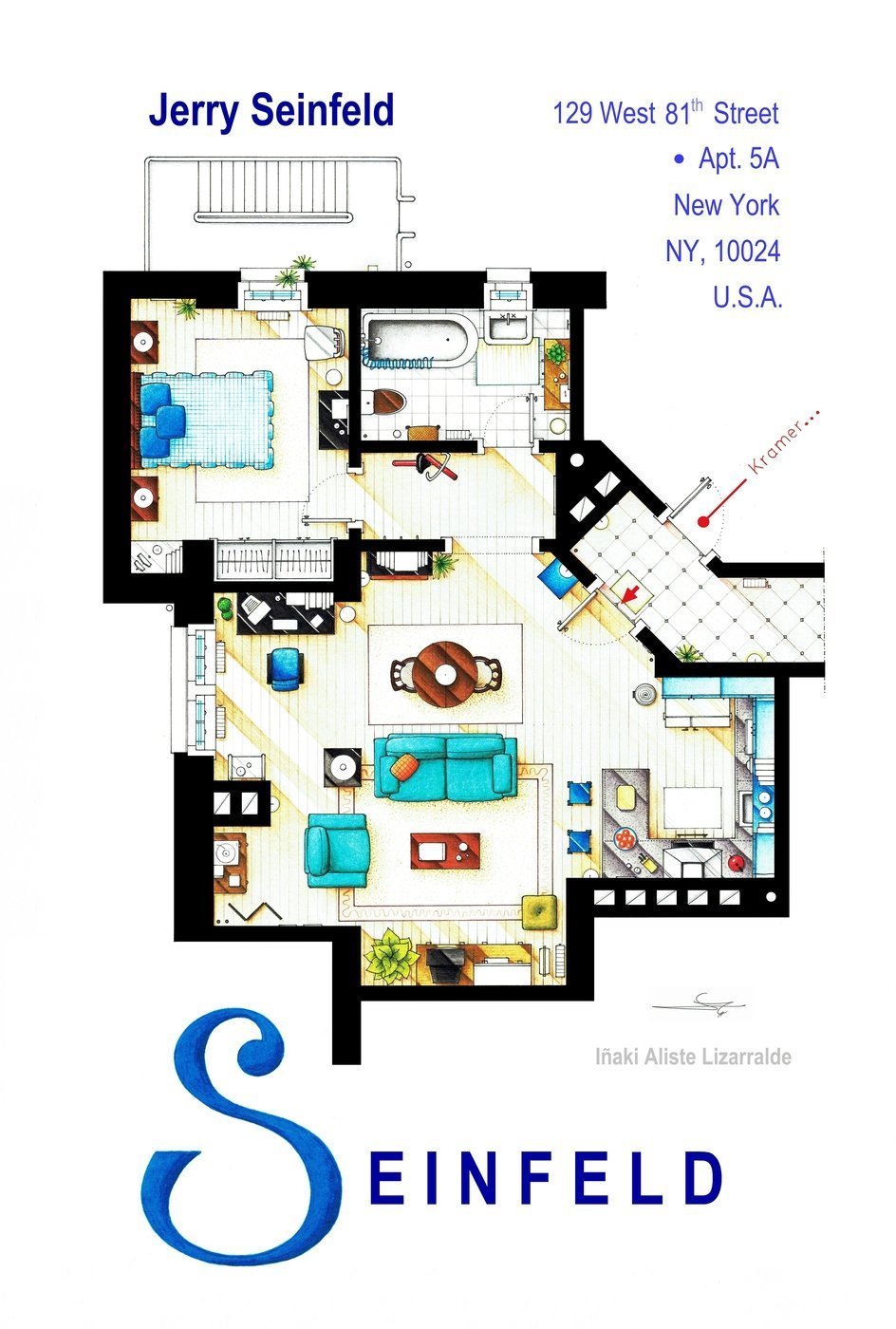 It would make sense that Jerry might want to treat himself to a heated floor in his bathroom. After all, as a successful comedian, he spends plenty of time on the road and even more time hitting the pavement as he walks around New York City. Additionally, it's likely that Jerry, who has a jam-packed social life and hates to get sick, would appreciate the health benefits of heated floors; after all, they reduce the need for central heating, which would otherwise force allergens and dust through the air filters in his home.
"What's the deal with heated floors?" Jerry might say if you brought up the subject to him. Let's take a moment to talk about heated floors, how they work, and why they're a great tool that can bring warmth and comfort to even the smallest of rooms.
The Heat
Heated floors are powered by radiant heat, which essentially describes the movement of heat (in the form of invisible electromagnetic waves) from a hot material to a cooler one. In the case of heated floors, heat is generated by a heating element located beneath a floor that then radiates upwards, where it warms the floor above it. Radiant heating systems are uniquely effective because they don't heat the air around them but instead heat the objects that are around them. This means that when you step on a floor with a radiant heating system, you can enjoy feeling warm and cozy without needing to blast an allergen- and dust-filled cloud of hot air into your room to heat the air around you.
The heating elements under your floor are electric cables that are easy to install and control with a programmable thermostat. Electric radiant heating floor systems are durable, easy to use, and efficient; they're also relatively affordable and easy to install and control. These systems also heat floors evenly, which means that you don't need to worry about cold spots when you walk around on the floors in your home. With all these benefits, it might be tempting to want to get started on heating the floors in every room of your home.
In Jerry Seinfeld's case, we think he'd be pretty tempted to heat his bathroom floor in order to turn his New York City apartment into a luxurious oasis. Here's the thing, though: Jerry's main bathroom is pretty small, clocking in at around 71 square feet, while plenty of other bathrooms in NYC are even smaller or more irregularly shaped. Would it even be possible to install heated floors in Jerry's bathroom? Well, the answer is yes: it's possible when you have a wide variety of products to choose from which can be customized for any rooms' heating needs.
The Floor
At WarmlyYours, we know that all bathrooms aren't created equal. In Jerry's case, his bathroom is about 71 square feet in size, of which he'd probably want to heat about 36 square feet — the rest of the space is taken up primarily by the tub, sink, and toilet. Jerry would then send us a sketch of his room and we'd design a SmartPlan for him to get started.
At this point, Jerry would choose from one of WarmlyYours' most popular heating systems, such as one of the following setups:
TempZone™ Cable with Strips: In this system, economical strips hold TempZone cables in place, which then add radiant heat to the room. These strips would allow Jerry to space the floor heating cables at regular intervals throughout his bathroom and to extend them throughout the length of the room. This option is likely the most economical of the three, but it will also take the longest to install.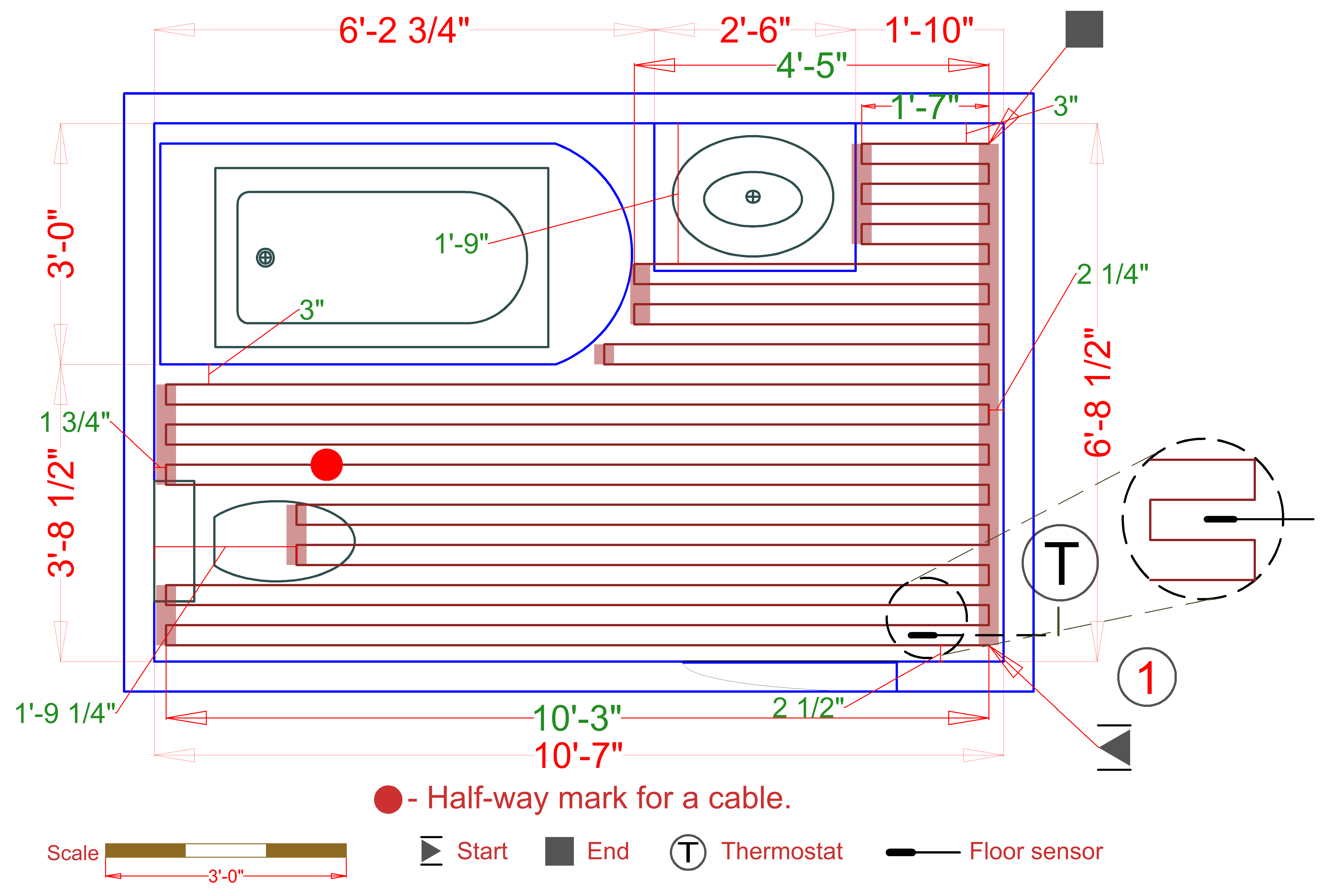 TempZone™ Cable with Prodeso: Using TempZone cables with a Prodeso membrane makes it fast and easy to install a radiant floor heating system. Jerry will love how easy it is to secure the cables in the Prodeso membrane — and, as a risk-averse person, he'll appreciate how easy it is to waterproof the entire floor. However, despite the convenience of this option, it's also the most expensive one.

TempZone™ Flex Roll: The roll system uses the same type of cable seen in the other two options, but attaches them to a flexible mesh material - turning the loose cable into durable pre-spaced rolls. These mats can be cut-and-turn, making it easy to heat any shape room and free-form the cable if needed. Flex Rolls are by far the most convenient option by significantly cutting down on installation time.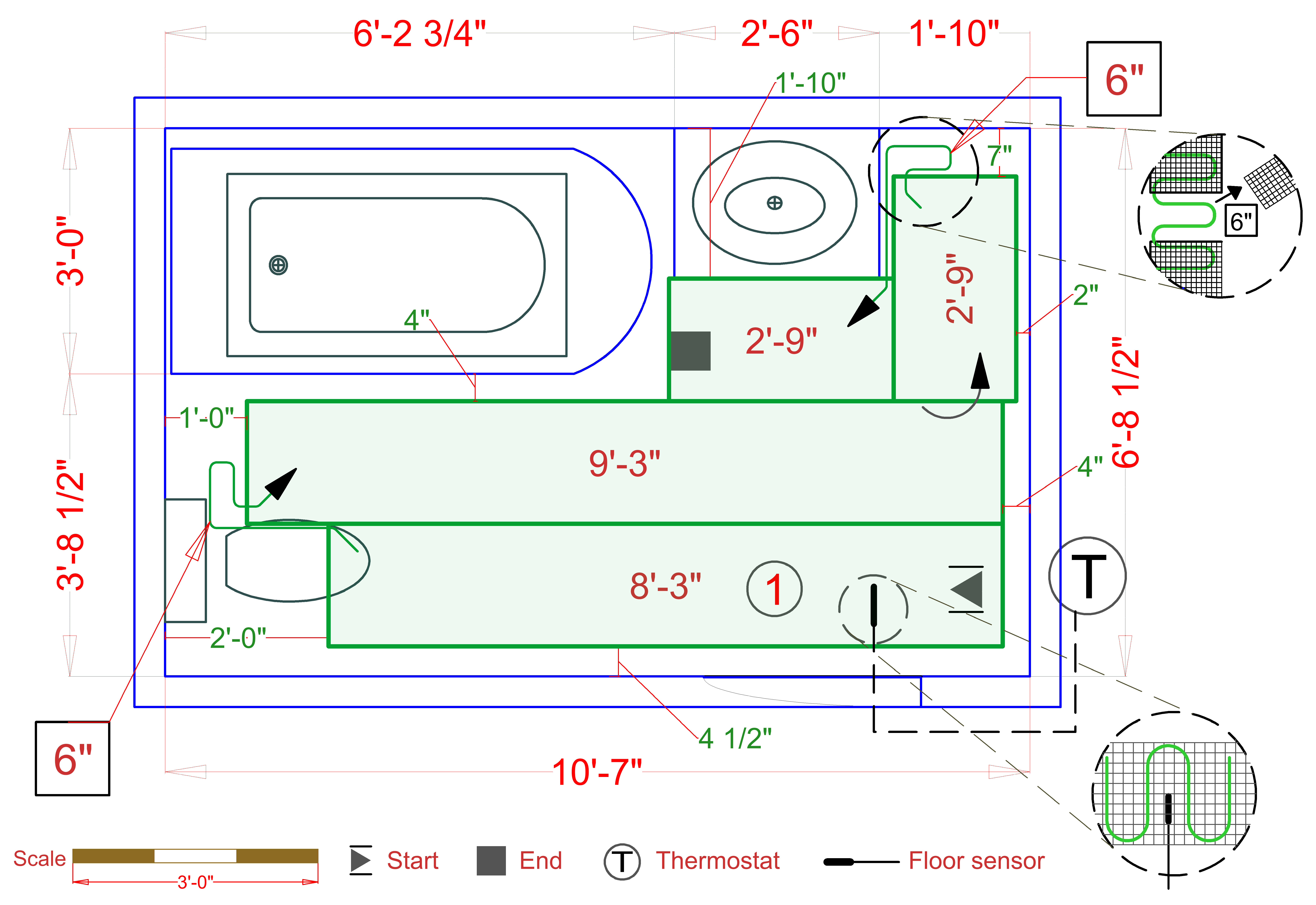 So, to recap, Jerry has decided to heat 36 square feet of his bathroom, which spans a total area of 71 square feet. By opting for the TempZone™ Flex Roll, Jerry has opted for a moderately priced option that can be easily installed — all he needs to do is cut and turn the mats during installation to fill all the space in his bathroom. When you take into account the cost of the Flex Rolls, the cost of the project comes out to $725.99, making Jerry's heated floors a luxury that's attainable for even a stand-up comedian.
It's likely that penny-pinching George will bring up the fact that there's another cost associated with this project, namely, the cost of operating the heated floors. Won't heated floors cost a fortune in the long run? Actually, with the cost of operating his floors coming in around $0.04 per kWh, it would only cost Jerry just under $9.60 a month if he ran his heated floors for 8 hours a day — leaving him plenty of money to spare for babkas, soup, and first-class plane tickets.
Overall, it's a no-brainer. Jerry's bathroom could go from tiny and cold to cozy and warm in a matter of hours with the easy installation of the TempZone™ Flex Roll, with the rolls providing even heating at a reasonable cost. He could control the temperature of the floors with an easily programmable thermostat and even consider extending the TempZone™ Flex Rolls throughout other areas of his apartment to feel the benefits of heated floors elsewhere in his home. The only downside? With heated floors that nice, Jerry's going to have even more trouble getting Kramer to leave his apartment.
Get Started With WarmlyYours Today
Just because heated floors feel luxurious doesn't mean that they're unattainable. In contrast, heated floors are easy to install and affordable to purchase and operate. Radiant heating is a silent, allergen-free, and energy-efficient way to heat chilly floors in bathrooms, kitchens, and nearly any other room in the house. In the case of Jerry's apartment from Seinfeld, Jerry could begin to install an electric floor heating system in his bathroom for $700 and only pay a few dollars a month after that.
At WarmlyYours, we provide the tools you need to install your very own floor heating system as well as excellent customer service to make sure you're satisfied with it for years to come. Are you curious about how to best heat the floors in your bathroom, kitchen, or bedroom? Get started designing your own floor heating project with our Quote Builder Tool or explore our Floor Plan Gallery to see how we can customize floor heating for any room. Contact us today to learn more about how WarmlyYours can bring a touch of luxury into your life.
Image Credit for Header: Wikimedia Commons for Tom's Restaurant
---
Tell us About your Project
Our team of Radiant Experts is ready to help! Just tell us a little about yourself and your project to get started.
---
Did you find this post helpful?
Let us know by giving it some applause.
---
---