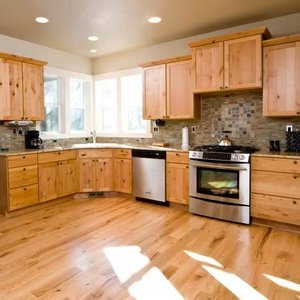 It's rare that you come across someone who isn't a fan of hardwood flooring. Hardwood is one of the most popular choices when it comes to flooring, yet there are a growing number of alternatives for those looking for different levels of sustainability.
When looking for hardwood flooring that is sustainable, you will need to keep a look out for flooring that is made with little or no volatile organic compounds (VOCs) and minimal processing. Also, it is important that the Forest Stewardship Council (FSC) and the Sustainable Forest Initiative (SFI), who certify sustainably managed forests, approves the wood.
Below is a list of alternatives to hardwood flooring from highest sustainability to lowest:
Reclaimed Wood
Reusing an existing old hardwood floor is a great alternative to brand new hardwood flooring. Also known as salvaged hardwood flooring, this type of flooring is a recycled product that shouldn't involve a lot of energy in manufacturing. Not only is reclaimed wood one of the most sustainable alternatives, but it can also last for several lifetimes.
Additionally, reclaimed wood is a great floor covering for WarmlyYours Radiant Floor heating. You can install our TempZone™ floor heating system under reclaimed wood, a naturally cold surface, transformed into warm, soothing wood floors.
Engineered Wood
Engineered wood is another option in lieu of hardwood flooring that lasts for decades. It is usually made of 10 layers of wood that is glued together; a hardwood surface over a layer of softwood and a layer of plywood, ultimately making wood planks. Don't forget to look for FSC and SFI certifications for each type of wood used. You can use our Environ II™ floor heating systems for engineered wood floors.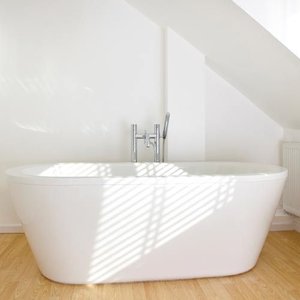 Cork
Cork flooring is a great green alternative that also has an eco-friendly manufacturing process and does not involve cutting down trees. Cork companies strip bark from cork trees to make flooring, in which many manufacturers make the flooring without VOCs or solvents. Although cork flooring has a shorter life expectancy than the previous flooring alternatives, it is guaranteed to have a lifetime of durability.
Bamboo
Bamboo is one of the biggest trends in the flooring industry right now. Bamboo is a fast-growing grass that can be grown organically and harvested sustainably. The bamboo fibers are processed and pressed into floorboards and other products. Although, bamboo manufacturers promise decades of value in a bamboo floor it may still be too soon to determine the true durability of bamboo yet, because the products are still very new to the industry.
This list just contains of few of great sustainable flooring alternatives to hardwood. It doesn't mean you have to stop looking into other options. While continuing your research, please check out the variety of floor heating systems to accompany your new flooring surface.
---
Tell us About your Project
Our team of Radiant Experts is ready to help! Just tell us a little about yourself and your project to get started.
---
Did you find this post helpful?
Let us know by giving it some applause.
---
---