Affordable and easy to install mirror defoggers add luxury and convenience to any bathroom
CHICAGO and TORONTO - March 26, 2014 - Tired of starting your day in a fog? With ClearlyYou™ Mirror Defoggers by WarmlyYours Radiant Heating , eliminate the hassle of steamed up mirrors and enjoy that long, hot shower with no obstacles in your way to a clear view. Available in a variety of sizes and shapes, ClearlyYou™ Mirror Defoggers can be attached to the back of existing mirrors, making them a convenient and affordable addition to any bathroom.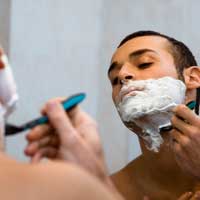 WarmlyYours is excited to reintroduce ClearlyYou™ Mirror Defoggers and round out its diverse collection of heating solutions for the home. "We brought mirror defoggers back due to renewed customer demand. Once the economy started to rebound, the demand for fog-free mirrors returned--even stronger than before due to increased consumer awareness," said Julia Billen, president of WarmlyYours.
Available in eight different sizes and in rectangular, round, or oval shapes, ClearlyYou™ Mirror Defoggers are a safe and affordable option for any bathroom. For just pennies a day to operate, they can make your morning hassle free, providing you with a clear view as you dry your hair, apply makeup, or shave. Operating at a safe temperature of 104° F, the defoggers keep mirrors clear and fog-free without affecting the reflective surface. No condensation buildup means easy cleaning too, as you avoid marking up the mirror with unsightly streaks in an attempt to wipe a clear spot on a foggy mirror.
ClearlyYou™ Mirror Defoggers feature a wafer-thin warming film with self-adhesive backing, making it easy to install on any mirror. The 120-volt system can be wired to mirror's lighting fixture or separately wired to a junction box installed behind the mirror. WarmlyYours backs the ClearlyYou™ Mirror Defoggers with a 1-year warranty against defects in materials and workmanship and our industry-leading customer service and 24/7 technical support.
Visit WarmlyYours/com or call (800) 875-5285 to learn more about the ClearlyYou™ Mirror Defoggers, and make it a bright, bright, shiny day.
---
About WarmlyYours Radiant Heating:
Since 1999, WarmlyYours Radiant has offered the industry's most innovative solutions in radiant heating technology, from our flagship floor heating systems and radiant wall panels to snow melting products and towel warmers. With locations in the U.S. and Canada, WarmlyYours provides unrivaled personalized customer support from start to finish, featuring measuring and design services, 24/7 technical support, and our No Nonsense™ Warranty. For more information, visit: www.WarmlyYours.com..
Media Contact:
Cassie Peterson
Director of Communications
WarmlyYours Radiant Heating
P: (Direct:) 847-550-2464 
P: 800-875-5285, ext. 864 
cpeterson@warmlyyours.com
---
Tell us About your Project
Our team of Radiant Experts is ready to help! Just tell us a little about yourself and your project to get started.
---
Did you find this post helpful?
Let us know by giving it some applause.
---
---